Alicia Kuroiwa
Marine Scientist
Oceana Staff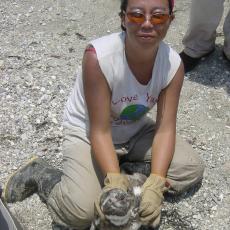 She studied biology and completed a Master of Environmental Sciences with mention in Environmental Management and Ecology at the Universidad Peruana Cayetano Heredia. She has worked on conservation initiatives that include fauna studies of Amazon and marine ecosystems. She focused on supporting effective management of protected areas, designing and implementing research and conservation programs.
She led the Conservation Management Program at the Wildlife Conservation Society (WCS), where she created strategies, proposals and reports, and implemented field studies. In addition, she provided advice to the Peruvian National Service of Protected Natural Areas (SERNANP) and coordinated the Network of Educators and Conservation Professionals of the American Museum of Natural History and events such as The Latin American Workshop "Training in Epidemiology, Surveillance and Management of Poultry and Wild Animals for the Early Detection of Highly Pathogenic Avian Influenza in the American Continent", among others.
She was also an associate researcher at the Center for Environmental Sustainability of the Universidad Peruana Cayetano Heredia (CSA-UPCH) where she supported research and proposals as well as coordinating projects, field courses and organizing national and international events.
Location: Peru