Caroline Wood
Field Campaigns Manager, U.S. East Coast
Oceana Staff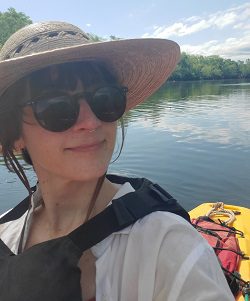 Caroline Wood has held several roles at Oceana since starting as an intern for the Climate & Energy Campaign in 2012. She now serves as the Field Campaigns Manager for the Mid-Atlantic and Northeast regions, overseeing Oceana's Field Representatives and grassroots organizing work in North Carolina, Virginia, Maryland, Delaware, New York, and Massachusetts.
Following her internship, for four years Caroline served as campaign organizer for Virginia, Maryland, and Delaware, working with Oceana's veteran organizers and allies to successfully defend the Atlantic against expanded offshore drilling and seismic airgun blasting. Over the last several years as Field Campaigns Manager, Caroline has lent her institutional knowledge, managerial skills, and expertise in grassroots organizing to support her team as it has grown from a small but mighty group of organizers into a foundational pillar of Oceana's work.
Today, the Field Team builds on-the-ground support for Oceana's U.S. campaigns to fight plastic pollution, stop offshore drilling, defend cornerstone marine conservation laws, promote responsible fishing practices, ban the sale of shark fins in the U.S. and protect the North Atlantic right whale from extinction. Field Representatives in East and West coast states lead coalitions of volunteers, activists, conservation partners, business leaders, and fishing interests to advocate for policy change at the local, state, and national level.
Caroline received her bachelor's degree in anthropology and environmental policy at the College of William & Mary and was raised in part by the Atlantic Ocean and coastal swamps of her hometown of Virginia Beach, on the ancestral land of the Chesapeake and Powhatan people.
Location: United States