Joshua Borland
Toledo Field Representative
Oceana Staff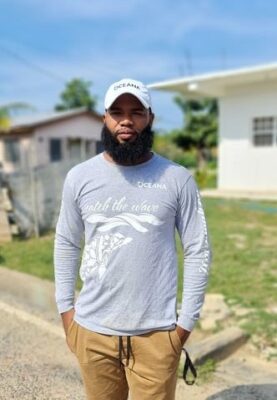 Joshua was born and raised in Punta Gorda Town in Southern Belize.
Growing up, he was surrounded by nature, with the beautiful Caribbean Sea in his front yard and the majestic Maya Mountains in his backyard. His passion for the environment grew over time, which led him to pursue a BSc. in Natural Resources Management from the University of Belize. While pursuing his degree, he volunteered with different organizations such as Toledo Institute for Development and Environment (TIDE) and the University of Belize Environmental Research Institute (UB ERI) as a community researcher. He later obtained his Dive Master certification which allowed him to further venture off into Marine Conservation. In 2017, he joined Projects Abroad as the Project Coordinator and Field Scientist, where he worked with international students, training and teaching them different marine data collection methodologies. He also worked closely with other NGOs and The Fisheries Department to assist with data collection at different Marine Protected Areas.
He joined Oceana in January 2021 as the Toledo Field Representative where he hopes to assist Belizeans in becoming more aware of the issues facing our precious marine resources.