Melissa Moore
Senior Policy Adviser, Europe
Oceana Staff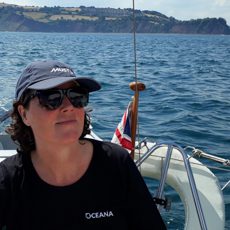 Melissa joined Oceana in July 2018 opening our new office in London to work towards the restoration of the UK's rich biodiversity and productive waters.
She is a passionate advocate for nature and has a wealth of experience in UK marine conservation. For 15 years she lead on policy at the Marine Conservation Society with successes including the Marine Act, Marine Conservation Zone network and a new approach to manage damaging fishing in MPAs as well as leading on their parliamentary work. She has also worked for Seas at Risk, Scottish Natural Heritage covering the Solway Firth and Chichester Harbour Conservancy. She holds a BA in Politics and Government and an MSc in Coastal and Marine Resource Management from the Universities of Kent and Portsmouth respectively. She is a keen sailor and occasional diver and grew up around, on and in the waters of Chichester Harbour.
Melissa will help us to navigate the policy making of the UK as it Exits the EU and work to ensure that the political situation is used as an opportunity for rebuilding fish stocks and achieving more and better managed MPAs. As part of Oceana's Policy Team in Europe she will also work in close collaboration with the team working in North East Atlantic waters and have a good insight into the views of Brussels stakeholders as well as working closely with other NGOs in the UK.
Location: United Kingdom