Randy Sturgill
Senior Field Representative, North Carolina
Oceana Staff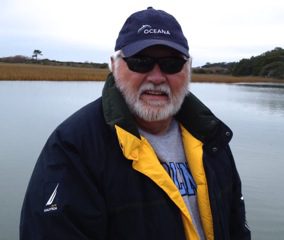 Randy Sturgill was born and raised in a rural area thirty miles south of Raleigh, NC, where the largest body of water is the mighty Cape Fear River that divides the county. His first visit to the Atlantic Ocean came at the age of four with his parents vacationing on Holden Beach, a barrier island on the southeastern coast of North Carolina. As far back as he can remember he has loved all things ocean!
Growing up, he was at the beach every weekend possible: boating, fishing, and hanging out with friends and family who were, like her, hypnotized by the Atlantic's unspoiled beauty. He now lives 125 miles down that river, near where it spills into the Atlantic.
As a Political Activist, Randy's most recent experience comes from the candidate-political side of building a grassroots, boots-on-the-ground campaign. He wakes daily with that winning sprit, now focused on saving our oceans. There is no trophy for second place in politics as there is none for our oceans: we must win! He is truly honored to be a part of Oceana's field campaign, a high energy field operation for our campaign to build support for Oceana's U.S. campaigns, especially working to stop expanded offshore oil and gas drilling and promote offshore wind energy. The pristine waters that Randy grew up in, that his children grew up in, and now his grandchildren are growing up in, are under attack. We must do all we can to preserve our spectacular Atlantic Ocean and our global waters!
Location: United States