October 2, 2014
Photos: Oil Spill in Chile's Quintero Bay Affects Local Wildlife, Fisheries
Last week, nearly 800 gallons of oil spilled into Quintero Bay, Chile at the Monobuoy Terminal when intake hoses broke free from an oil tanker. The National Fishing and Aquaculture Service (Sernapesca) filed a criminal lawsuit against those responsible for the spill, and Oceana in Chile requested that the Environmental Superintendency (ES) conduct an investigation and claim responsibilities for the spill. The oil spill comes in an area that's been heavily polluted over the past 40 years.
"This matter cannot go unpunished. Marine species are still dying and the livelihoods of hundreds of people –either in fishing or tourism– are at risk. The facts must be clarified as soon as possible and those who are responsible must be punished," Oceana in Chile executive director Alex Muñoz said.
So far, 35 birds of six different species have been rescued—including penguins, sea gulls, pelicans, blanquillo birds, hualas, cormorants and coots—but 11 have died from ingesting fuel. The birds have been transferred to a hospital with specific protocols for handling oiled birds, including food management, cleaning and drying, and daily monitoring of the bird's general status.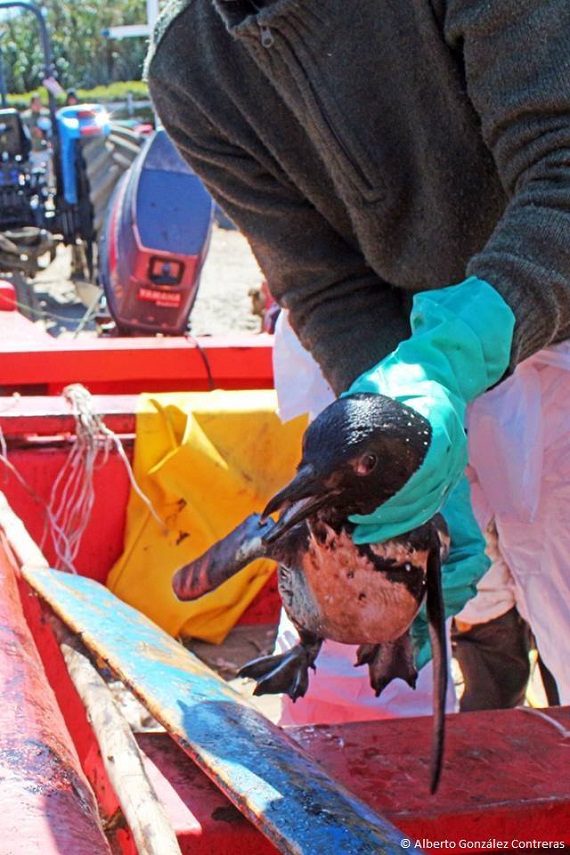 An oiled bird being rescued and cleaned after the spill. (Photo: Alberto Gonzalez)
Sernapesca is assessing damages to artisanal fisheries in some areas that may have been affected. Some terminal operations were halted following the spill and other ships leaving the contaminated port were cleansed before heading out to sea.
"This oil spill is not an isolated case. Environmental misconduct has been going on for 40 years by companies in Ventanas and Quinteros, which fail to meet even minimum operating standards to prevent health risks for the population and the environment. The Government must act strongly to change the face of this Bay," Muñoz said.
Take a look below for photos from the spill, and you can learn more information on Oceana in Chile's Facebook page.
Update, October 3, 2014: New estimates found that over 5,800 gallons of oil spilled—more than the original 800-gallon estimate. This post will be updated as additional information develops.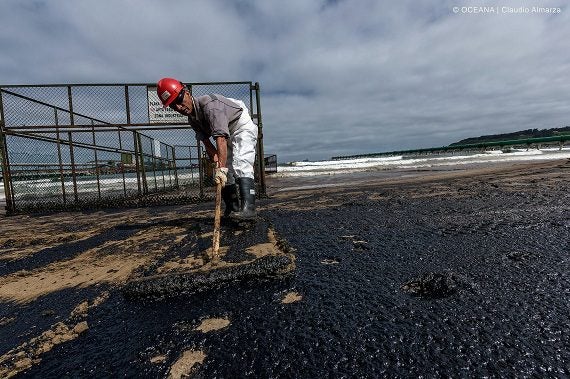 Oiled seawater near the Monobuoy Terminal in Chile. (Photo: Oceana / Claudio Almarza)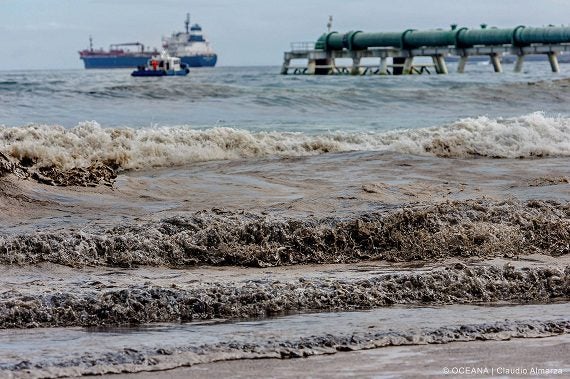 Oiled seawater near the Monobuoy Terminal in Chile. (Photo: Oceana / Claudio Almarza)
Oiled seawater near the Monobuoy Terminal in Chile. (Photo: Oceana / Claudio Almarza)