October 9, 2014
Video: Oceana in Belize Exposes Belizean First Family to Belizean World Heritage Sites
The Great Blue Hole, a Belizean National Monument and World Heritage Site, is one of the most gorgeous marine settings in the world. Situated just over 50 miles east of Belize City in the Lighthouse Reef Atoll, the rare reef formation stretches over 1,000 feet wide and over 400 feet deep. Previously an above-ground cave that's sunk underwater, this sinkhole is teeming with marine life and is a haven for divers and ocean enthusiasts. Belize is home to three of the Caribbean's four natural coral reef atolls.
Every year approximately ten thousand visitors travel to the remote location to enjoy the absolute beauty of the Great Blue Hole and the Lighthouse Reef Atoll. But, Belize's First Family—Prime Minister Dean Barrow, his wife Kim, and daughter Salima—had never had a chance to visit this World Heritage Site—until now.
In late August 2014, Oceana in Belize hosted Barrow's wife and daughter for a helicopter ride over the Great Blue Hole and the Lighthouse Reef Atoll, exposing them to the sheer beauty of these Belizean natural monuments and UNESCO World Heritage Sites. Following the aerial visits to the Great Blue Hole and Lighthouse Reef, Kim and Salima were also able to snorkel among curious and colorful wildlife in Belize's crystalline waters and visit the natural habitats of red-footed boobies and nesting sea turtles along Half Moon Caye in Lighthouse Reef Atoll.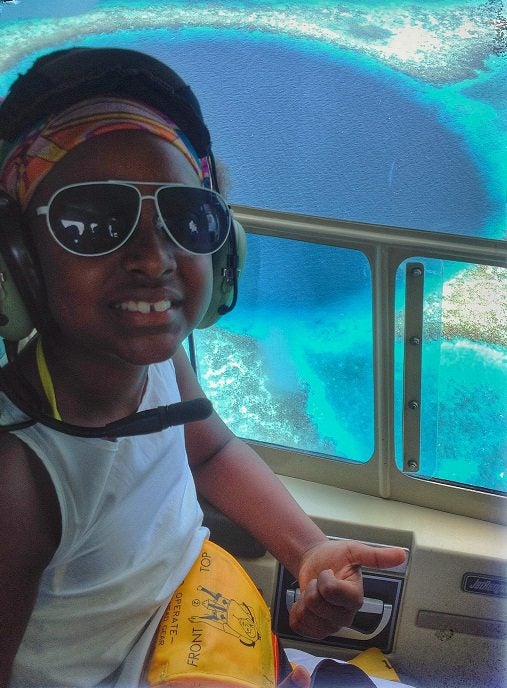 Salima flying over the Great Blue Hole. (Photo Credit: Oceana / Janelle Chanona)
"Approaching the Blue Hole and seeing it for first time was an experience that I can't explain to you in words what it really, really felt like," Kim said. "To see this magnificent natural wonder right there in front of you—it was just an incredible, incredible experience. To me, it's important to show Salima the natural wonders that we have in Belize; and the importance of conserving it."
Take a look below to see the First Family's reactions as they see these beautiful ecosystems for the first time:
Half Moon Caye trip. from OCEANAbz on Vimeo.