November 14, 2014
Oceana Partners with Google and SkyTruth to Announce New Tool to Track Global Fishing Activity
Today, Oceana, SkyTruth, and Google announced their partnership to develop a new big-data technology platform, called Global Fishing Watch, that analyzes massive amounts of satellite data to create the first ever global view of commercial fishing. The prototype was unveiled today at the 2014 IUCN World Parks Congress in Sydney, Australia—an international forum held every ten years that focuses on management of protected areas—and they announced that they are developing a public release version which will give citizens a free, global online platform to visualize, track, and share information about fishing activity worldwide.
"Global Fishing Watch uses big data and massive computing capacity to transform fisheries management by exposing illegal practices and creating a deterrent to breaking the law," says Oceana CEO Andrew Sharpless. "This will allow policies like catch limits and habitat protection measures to work to bring back fishery abundance and help feed our growing populations."
To gather the data necessary to provide these satellite views, the platform works by analyzing the patterns created by millions of data points from the Automatic Identification System (AIS) network, which is a broadcast of a vessel's location picked up by orbiting satellites. AIS was primarily designed as a safety mechanism for avoiding collisions at sea, but information about the vessel's behavior can also be derived by analyzing the identity, speed, and direction of individual vessels. Global Fishing Watch provides an unprecedented view of human interaction with the ocean.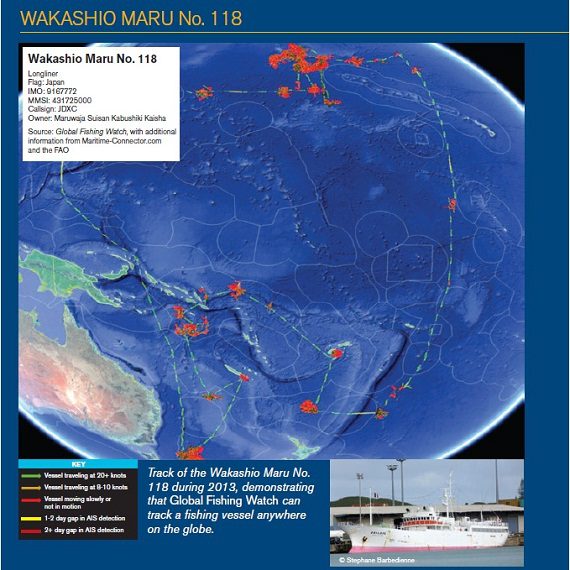 Movements of a longliner vessel from Japan that traveled in the exclusive economic zones of multiple nations, showing just how much of an asset Global Fishing Watch can be in tracking suspicious fishing activity. (Photo: Global Fishing Watch)
"So much of what happens out on the high seas is invisible, and that has been a huge barrier to understanding and showing the world what's at stake for the ocean," SkyTruth president and founder John Amos said in a press release. "But now, satellite data is allowing us to make human interaction with the ocean more transparent than ever before. Fishermen can show how they are doing their part to fish sustainably, we can motivate citizens to watch the places they care about, and we can all work together to restore a thriving ocean."
This unprecedented technology will be free, easy to use, and open to anyone with access to the internet and a web browser. Its usefulness as a tool to monitor fishing practices is widespread, and could be advantageous to regional fishery managers who want to monitor illegal activity, advocacy organizations working to promote responsible fishing, seafood distributors working to sell honestly caught seafood, and more. Oceana provides a detailed overview of Global Fishing Watch and its many uses in a new report also released today.
"While many of the environmental trends in the ocean can be sobering, the combination of cloud computing and massive data is enabling new tools to visualize, understand and potentially reverse these trends," Google Ocean & Earth Outreach program manager Brian Sullivan said in the release. "We are excited to contribute a Google-scale approach toward ocean sustainability and public awareness."
Prior to this announcement, Oceana has long advocated for sustainable fishing policies, as well as the elimination of Illegal, Unreported, and Unregulated (IUU) fishing and the honest harvest and labeling of seafood. Click here to learn more about Oceana's campaigns or here to learn more about Global Fishing Watch. Be sure to stay tuned to The Beacon for more updates about the prototype in the next few days.