December 31, 2014
Photos: Reflecting on Oceana's Work to Protect the Oceans and Restore Ocean Abundance in 2015
BUCEADORES DENTRO DE ARCO VOLCANICO
From President Obama designating the world's largest marine reserve to establishing the first-ever Task Force on tackling seafood fraud, 2014 was a big year for our oceans. Oceana was there every step of the way, advocating for clean energy, traceability in the seafood supply chain, sustainable fisheries, and more. Our work led to many victories in 2014, such as the establishment of Global Fishing Watch, an unprecedented technology platform that tracks global fishing activity, and launching a map that serves as the most comprehensive review of seafood fraud literature to-date.
As we look back on our efforts for the world's oceans in 2014, we're highlighting some of our work throughout the year in photos. Of course, this list is only a small snapshot into the other exciting work Oceana performed throughout the year, so be sure to check out our victories and press release pages for more information on our work.
We could not win these victories without the help of our loyal supporters and ocean activists, and as we reflect back on 2014, all of us at Oceana would like to extend a sincere thank you to our many supporters. We look forward to protecting the world's oceans with your help in 2015!
Oceana Fights to Keep the Atlantic Safe from Seismic Airgun Blasting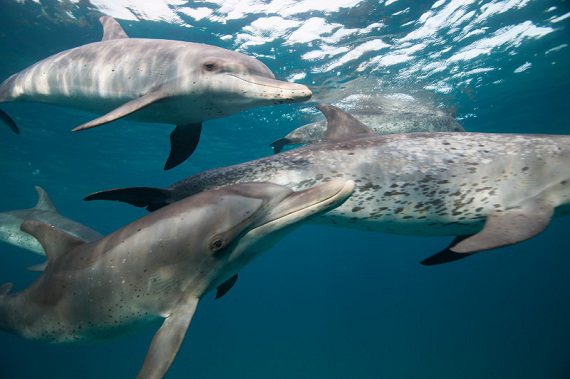 Dolphins filmed during Miranda Cosgrove's PSA against seismic airgun blasting. (Photo: © Tim Calver)
This past summer, the Obama Administration approved the use of seismic airguns off the U.S. East Coast to search for oil and gas deposits, but Oceana continues to fight to protect the East Coast and marine wildlife from this dangerous practice. This past summer, actor and ocean activist Reid Scott joined Oceana in urging Congress and the Obama administration to reconsider their planned use of seismic airguns. Additionally, actress and singer-songwriter Miranda Cosgrove joined Oceana in a public service announcement earlier this year to stress how seismic airgun blasting could harm dolphins. To-date, Oceana has helped generate more than 25 resolutions along U.S. coastal towns opposing seismic, and is actively campaigning against their use.
Oceana Exposes Nine Dirtiest U.S. Fisheries for Bycatch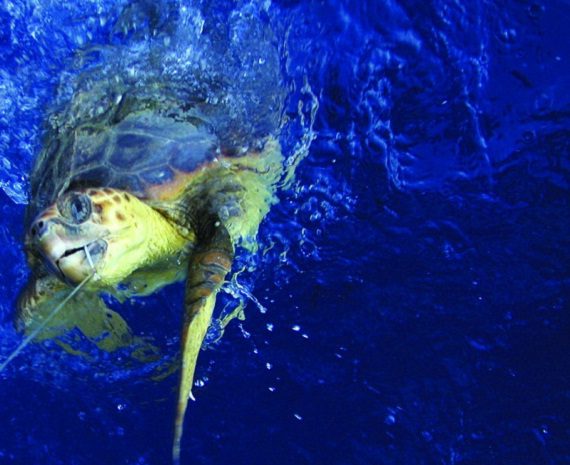 A loggerhead turtle (Caretta caretta) caught on a longline. (Photo: Oceana / Mar Mas)
In the spring, Oceana released its Wasted Catch report, identifying the nine dirtiest fisheries in the U.S. for bycatch—the incidental capture of marine life in fishing activity—that are responsible for more than 50 percent of all reported bycatch in the U.S. The report found that despite significant progress to reduce bycatch over the past decade, it still remains a tremendous issue. Oceana complimented that report with its Wasted Cash report, highlighting the wasted value of bycatch, and actively works to reduce bycatch in a number of fisheries around the world.
Oceana in Europe Conducts Expedition to Balearic Seamounts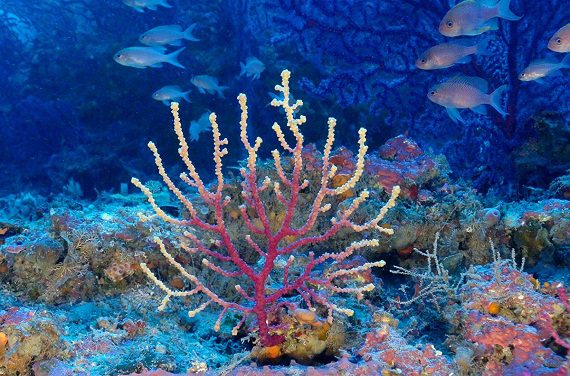 A coralligenous community with gorgonians (Paramuricea clavata) and group of swallotwail seaperch (Anthias anthias), documented during Oceana's expedition to the Balearic seamounts onboard the SOCIB R/V in August 2014. (Photo: Oceana in Europe / Flickr)
Over the summer, a team of marine scientists, documentarians and other Oceana staff completed a 10-day expedition that documented seamounts around the Balearic Seamounts. Oceana used a remotely operated vehicle (ROV) to document marine life at great depths, and is using this information to map out areas of ecological importance that are worthy of protection.
Oceana Launches Global Seafood Fraud Map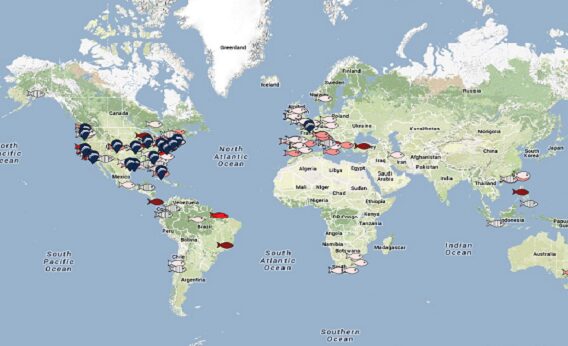 Oceana's seafood fraud map. (Photo: Oceana / Google)
This past summer, Oceana launched a global seafood fraud map, displaying where previous studies found seafood fraud or substitution around the world. The map complimented the most current and comprehensive review of seafood fraud literature to date, and allows users to interact with specific regions and learn more about fraud in their area.
Oceana released the map shortly before President Obama commissioned the first-ever Task Force on Combating Illegal, Unreported, and Unregulated (IUU) Fishing and Seafood Fraud, which recently delivered robust recommendations. A National Geographic blog mentioned Oceana's work in listing recent momentum on seafood fraud as one of 14 ocean "wins" in 2014.
Oceana Announces Global Fishing Watch, an Unprecedented Technology Platform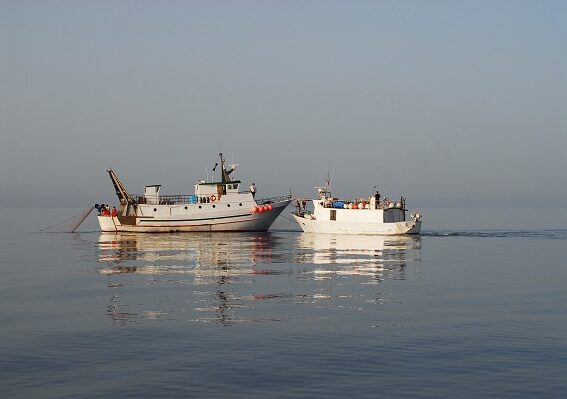 A trawler fishing in the Gulf of Bothnia, Sweden. (Photo: Oceana / Carlos Minguell)
Oceana teamed up with Google and SkyTruth to create Global Fishing Watch, an unprecedented big-data platform to track global fishing activity worldwide. The trio announced a prototype of the technology at the 2014 IUCN World Parks Congress, and a public version will be released this spring. Global Fishing Watch draws on satellite data to track fishing vessel's speeds, directions and more, and will provide fishery managers, citizens and other groups with a unique view of human interaction with the ocean.
Oceana Launches Operations in the Philippines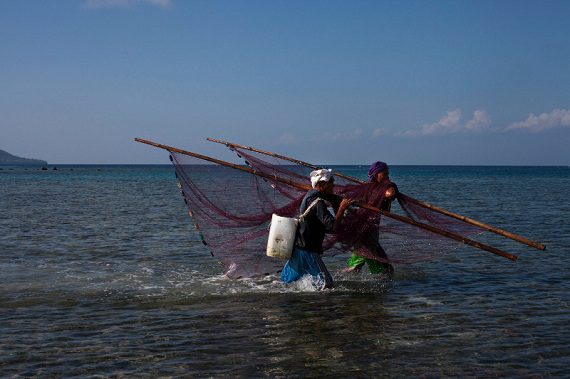 Local fishermen in the Philippines. (Photo: Oceana / Jenn Hueting)
To help kick-off its launch in the Philippines, Oceana hosted a conference, The Road to Sustainable Fisheries Governance. Oceana vice president Atty. Gloria "Golly" Estenzo Ramos spoke at the conference, alongside scientists, board members and government officials. Oceana Philippines aims to rebuild the nation's fisheries with the help of native Filipinos.
Oceana in Europe Documents Vast Biodiversity in Second Expedition to the Canary Islands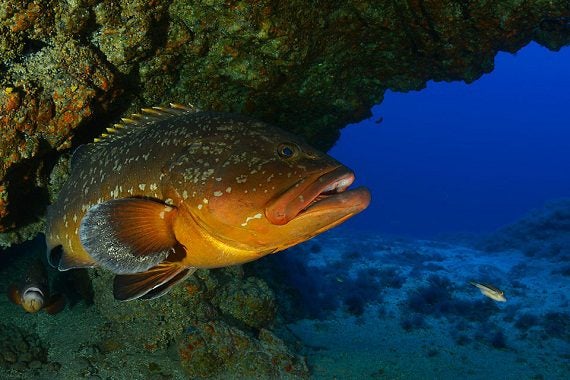 Dusky grouper (Epinephelus marginatus) in a cave, pictured in Punta Miradero, El Hierro, Canary Islands, Spain during the 2014 Ranger Expedition to the Atlantic Seamounts. (Photo: Oceana in Europe / Carlos Minguell / Flickr)
Oceana conducted a one-month expedition that focused on waters around the island of El Hierro, which is expected to become the first marine national park in Spain. Oceana documented rich biodiversity during this expedition, including large colonies of deep-sea white coral, crystal aggregations of sponges and dense forests of black corals, oceanic puffers, giant foraminifera, sharks and more. This expedition builds on a 2009 expedition to the Canary Islands that documented other marine life around Spain.
Oceana Found Widespread Misrepresentation Among America's Favorite Seafood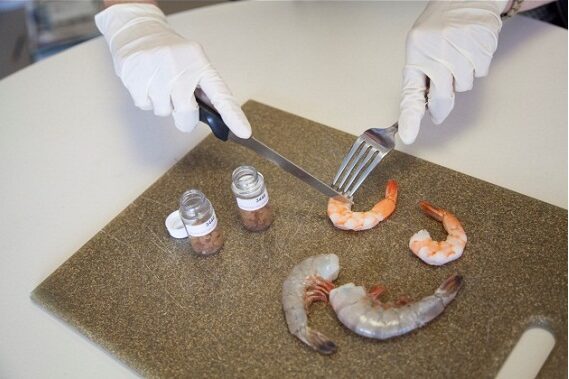 DNA testing shrimp. (Photo: Oceana)
In October, Oceana released a report that spotlighted misrepresentation among America's favorite seafood, shrimp. Oceana tested shrimp at different venues across four cities in the U.S., and through DNA testing, found 30 percent of 143 samples to be misrepresented. This report added to Oceana's growing body of work on seafood fraud, and added to a 2013 Oceana study that found that 33 percent of the more than 1,200 fish samples it tested were mislabeled, according to Food and Drug Administration guidelines.
Oceana Fights for Dusky Sharks with Public Awareness Campaign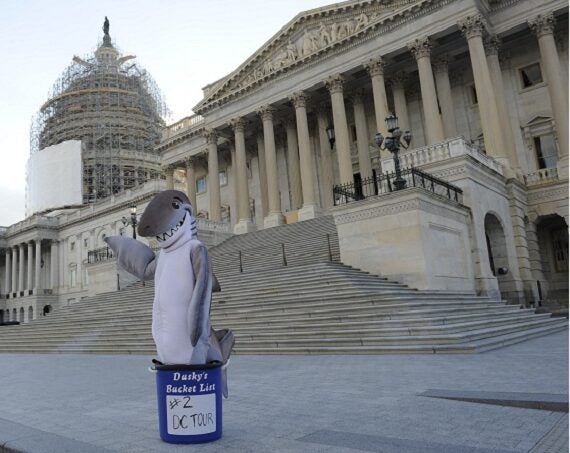 Dusky the Shark made his second public appearance in Washington, D.C. (Photo: Vincent Ricardel)
Dusky sharks off the Atlantic Coast have declined by approximately 99 percent over the last 40 years from overfishing and bycatch, yet the federal government has failed to implement regulations to help save this species. So, to help raise awareness for this lesser-known shark, Oceana launched a public awareness campaign, under which "Dusky the Shark" makes appearances around the country and checks off items on "Dusky's Bucket List" to help save his species. Dusky the Shark made appearances in both California and Washington, D.C. this year.
Oceana in Belize Exposes Locals to the Wonders off Their Coast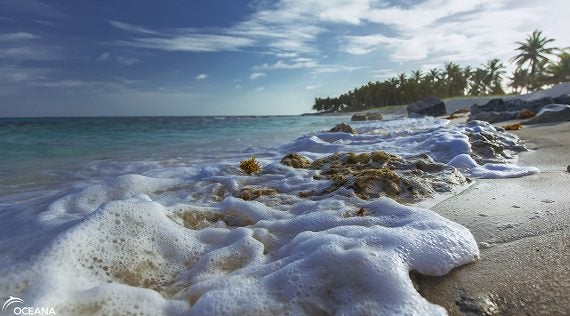 A beach along the Lighthouse Reef Atoll. (Photo: Alexander Ellis / Oceana in Belize / Flickr Creative Commons)
The Great Blue Hole, a Belizean National Monument and World Heritage Site, is a gorgeous rare-reef formation that sits along the Lighthouse Reef Atoll. This year, Oceana in Belize has been busy raising awareness about this precious ecosystem. They took a group of underprovided Belizean boys to the reef this summer and exposed them to the natural wonders of their country—an experience that marked many of the boys' first time to the coast. Later this year, Oceana in Belize also took Belize's First Family to the Great Blue Hole, as they had never seen this World Heritage Site before!