November 14, 2016
Behind the Scenes, a Quiet "Ocean Hero" Protects Belize's Marine Wonders
Glover's Reef, a coral atoll in the south of Belize's 300-kilometer (190-mile) barrier reef, is Janet Gibson's favorite among the marine riches she's helped to protect in her four-decade career. "I still remember the day that I went out there," she said, speaking about her first trip in 1986. "It took my breath away."
"You go into this sort of turquoise atoll expanse with all these patch reefs studded in front of you," Gibson said. Glover's Reef is one of a handful of true atolls in the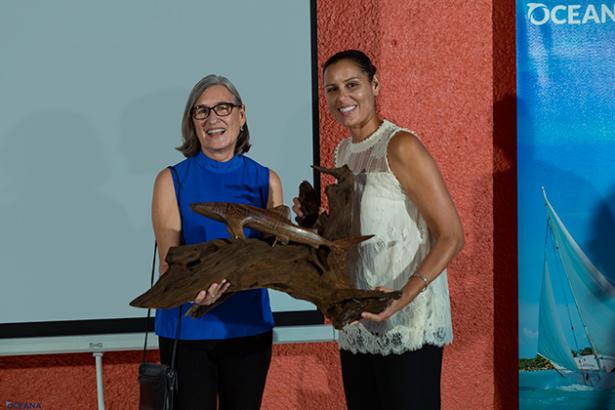 Western Hemisphere. Roughly 45 kilometers (27 miles) from mainland Belize, the atoll's islands and reefs are host to a profusion of sharks, dolphins, turtles and endangered Nassau grouper. Gibson added: "It really is a spectacularly beautiful place."
Gibson, who retired this year after spending most of her career as a biologist with the Wildlife Conservation Society, received a 2016 Ocean Heroes award in early October. These awards, created by Oceana, recognize major achievements in marine conservation, advocacy and education in Belize.
Janelle Chanona, the director of Oceana Belize, explained that without people like Gibson, Belize would be a "very different" place. But, she said, Gibson's disinterest in self-promotion had kept her out of the limelight: "She has been so low-key and so dedicated I think that many people outside of one specific circle would not have known or appreciated her contributions."
"The key word a lot of people ascribe to Janet is that she is very committed," Chanona added. "In today's instant gratification, selfie culture, it's very gratifying for Oceana to do this for Janet and introduce her to generations of Belizeans and the world."
Exploitation to protection
Gibson's ocean conservation career began in the late 1970s, when she was working at the Fisheries Department in Belize City. She began her work managing fish as a resource. But her work helping the Belize Audubon Society to protect Half Moon Caye — a critical breeding ground for red-footed boobies — changed her outlook: "Over time, I realized I was interested not in exploitation, but in protection."
But there was something more visceral to Gibson's decision than a practical interest in conservation. "I grew up by the sea," she said. "It's where I've lived most of my life. I'm a Belizean, it's my home. That's where I feel the happiest, is out on the sea."
A big deal for a little channel
Soon after her work on Half Moon Caye, Gibson was recruited by Wildlife Conservation International (now Wildlife Conservation Society, or WCS) to lead the plan for what would become Hol Chan Marine Reserve on Ambergris Caye, an island in the north of Belize. In the early 1980s, Hol Chan — a vibrant underwater channel in the barrier reef that connects inshore waters to the open ocean — was rapidly falling prey to uncontrolled fishing and Belize's then-nascent tourism industry.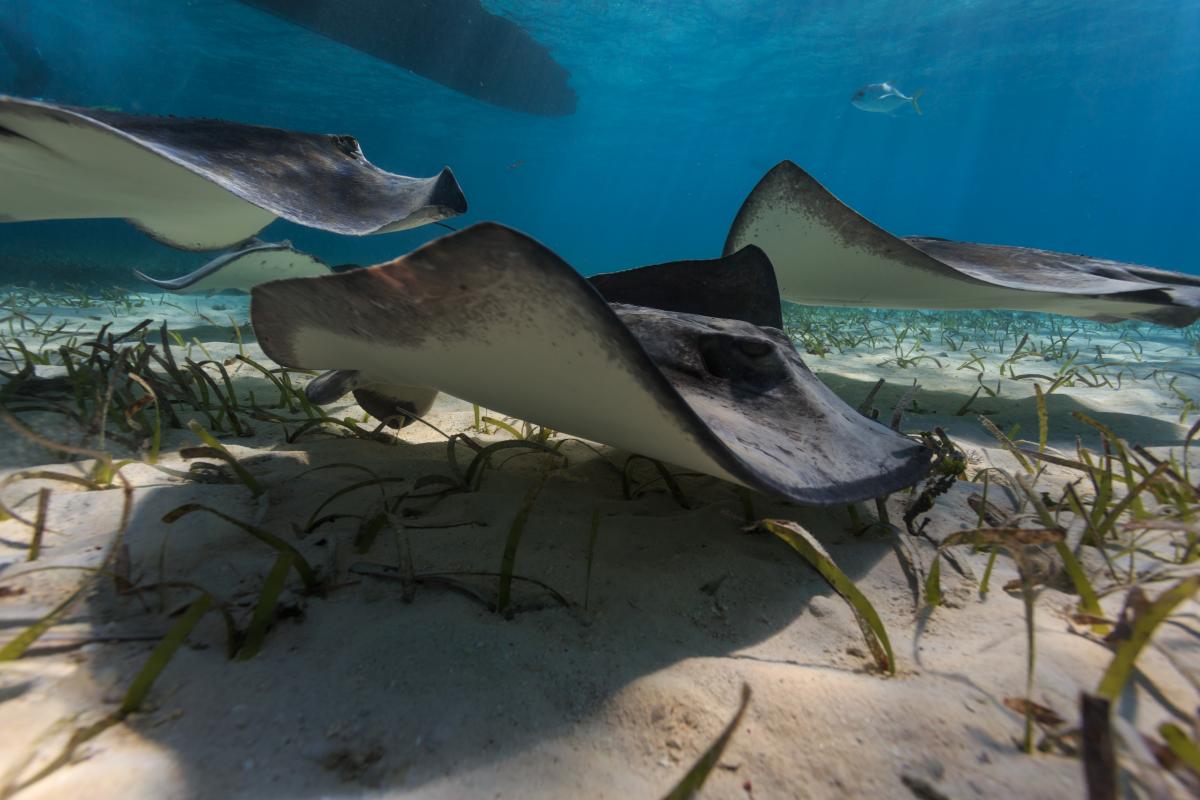 There was a lot riding on Gibson's efforts. As the first proposed all-marine protected area in Central America, Hol Chan was watched with skepticism by fishermen and government officials — both inside and outside of Belize.
Gibson worked to build a broad base of support among fishing cooperatives, the government and tourism operators. And her efforts paid off: "Fortunately for us, the fish life bounced back, so to speak, so quickly that it was so self-evident that [the reserve] would result in improvements in fisheries. It really proved to the fishermen that it could and would work."
Gibson explained that Hol Chan's success helped set the stage for future marine parks in Belize. "It served as a model, and an excellent one because it worked so quickly — to our surprise, really." Today, Hol Chan encompasses nearly 20 square kilometers (8 square miles) and receives almost 70,000 visitors every year.
As for Gibson, Hol Chan had her hooked on conservation: "It was the start of the rest of my work."
Triumphs and regrets
After her work on Hol Chan — which won her a Goldman Environmental Prize in 1990 — Gibson was instrumental to the declaration of Glover's Reef Marine Reserve in 1993, followed by Bacalar Chico National Park and Marine Reserve in 1996. She was also played a major role in getting Bacalar Chico, Glover's Reef, and five other protected areas along Belize's barrier reef designated as a UNESCO World Heritage Site in 1996.
But the UNESCO designation has also been a source of heartbreak. With the 20th anniversary of the World Heritage declaration approaching in December, Gibson said that she is part of a committee preparing a commemoration — not a celebration — for the reef.
"Why I say 'not a celebration' is because 7 years ago we were put on the danger list," Gibson said, referring to the List of World Heritage in Danger. The reef landed on the list due to the poor management of some sites, illegal development and other dangers such as the government's recent push to begin oil and gas exploration in Belizean waters.
"This is one of my huge regrets, that we have not been taken off that list," Gibson said. "That is something that I am still trying to help with as much as I can."
Hopes for the future
Gibson's work has extended far beyond protected areas. Recently, she helped to launch a nation-wide fisheries management strategy, which for the first time in Belize's history ends open-access fishing by introducing rights-based fishing on a national basis, and ups the effective enforcement of fisheries rules.
She also helped to revitalize the Coastal Zone Management Plan, an effort dating back to the 1990s that aims to holistically manage economic development and marine conservation along Belize's coastline.
As for the future? Gibson said that Belize needs to do its "utmost" to protect its barrier reef, but that the country's attitudes and behavior need an overhaul for that to happen.
"We all learn we have the largest barrier reef in the western hemisphere, and we're all very proud of it, but in the end, are our actions matching that pride?" she said. "I don't think so, in general. I think that is a big change that needs to occur if we're going to be successful. However, there are signs of this change taking place, so I remain hopeful."