Georgethefourth / Shutterstock
When Hubert Saulnier is at sea and gets hungry, he grabs a just-caught lobster from his boat's tanks and sticks it in the microwave for five minutes. Unlimited lobster might be the envy of land-locked folks, but for Saulnier it's just lunch. "I eat them because I need to eat something," he said. "I don't bring any sandwiches out fishing."
Saulnier, a lobsterman of 47 years and the vice president of a Nova Scotia fishermen's union, is one of many fishers profiting from a blockbuster year in the Gulf of Maine. As the sea churns out lobster after lobster, many across Nova Scotia are buying up $700,000 lobster licenses, pricey trucks and million-dollar boats with washers, dryers and refrigerators. Some scientists and lobstermen, however, worry that the celebratory atmosphere is masking an economy dangerously dependent on a single shellfish.
Lobsters in the Gulf of Maine have soared to record levels in recent years, in large part thanks to favorable ocean conditions and the near-absence of their natural predators.
This glut has coincided with booming demand in Europe and Asia, along with a weak Canadian dollar that has made Nova Scotia's lobsters more affordable than their American counterparts. A lobster that would have fetched a $4.25 a few years ago, Saulnier said, is now worth $6.
"Science has been on us for a long time that we have to slow down and protect the stock and we've done completely the opposite," Saulnier said. "There's been a huge, huge increase in effort in the lobster fishery in this area. It really boggles the mind how the lobster stocks can handle it."
Lobsters are flourishing in large part because they have little to worry about, said Stephanie Boudreau, a lobster biologist and scientist at Oceana Canada. Centuries of commercial fishing have stripped the sea of cod and other ground-dwelling fish that were once prolific predators of young crustaceans.
Adding to this is that, up to a point, warm water speeds up lobster growth — and the Gulf of Maine is warming more quickly than 99 percent of the rest of the ocean. "Years ago we used to have ice here in the bay," Saulnier noted. "Now, the winters are warmer."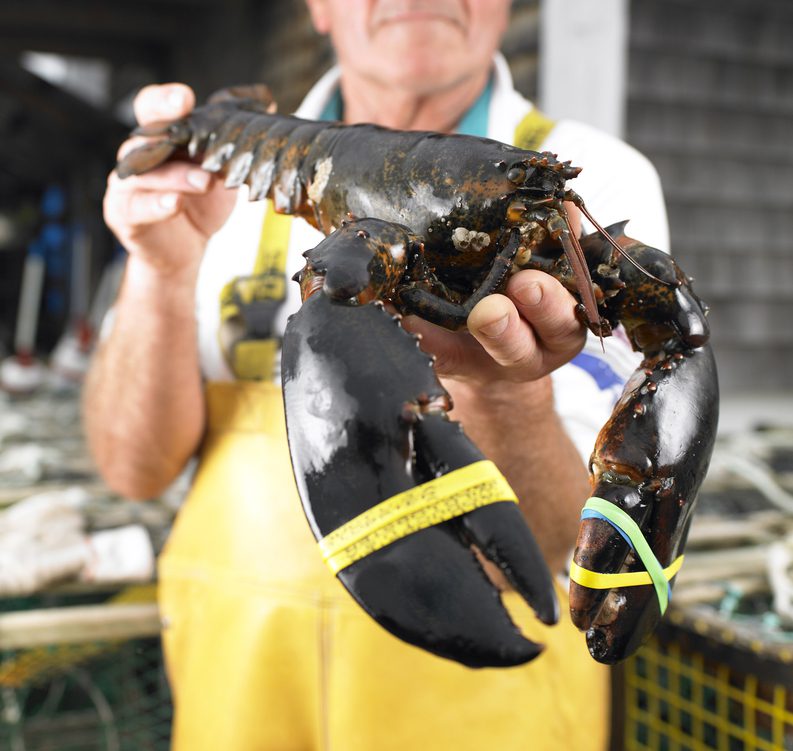 Both Saulnier and Boudreau worry that the region's fishers could be painting themselves into a corner. "We are built around the lobster industry," Boudreau said. "All of the infrastructure and money goes into boats, traps and licensing. It would be no small thing if lobster starts to decline."
Saulnier concurred, saying that a collapse could leave younger fishers saddled with loans and pricey boats that no one wants to buy. "In a season like last year, a new entrant could survive if — if — that same season keeps on for the next 15 or 20 years," he said. "But if it does crash, then they're in trouble."
These concerns were echoed in a recent report from Oceana Canada, which warned that Canadian fishers have assumed a big risk by relying on a handful of shellfish species. Lobster, scallops, clams and crabs caught in the Atlantic now bring in 77 percent of the value of the country's seafood landings. These fisheries were once dominated by cod and other large fish.
Though the specter of lobster collapse seems distant, it's not without precedent. In 1999, lobsters in Long Island Sound were at an all-time high. Then, almost overnight, more than 90 percent of the population vanished. Some blame it on disease and parasites, others on industrial chemicals or climate change. Whatever the cause, it's a lesson that lobsters can crash with little warning — and stay gone for what may be for good.
For now, the mood in Nova Scotia is sunny.
"Landings are high and still increasing. A huge percentage of lobsters are taken out every year, but they still come back," Boudreau said. "I always say the Gulf of Maine is magic."
Oceana Canada is focused on helping to rebuild Canada's fisheries, in particular, reviving Canada's declining fish populations. Learn more here, or donate today to support our work.