June 29, 2018
CEO Note: Oceana's Victory Protecting Belize Barrier Reef Spurs UN Action
The Belize Barrier Reef — the second largest barrier reef in the world — has just been removed from UNESCO's "List of World Heritage in Danger," where it has been listed since 2009. This beautiful but fragile reef had been threatened by overdevelopment and, most ominously, the prospect of offshore oil.
The danger of an oil spill was addressed late last year, as the government of Belize implemented a moratorium on offshore oil and gas development in all of Belize's waters. The announcement was a thrilling victory for Oceana, and the result of a massive, decade-long campaign against offshore oil that had mobilized the Belizean public, often in dramatic fashion.
Belize's reef is a thriving ocean ecosystem and is home to nearly 1,400 species. At the same time, it is vital to the people of Belize for their livelihoods and national economy. More than half of Belize's population relies on the Belizean Barrier Reef due to its central role in tourism and fishing.

After learning that the Belizean government had secretly leased rights to companies to drill for oil, including in marine reserves and national parks, Oceana and our allies — including groups like WWF, the Belize Tourism Industry Association, Belize Audubon Society and Belize Institute for Environmental Law and Policy — rallied to the cause. Together, we worked alongside the people of Belize to protect the reef, a cause they believed in passionately.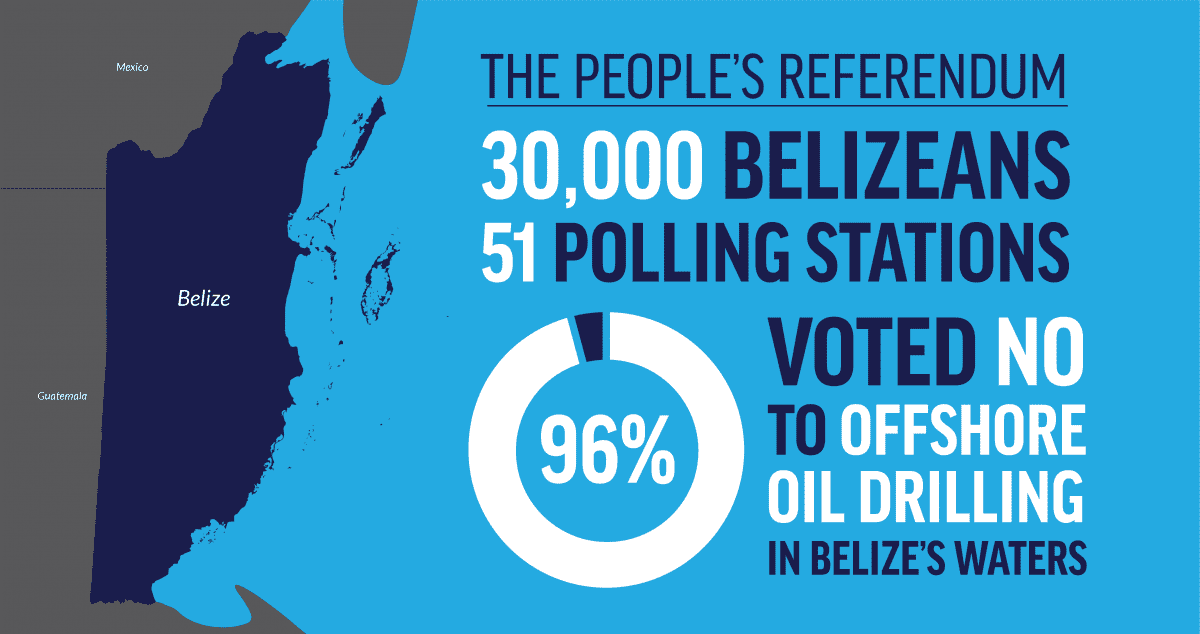 Following the approval of seismic testing in late 2016, public outcry resulted in decisive action from Prime Minister Dean Barrow in August 2017, who, after consulting with Oceana and the Belize Coalition to Save our National Heritage, announced that his government would institute an indefinite moratorium on offshore oil activity.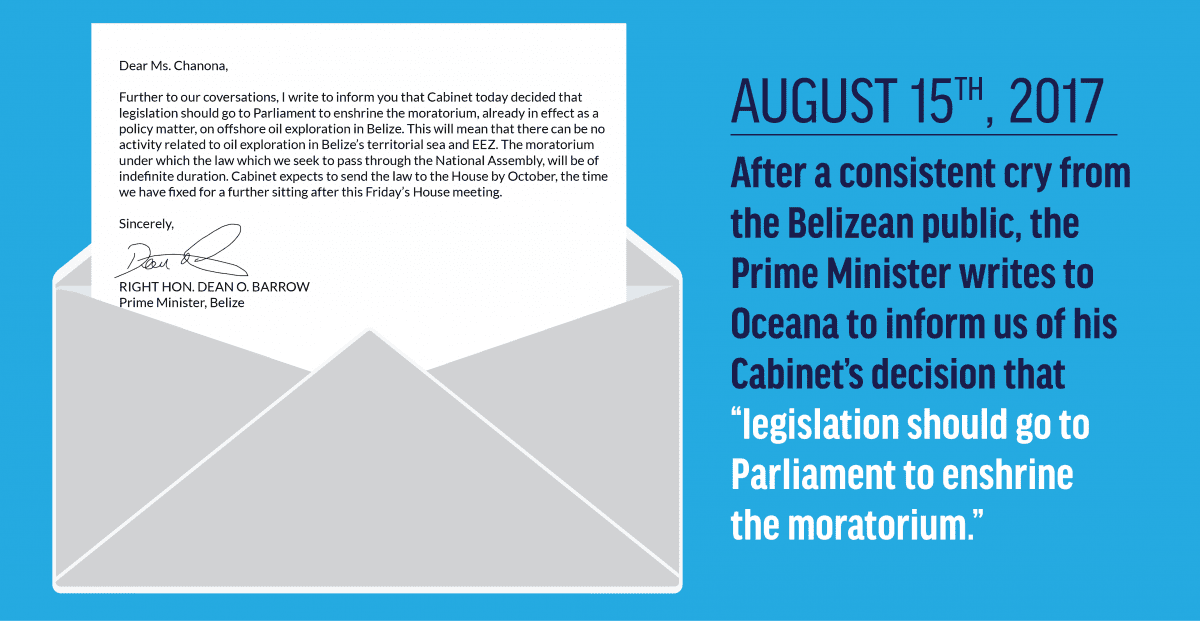 The moratorium became law on December 30, 2017, and Belize became the first country in the world to completely ban offshore oil and gas development. Oceana's leadership in this campaign was noted by Prime Minister Barrow himself at a World Oceans Day event this year. He said:
"I pay full tribute to Oceana in Belize's mobilization of citizens to persuade and to push Government to go further, I immediately concede, than perhaps might have been our original contemplation. That multifaceted campaign […] has enshrined now a widespread public consciousness of the great value of our marine resources…"
The recent removal of Belize's reef from the World Heritage Sites in Danger list is a direct result of this campaign and our victory. The decision proves that we have made real progress, both in protecting Belize's oceans and in safeguarding the livelihoods of tens of thousands of Belizeans who depend daily on the health of the country's marine resources.