If you've read The Perfect Protein by Oceana CEO Andy Sharpless, you may remember his rule of thumb for selecting seafood: Whenever possible, shop local, choose smaller species, and opt for wild-caught species or farmed bivalves. Depending on where you live, oysters may meet all of the above criteria.
Bivalves like oysters, clams, and mussels are filter feeders, meaning they strain the water for food and leave it cleaner than they found it. Unlike other types of aquaculture, some of which are associated with pollution or the abuse of antibiotics to stave off sea lice, oysters are low-maintenance and low-impact when managed properly. No freshwater is needed to harvest oysters, and they eat microscopic plants and animals, so they don't require fishmeal or other dietary supplements that can come from overexploited species.
Wild oysters can also be sustainable. The recipe below comes from Chef Michael Smith, and it's served as his Inn at Bay Fortune on Canada's Prince Edward Island. The Inn uses wild oysters that are harvested from the Gulf of St. Lawrence using rake-like gear — a fishery that the Monterey Bay Aquarium's Seafood Watch guide rates as a "best choice."
As The Inn puts it: "Oysters are a big deal to us. They are an edible introduction to everything we do, representing our profound connection to the sea around us, to our fisherman, our bay, and the bounty of our feast."
So next time you shuck, rest assured that you are shucking sustainably.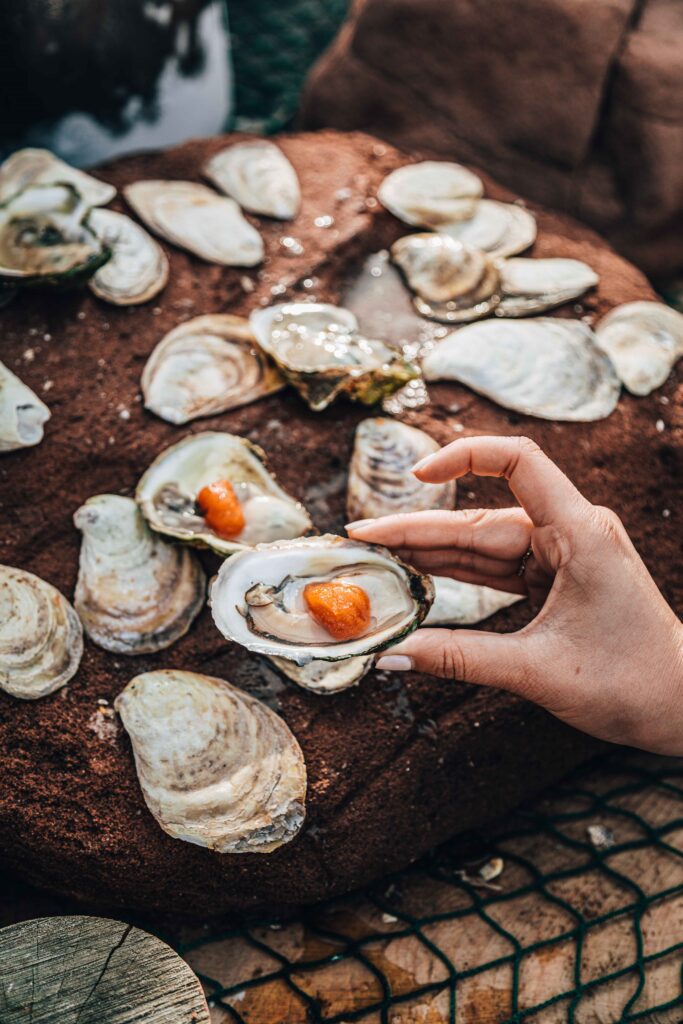 Chef Michael Smith's Bay Fortune Oysters with Bloody Mary Ice
Serves: 6 cups of Bloody Mary ice (enough for 12 dozen oysters)
Time: 30 minutes to prep, plus at least 12 hours to freeze the ice
Ingredients:
A few dozen fresh, local oysters, washed and rinsed
28-ounce can (796 ml) of premium whole ripe tomatoes
1 cup of your favorite vodka, aquavit, or gin
1 cup of sugar
1 teaspoon of Worcestershire sauce
1 tablespoon of your favorite hot sauce
The zest and juice of 4 large lemons
1/4 teaspoon of salt

Instructions for frozen Bloody Mary ice:
In your blender or food processor, purée the tomatoes, liquor, sugar, Worcestershire sauce, hot sauce, lemon, and salt. Pour into a pair of standard mason jars. Cover tightly and freeze. Every hour or so, give them a good shake until they freeze solid. Make the ice at least a day before you plan to serve it. You can refreeze leftovers for months.

Instructions for shucking the oysters:
When the party begins, gather your fellow shuckers and carefully get to work. Think "key in the lock" and not "lever." Your knife works best when you twist it in the hinge of the oyster shell. Levering invariably breaks the shell. The liquor (the briny liquid) in the oyster is delicious and precious. Try not to spill even a single drop. On a festive platter, steady the shucked oysters as you go by alternating upside-down empty top shells with fully laden bottoms. Just before serving, top each oyster with a chilly dollop of the frozen Bloody Mary ice.
Chef Michael Smith is one of Canada's best-known chefs, as well as a restaurateur, cookbook author, and TV personality. His numerous cooking shows have aired on Food Network Canada and around the world. He and his wife, Chastity, are also the proprietors of The Inn at Bay Fortune. As a sustainability advocate, he has supported various environmental causes. This includes Oceana's successful seafood fraud campaign, which helped persuade the Canadian government to develop a boat-to-plate traceability system — an important first step towards seafood transparency.
This column appears in the Climate Issue (Spring 2022) of Oceana Magazine. Read it online here.