Imagine that every minute of every day, two dump trucks full of single-use plastic drive onto the beach, back up to the shoreline, and raise their beds, sending a torrent of trash into the ocean. This is essentially what's happening around the world, with nearly 15 million metric tons of mismanaged plastic – or 33 billion pounds – polluting marine ecosystems each year.  
Compared to other continents that consume ample amounts of plastic, South America isn't the world's worst offender. Nevertheless, key players in two South American countries are taking bold action to curb single-use plastics. Earlier this year, the Chilean government passed a law that will practically eliminate single-use plastics from the food and beverage sector, while also bringing refillable beverage bottles back to supermarkets and stores for the first time in decades. 
Less than three months later and on the opposite coast, the Brazilian company iFood – a market leader in online food ordering and delivery – agreed to drastically reduce the amount of single-use plastic it gives customers. In doing so, it makes takeout a more environmentally-friendly option for millions. 
These victories would not have been possible without campaigning by Oceana and its allies, including Plastic Oceans Chile, the Clean Seas Campaign of the United Nations Environment Program (UNEP) in Brazil, and the thousands of people across both countries who spoke out and demanded plastic-free options.  
Oceana fights plastic pollution in two ways: by campaigning for plastic-free policies and by persuading powerful companies to reduce their environmental impact. Well-designed policies require businesses to take responsibility for their plastic waste, and corporate-led changes attract public attention and make it easier for lawmakers to pass meaningful plastic legislation.  
These complementary strategies, proven successful in Chile and Brazil, could convince other countries and companies that it's possible to meaningfully reduce plastic waste and protect oceans. 
Fries and a shake, sans plastic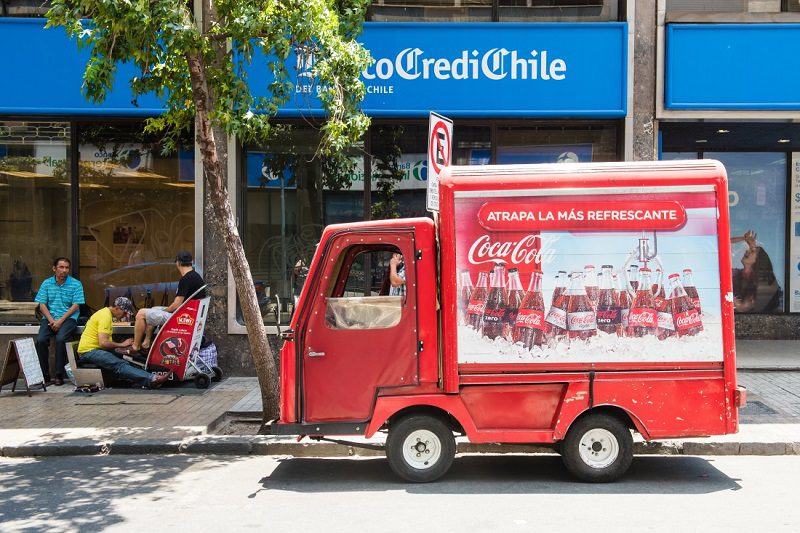 Chile's new law will all but eliminate the estimated 23,000 metric tons of single-use plastic that restaurants, cafes, and other food establishments discard each year in Chile. The law will achieve this by requiring dine-in eateries to phase out all disposable tableware – including plastic cutlery, cups, straws, expanded polystyrene (such as Styrofoam) containers, and more – by 2024.  
As for delivery and take-out orders, customers must be offered foodware that is plastic-free or made of certified plastic. The latter material is sometimes needed for containers that hold liquids, but it must be made from renewable raw materials (as opposed to fossil fuels) and must be able to break down in a home composting bin or industrial composting facility. 
While most restaurants already provide reusable utensils to dine-in customers, throwaway plastics are ubiquitous in fast food settings, explained Catalina Sapag, a Santiago-based science and campaigns coordinating manager for Oceana. That won't be true for much longer, though. 
"Three years from now, if you go to a food court in a shopping center or sit down to eat at a McDonald's in Chile, all the foodware they give you will be reusable," Sapag said. "I personally wouldn't have been able to imagine this." 
The law also requires stores to display, sell, and receive refillable beverage bottles. Larger supermarkets must comply by next February, followed by smaller stores by 2023. By 2024, at least 30% of beverages displayed in stores across Chile must come in refillable bottles – and that percentage will keep increasing.  
In short: Refillable bottles will become widely available across Chile at a time when drastic reductions in single-use plastics are needed most. A report by Oceana found that just a 10% increase in the global share of beverages sold in refillable bottles would take as many as 7.6 billion bottles out of the ocean. This may seem like a massive shift in consumer culture, but for Chile, disposable soda bottles are a far newer concept than refillable ones.  
"When I was little, I remember going to a supermarket and there was always a refillable machine where you could bring your soda bottle back. There used to be at least one in every supermarket," Sapag said. "That's no longer the case, but the law will change that." 
Coca-Cola Andina – the third largest Coca-Cola bottler in Latin America – has shown that refillable bottle schemes can be successful in the 21st century. It sold nearly 45% of its products in refillable bottles in Chile during the 2019 fiscal year.  
In addition to reducing single-use plastics and prioritizing refillables, Chile's new law contains an important enforcement aspect: Anyone has the power to report businesses breaking the rules. Establishments can be fined between $64 and $1,379, depending on the number of illegal disposable products used by businesses that serve food, or the number of days a market or grocery store failed to offer refillable bottles. The severity of the fine will also be determined by their economic capacity and whether or not it's their first offense. 
No national plastic law in the world contains such comprehensive mandates, including a requirement to prioritize reusable bottles over disposable ones. Previously, this type of legislation had only been successful at the citywide level in places like Berkeley, California and Hobart, Tasmania.  
The law is unique not only because of its breadth, but also because of the widespread support it received. Oceana and Plastic Oceans met with the beverage and bottling sector, the plastics industry, and lawmakers across the political spectrum to convince everyone of its merit.  
"Just as we're experiencing the climate change crisis, we are experiencing a more silent one, which is plastic pollution in oceans," said Senator Guido Girardi, who backed Chile's single-use plastic law. "This makes it very important to reduce its production, and one of the ways is to put an end to plastics that are non-essential, such as those regulated by this law." 
Delivering a plastic-free promise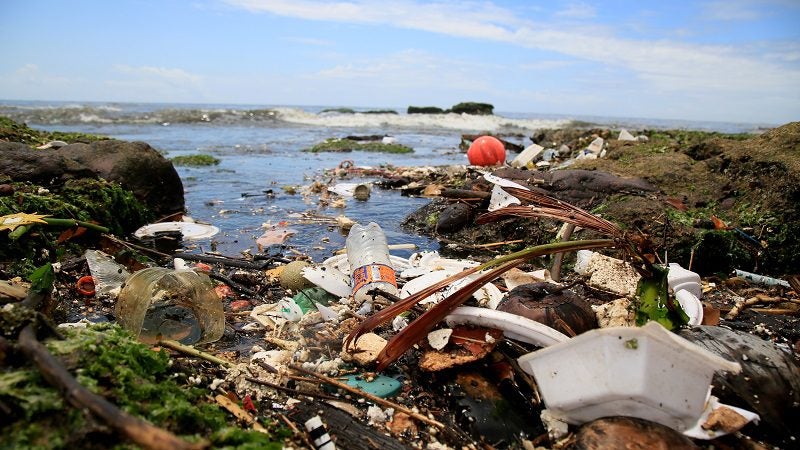 In South America, Brazil has the largest population and land area, longest coastline, and heftiest plastic waste problem (with 325,000 metric tons of the stuff entering the ocean each year, according to an Oceana report on Brazil's plastic footprint).  
Fittingly, for its first corporate-focused plastic campaign in Brazil, Oceana set its sights on several food delivery platforms, including the largest in both Brazil and Latin America: iFood. Oceana and UNEP launched an ambitious campaign to reduce waste in the food delivery sector that hinged on persuading the public to put pressure on companies. This was no small feat in a country where plastics are pitted against many other pressing concerns.  
"In Brazil, when you think about environmental problems, people are usually concerned about deforestation in the Amazon," said Lara Iwanicki, an Oceana campaign manager in Brazil. "Ocean-related issues are still very low on the list of things that people think about."  
So what changed? For many Brazilians, the COVID-19 pandemic brought this issue home. In 2020, when "stay inside" became a rallying cry, spending on food delivery apps in Brazil increased by 187%, according to a survey by the startup Mobills Labs. These companies were delivering millions of orders each month, and customers started to notice the plastic forks, spoons, and containers piling up.  
After Oceana and UNEP launched their #DeLivreDePlástico campaign – a play on words meaning both "plastic delivery" and "free from plastic" – they received a swell of support from Brazilians who wanted a change. A poll commissioned by Oceana and UNEP found that 72% of consumers want to have their food delivered without single-use plastic items.  
A critical moment in the campaign occurred when the participants of Big Brother Brasil – a reality TV show watched by millions – received an on-air delivery rife with iFood-branded plastic packaging. Dismayed, viewers took to social media to vent their frustration. The company listened to feedback and sent a second order to Big Brother the following week, but once again received flak because the paper takeout containers were lined with plastic. 
Building on this momentum, Oceana and UNEP quickly circulated an online petition calling for delivery apps to grant customers a plastic-free option, and more than 20,000 people signed their names. The campaign received celebrity support from Oceana Board Member and world-record-holding big wave surfer Maya Gabeira, UNEP's Clean Sea ambassador and actor Mateus Solano, and actress and environmental activist Laila Zaid. 
Behind the scenes, Oceana and UNEP were also negotiating with iFood to agree on specific and measurable reductions in plastic waste. Ultimately, they succeeded: In August, iFood agreed to phase out plastics in several stages. By the end of December 2021, customers will have to tick a box at checkout if they want disposable cutlery because it will no longer be provided automatically.  
Reduction targets for disposable bags and packaging will be developed by March 2022, and iFood will increase its share of reusable packaging beginning in 2023.Lastly, iFood will ensure that 80% of its deliveries do not include napkins, plastic cutlery, plates, cups, and straws by 2025.  
"This corporate victory is a big win for the oceans: It will eliminate 1.5 billion single-use plastic items per year," said Ademilson Zamboni, Oceana's vice president in Brazil. "It also sends an important message to policymakers, demonstrating the feasibility of national legislative reductions." 
The plastic-free movement is picking up 
These commitments follow on the heels of several victories won by Oceana and its allies. In 2018, the government of Belize passed a law to eliminate single-use plastics from the food sector by the end of 2021. Not long after, Peru passed a law – largely developed by Oceana – that bans plastic bags and restricts other single-use plastics, including straws.  
Across the U.S., various local and state governments have passed laws that limit the sale and distribution of single-use plastics and ban activities that harm animals, including intentional balloon releases. Most recently, the state of California passed two laws: one that curbs restaurants' use of single-use plastic, and another that removes the requirement that single-use bottles be crushed for recycling, allowing them to be washed and refilled by beverage producers. 
A major milestone in Oceana Canada's campaign to ban unnecessary single-use plastics occurred this past May, when the federal government classified plastic items as "toxic" under the Canadian Environmental Protection Act, giving it the authority to start regulating the material. 
Oceana's team in the Philippines is also urging the National Solid Waste Management Commission to issue a list of non-environmentally acceptable products that includes single-use plastic, which would essentially ban the material across the country. 
The work doesn't end there, though. Oceana's plastics campaign spans the globe, with teams working in eight countries plus the European Union to substantially reduce plastic pollution. 
Chile and Brazil have already made measurable progress towards this goal. It's high time for the rest of the world to follow suit. 
This article appeared in the Winter 2021 issue of Oceana Magazine. Read it online here.