July 8, 2016
Fishers Report Huge Bycatch of Immature Mackerel in Peru's Anchovy Fishery
Eltaller.pe / Diego Pérez
After a bad El Niño slashed their numbers, Peru's mackerel are in trouble again. Fishers are reporting that the country's industrial anchovy fleet is landing huge percentages of juvenile mackerel instead — between 30 and 70 percent, depending on location. This is dramatically higher than the legal limit of 5 percent, and jeopardizes the future of mackerel and the fishers that catch them.
Last week, a statement put out by Peru's Ministry of Production, which manages the country's fisheries, put the rate of mackerel bycatch at 3 percent. The ministry's statement did not mention the incidence of juvenile mackerel. The huge discrepency between these two numbers may be compounded by the fact that anchovy vessels are reportedly throwing juvenile mackerel back into the sea to avoid penalties when they bring their catch to port.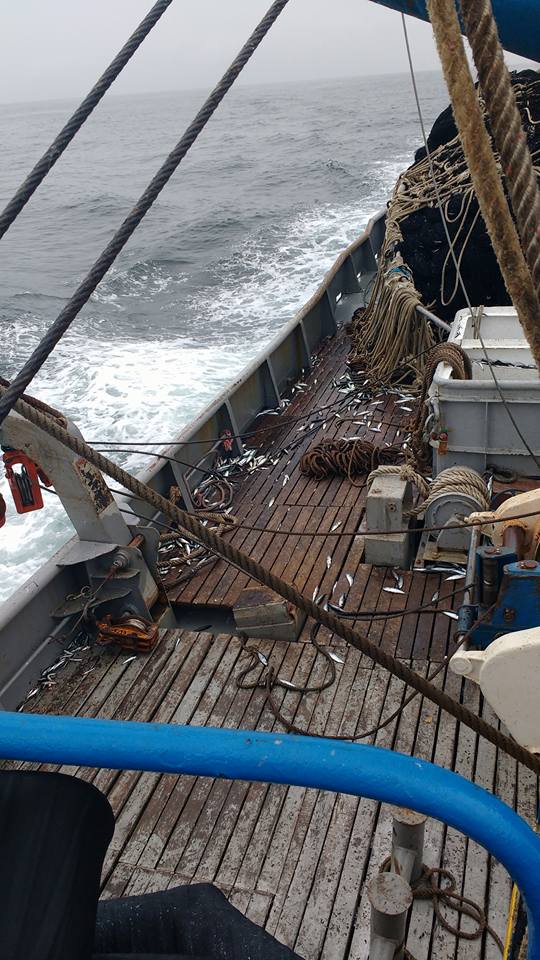 Peru's two species of mackerel make up one of the most important fisheries in the country, with a combined quota of 44,000 metric tons in 2016. According to a 2014 study, mackerel has the longest value chain of all commercial seafood industries in Peru — indicating a disproportionately profitable fishery with a major contribution to GDP.
Mackerel's big commercial value makes it a particularly important source of income for Peru's small-scale fishers. Compared to the industrial fleet, which usually exports its catch, artisanal fishers mainly sell their products for direct human consumption in domestic markets.
"On average captured mackerel have measured 18 centimeters (7 inches), when the minimum size is 32 centimeters (12.5 inches)," said Javier Castro Zavaleta, the president of an artisanal fisher's union in the port of Chimbote. Zavaleta explained that although mackerel populations grow after El Niño subsides, they take around four years to reach commercial size.
By catching immature fish, he added, "we are pillaging our long-term profitability and government revenue."
The massive bycatch of juvenile mackerel heaps insult onto injury for this year's first Peruvian anchovy, or anchoveta,season. Despite evidence that anchoveta populations were seriously threatened — the majority of fish caught in 2015 and early 2016 were small, skinny and sexually immature — the government permitted an early opening of the fishing season on June 27, four days ahead of schedule.
Zavaleta warned that more than 50 percent of anchoveta caught in the first seven days of the season are carrying eggs or showing signs of spawning — physical proof that the fish are about to breed. These statistics, he said, are evidence that more fisheries inspectors are needed and that the Ministry of Production is not doing its job.
Although the mackerel bycatch statistics from Zavaleta's organization are not official, Oceana scientists indicated that they reflect the latest findings from the government-run Peruvian Marine Institute (IMARPE).
"According to the last IMARPE survey, around 950,000 metric tons of mackerel existed in the study area, mainly in the northern zone," said Juan Carlos Riveros, the scientific director of Oceana Peru. "And of these," he said, "95 percent are juvenile, a number that matches the reports from fishers. We hope that the Ministry of Production will act with speed, strengthening oversight and closing fishing areas as necessary to avoid damage to artisanal fishing."
A version of this post originally appeared on the Oceana Peru blog.