In late 2015, the Belizean government vowed it would permanently ban oil exploration along the country's iconic 300-kilometer (190-mile) barrier reef and within its seven World Heritage sites. Thousands of Belizeans hailed this announcement as a significant step towards safeguarding the country's ocean-based economy from the threat of oil spills. But in October 2016, a phone tip to the Oceana Belize office made it clear that the government's deeds did not match its words. Government officials, it turned out, had already approved a contract to explore for oil just a kilometer off the reef.
Because Oceana Belize has led a long-standing campaign against offshore oil, the team was poised to take action. With help from outside organizations, the team analyzed satellite tracking data and found that the Northern Explorer — a ship owned by the oil exploration company TGS — had sailed from the Mexican port of Progreso a few days earlier and then motored down Belize's coast. On October 18, the vessel traced an odd, tangled trajectory near Turneffe Atoll and Lighthouse Reef, home to Belize's famous Blue Hole formation. If the ship was transiting from one port to another, it would be traveling in a straight line. It was clear that this was something different.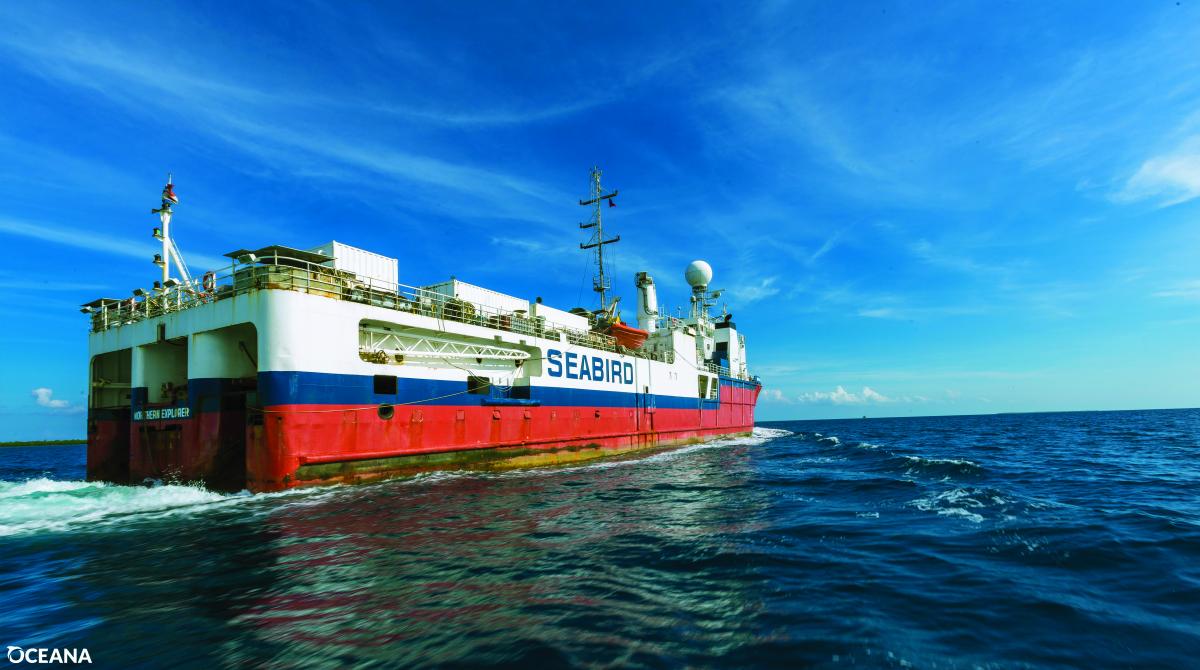 A day later, the Oceana team's suspicions were confirmed: Seismic activity had commenced well in advance of the start date the government was compelled to announce, without notice to Belizean citizens and without the benefit of an Environmental Impact Assessment. A passenger on a small aircraft shot a photo of the Northern Explorer towing an array of seismic air guns, proving without a doubt that oil exploration was already underway.
After these photos and the satellite data went public, the outcry from Belizeans was immediate. "People got angry because they had said no to offshore oil, they continued to say no to offshore oil, and they felt disrespected in terms of not being consulted," said Janelle Chanona, the vice president of Oceana Belize. As for the government, Chanona said, "I don't think they were prepared for the kind of outrage people have towards the idea of offshore oil."
In Belize, 35 percent of all jobs are tourism-dependent and a further 22 percent are tied to the seafood sector. More than 190,000 Belizeans, in a country of less than 400,000,
depend on the health of coastal and marine ecosystems. Seismic airguns — which can kill fish eggs and larvae, disrupt animal migration and disturb or deafen whales and dolphins — mean that oil exploration and drilling are a major threat to the country's economy.
In an attempt to calm the protests against offshore oil, government officials traveled to San Pedro to hold a meeting with local businesses, fishermen and organizations. San Pedro, the only town on Ambergris Caye, is Belize's main tourism hub and one of the country's major economic drivers. Angry tourism stakeholders and residents of all ages packed into a meeting room to confront the officials. Among the crowd was Belize's Minister of Tourism, Jose Manuel Heredia. At one point during the confrontation, Heredia stood up and announced that he would be the first one to jump — presumably into action — if the country's marine resources were threatened. As video captured and streamed on Facebook reveals, the crowd at that point started chanting: "Jump, jump, jump."
"I can tell you it was one of those moments of goose bumps," Chanona said. "This was a room full of stakeholders, students, tour guides and tour operators saying, 'We understand that seismic is a very slippery slope to a full-blown oil industry. And we know what that will mean for our livelihoods, for our future, for our industry and for our country.' To witness 'people power' was humbling."
The next day, the Northern Explorer pulled up its seismic array and headed back to port. Concerned islanders even got into their own boats to personally see to it that the air guns were packed away.
Although the Northern Explorer left Belize soon after, the danger of offshore oil development has not passed. The Belizean government has failed to follow through with its vow to ban offshore oil exploration and drilling along the barrier reef. It also has yet to keep its pre-election promise to hold an official referendum on the issue. As for its December 2015 declaration, the Government has also not scientifically justified why the proposed ban only extends one kilometer from the reef — or, if a spill occurs, how it plans to stop wind and water currents from carrying oil to the reef and smothing corals and wildlife.
"The ships have left but the threat remains. We want to be clear: this is about calling on and supporting our leaders to do the job they signed up for — for them to lead. We
don't want their job. We just want to live in a Belize where the environment doesn't need protecting," Chanona said. "And honestly, this business of feeling like we have to fight our government to know what's happening in our own country, with our shared resources, that's horrifying. But since their decisions will determine our collective future, they leave us few options."
While recognizing the scale of the fight ahead, Chanona expressed gratitude to her fellow Belizeans: "To the tens of thousands of sensational Belizeans who continue to remain engaged in this issue and who continue to recognize that their right to have a role in what happens next, again, we say thank you for being sensational Belizeans; your children and grandchildren will thank you."