Janelle Chanona is no stranger to speaking out for her country's oceans. A long-time anchor for Channel 5 news, one of Belize's top national broadcasters, Janelle recently ran her own media and production company and advised several environmental groups in Belize, including Oceana. Oceana magazine sat down with Janelle to learn about how she plans to tackle the threats facing Belizean oceans.
When did you first become interested in ocean conservation?
My parents taught my twin sister and me how to swim when we were two years old, so we were introduced to the marine environment at a very early age. My grandfather was truly passionate about the sea—his affinity for sand, salt air, and anything with scales was my first lesson in ocean conservation: When you love something you want to protect it.
For a long time I was hooked on the idea of becoming a marine biologist. I ended up in the communications field but I stayed close to the sea, diving as often as possible, taking marine-related electives at school and later, producing several documentaries for local environmental groups. A highlight of my journalism career was being selected for the James A. Waight conservation award by the Belize Audubon Society. When the opportunity to work with Oceana arose in late 2013, I knew my course in life had come full circle.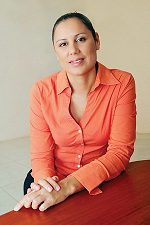 How important is the ocean to Belizean life and culture?
Belizeans are truly "people of the reef"… we are unified by our marine resources. Belize's eastern border is the blue and bountiful Caribbean Sea, which is home to more than 450 cayes, or small islands, and the second longest barrier reef in the world. When Belizeans we talk about the reef, we do so with tremendous pride. The reef also plays a vital role in protecting our shores from devastating storm surge during tropical storms and hurricanes. The reef is Belize's economic backbone. Roughly 4,000 fishermen and women depend on the sea for their livelihood and food, and one in every four Belizeans depends directly on tourism. I cannot overstate the importance of the sea to Belizean life and culture.
What are the biggest threats facing ocean health in Belize?
Overfishing is threatening ocean health and economic stability. Fishermen concede they have to go further and fish for longer periods of time to catch smaller fish. The situation has also prompted fishermen to turn to other species, like parrotfish or sea cucumber. Licenses for these newly-fished species are often issued without feasibility studies and without proper monitoring. This ad hoc management approach to fisheries is a serious concern.
Poverty is another serious threat. On average, fishermen are aware of the decline in fish stocks but, because fishing is their livelihood, it's a race to fish to provide for their families. This general picture holds true on a national level, too. Crippling external debt obligations are being met, in large part, by revenues from on-shore oil. The potential financial benefits of an offshore oil field are obscuring the reality that any oil-related disaster at sea could ruin the Belizean Barrier Reef and the jobs and food it provides.
Continue reading at Oceana magazine…