Oil spills poison marine life and hurt coastal communities. And they happen more often than you think.
When a massive oil tanker capsized off the Philippine island of Mindoro in February 2023, spilling over 800,000 liters (over 200,000 gallons) of oil into the sea, hardly anyone or anything — from the smallest mollusk, to seabirds, to local fishing communities, remained unaffected. Even mangroves flanking the island — the "guardians of the coast" that have defended coastlines from typhoons — were not safe from the toxic chemicals unleashed by the sunken MT Princess Empress ship.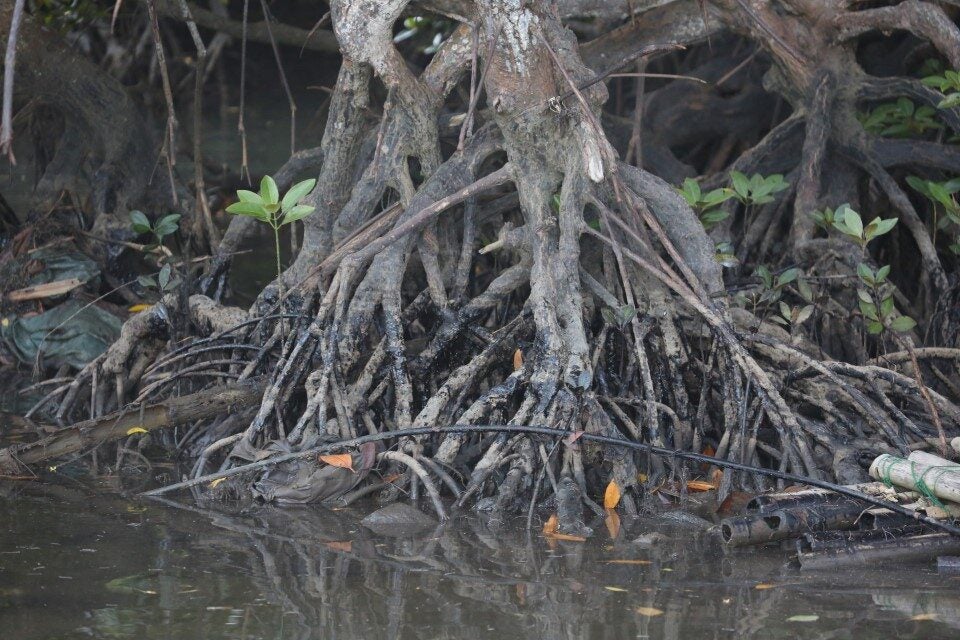 Standing in the shifting sediments where land and sea meet between tides, mangrove trees not only buffer the shore from floods and other disasters, but they keep us all afloat in a warming world, absorbing carbon four to five times more effectively than terrestrial forests. In a sad twist, however, they're especially susceptible to a major source of the climate-changing pollution they protect us from: oil.
As the oil slick spread across 120 kilometers (75 miles) of turquoise waters and white sands turned black on nearby islands, a tragic, but all-too-familiar story took shape: marine life slathered in sludge, smothered corals, oiled mangroves, closed beaches, oil-wrought illnesses, fishing bans, and lost livelihoods. Beyond the stained shore, oil impacts the marine environment, the climate, and coastal communities. Whether or not they make headlines, oil spills wreak havoc on everything they touch.
Upon closer look 
Determined to document the MT Princess Empress oil spill's aftermath firsthand, Oceana's team in the Philippines saddled onto motorbikes and headed for Mindoro, where oil had been detected near more than 60 coastal villages. There they saw oil coating mangroves along the shoreline, recalls Diovanie De Jesus, Oceana's Campaign and Science Specialist in the Philippines.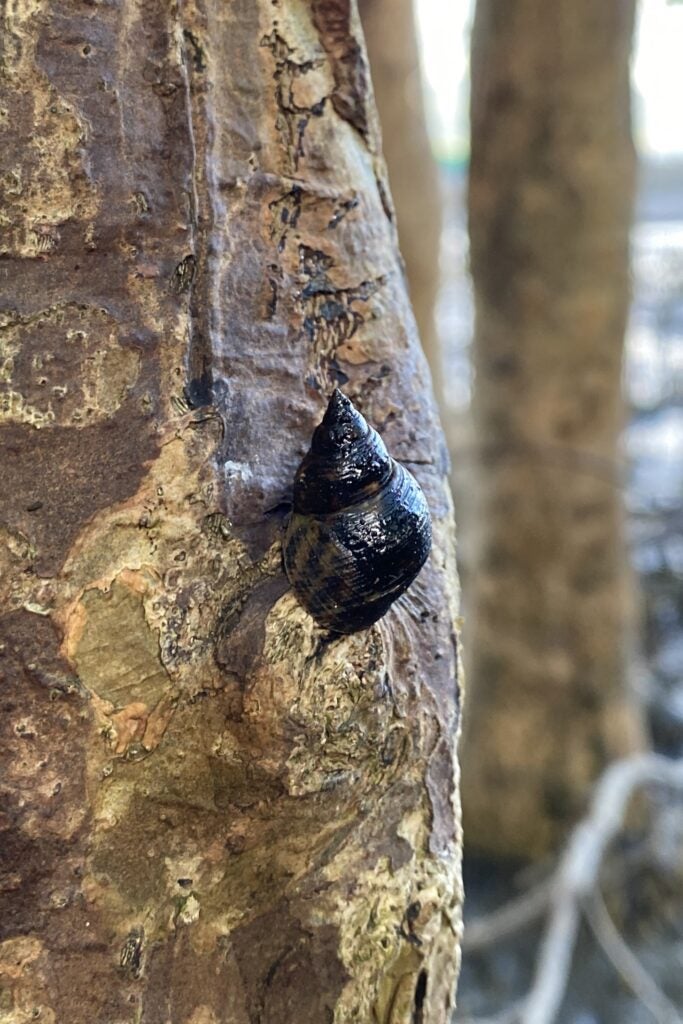 Oceana's Database Administrator in the Philippines, Jessie Floren, captured photos of a small snail covered in glossy black oil clinging to a mangrove — a snail that locals commonly eat, but, like so much of the local marine life, is now contaminated.
Many birds, fish, and invertebrates die within two weeks of an oil spill. And animals that survive aren't out of harm's way. After the infamous BP Deepwater Horizon oil disaster in the Gulf of Mexico, for example, dolphins suffered lung issues, anemia, and pregnancy problems. Lightly oiled mangrove forests may recover within a couple of decades, while heavily oiled mangroves often defoliate and die within a few months, taking fifty years or more to recover, if they do at all.
As of 2016, the past six decades had seen "at least 238 notable oil spills along mangrove shorelines worldwide," a study by mangrove ecologist Dr. Norman Duke found. At least 6 billion liters (1.7 billion gallons) of oil had been released into mangrove-lined coastal waters, oiling up to 19,400 square kilometers (nearly 7,500 square miles) of mangrove habitat.
In the water, oil grabs onto seaweed and seagrass, blocking the light the plants need for photosynthesis and jeopardizing their survival. Coral reefs, which support entire ecosystems, can be "suffocated" by oil, says Dr. Sarah Giltz, Marine Scientist at Oceana. According to scientists at the University of the Philippines, the MT Princess Empress oil spill could threaten 360 square kilometers (140 square miles) of coral reef, mangroves, and seagrass.
Few fish in the sea
Months after the spill, fishers still can't fish due to oil contamination. "Recent fish kills are directly related to the oil spill," Nikka Oquias, Oceana's Policy Specialist in the Philippines, emphasizes.
"Eighty percent of families in our community rely on this [ocean] for their livelihood," explains Edlyn Prado, who is the village chief in Barangay Misong, one of the villages of Pola municipality, ground zero of the oil spill in Mindoro.
"While they receive financial assistance, it isn't enough for the expenses of their children who need to go to school every day." Annabell Ferrera Fabula, who lives in the village of Buhay na Tubig, which translates in English as "living water," says that in her neighborhood, "families earn by net fishing, others set out to sea to catch fish, some gather shells and seaweed to sell. Now, we cannot do that anymore."
The Philippines government paid fishers to help with clean-up — hard work that requires fishers to encounter toxic chemicals. People took short, two-hour shifts. Doctors observed a spike in illnesses, and residents reported dizziness, headaches, and other symptoms, as oil continued to contaminate water and fish.
Meanwhile, oil continued pouring from the site of the ship, satellite images showed, reaching the Verde Island Passage known as the "center of the center of marine shore fish biodiversity" in the world. The oil was suctioned off the MT Princess Empress more than three months after the spill.
A lack of public information — including the "fingerprint," or chemical makeup of the oil — makes responding more difficult, which is why Oceana and others are urging increased transparency from the government. Oceana continues to campaign to protect mangroves and is developing policy recommendations for the Philippine government to help with addressing future oil spills, which the country's Congress invited Oceana to provide during its legislative investigations.
"Oceana's role is really to help amplify the information on the oil spill, especially the calls from the people affected," Oceana's Senior Campaign Manager Danny Ocampo says. "It's important to keep the issue in the public eye."
A few months after the spill, media attention already started to wane. And this challenge only becomes greater with time.
Keep the pressure on
A year and a half has passed since the Repsol spill leaked more than 1,891,500 liters (nearly 500,000 gallons) of crude oil off the central coast of Peru. Still, Oceana has fought to keep the damage and injustice it caused at the fore.
The spill happened close to Peru's coastline — within the first two miles — essentially wiping away all signs of life, from crustaceans and mollusks, to sea birds, to Humboldt penguins and seals, says Oceana's Science Director in Peru, Juan Carlos Riveros. Some species will take years to recover, while others, especially those which migrate within a local area, like sea otters, might never return. The first organization to livestream the oil spill's aftermath, Oceana used Instagram to bring light to an issue few news outlets had picked up due to the influence of Repsol, the energy company responsible for this disaster (along with others).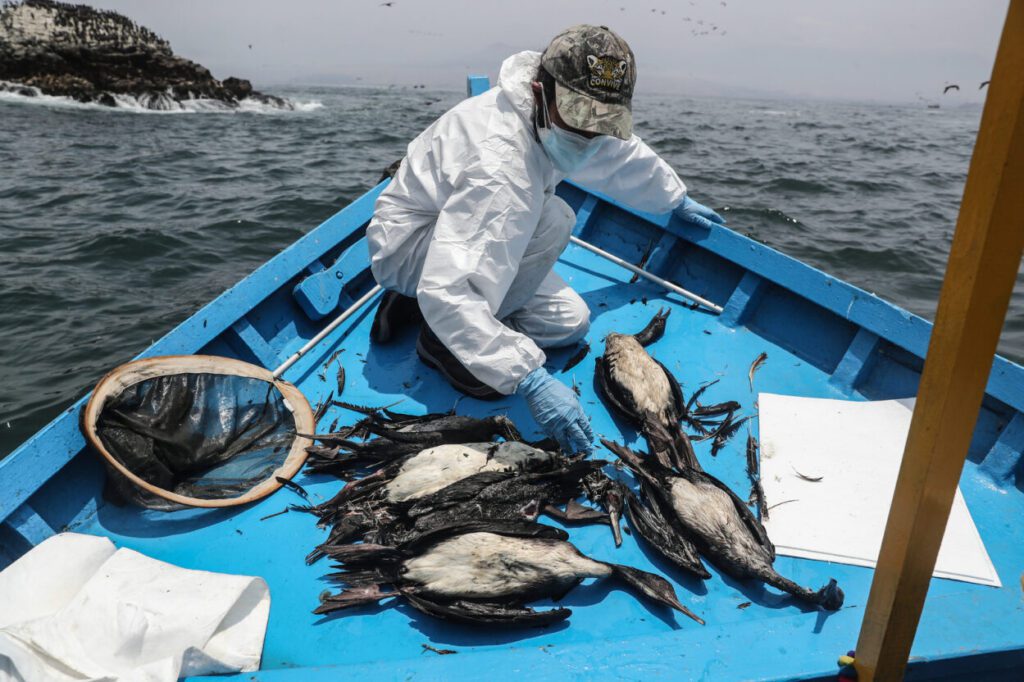 Repsol hired Peruvians from the affected areas to help with clean-up. Many did not have access to health services. With no protection except cloth masks leftover from the pandemic and no running water at home to rinse off the oil, they faced heightened risk.
Six months later, Oceana lowered a stunt mannequin into the sea. Surfacing the mannequin, visibly covered in oil, showed that the waters were still contaminated by the Repsol spill. Instead of scientifically testing fish from these waters, which likely would have revealed oil contamination, government testers used the "smell test" and declared it fit for consumption, Riveros says.
Oceana's team continues to bring visibility to Repsol's violations and the spill's effects on fishing communities. In May 2023, Oceana posted a TikTok revealing that Repsol had offered to send school supplies to fishers' families, only for the fishers to receive backpacks and notebooks branded with the name of the company responsible for their lost livelihoods.
That's not all, the video explained: Through an out-of-court agreement, Repsol tried to convince the fishers to withdraw their complaints and offered to pay them an amount that, in most cases, did not equal half of what they earned annually before the disaster.
Oceana's team is helping impacted fishers request their rightful compensation, says Riveros. Oceana served as advisor to a committee in Peru's congress preparing a report that points out the company's violations — as well as the Peruvian government's failings in following through on its rapid response protocols after the spill.
"We are fighting for communities and the ocean," Riveros says. "This isn't the classical 'we are doing good,' but real action, real response."
Oil spills don't stop
Massive oil spills like those in the Philippines and Peru grab headlines, but countless other spills are rarely or barely reported. In the United States, for example, over 6,000 oil spills occurred between 2010 and 2020 — an average of almost two spills every day.
Small, routine oil spills lead to chronic oil pollution. For five decades, United Kingdom oil and gas production in the North Sea has taken place largely out of sight — and out of mind. "In Deep Water," produced by Oceana and the climate campaign group Uplift, is the first-ever comprehensive review of how the U.K.'s oil and gas industry is damaging the seas.
"I think one of the reasons we don't hear so much about these everyday oil spills is because oil platforms are given an 'allowance' of how much they can legally release into the ocean" says Alyx Elliott, Campaigns Director for Oceana in the U.K. These daily oil spills deposit vast volumes of oil into the ocean over time — and satellites can see some of them from space. This oil seeps into marine protected areas (MPAs), some of which aren't off-limits to oil drilling in the U.K.
On the international front, the U.K. has helped lead the charge to protect 30% of the world's oceans by 2030; but when "we look in our own backyard, the government is supporting oil drilling right in the middle of marine protected areas," Elliott says.
MPAs are among the world's most important places for safeguarding marine life and habitat. They also help build resilience against the effects of climate change, a team of international scientists found in their 2017 study, published in Proceedings of the National Academy of Sciences. Oil pollution here poses a particular danger to the ocean's resilience.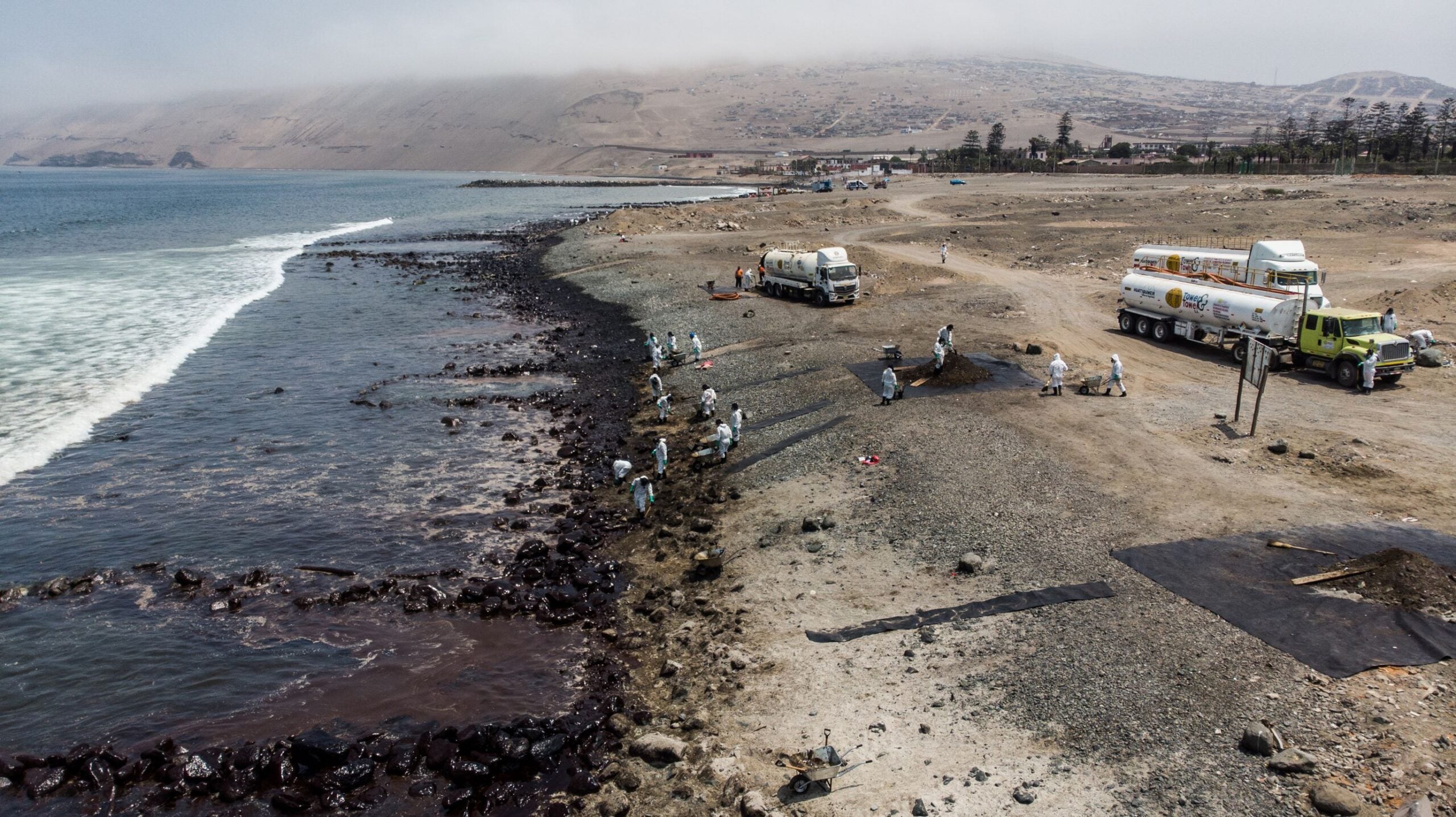 Stopping the expansion of offshore drilling has the potential to reduce emissions more than any other ocean-based solution, Oceana's analysis showed in 2022. And it's not just oil spills that do damage; every step of oil and gas production harms ocean ecosystems, including the noise pollution it creates — especially seismic airgun surveys. Exploring, drilling, and decommissioning oil and gas infrastructure also releases dangerous chemicals.  
In 2020, Oceana and a coalition of groups sued in U.S. federal court and successfully prevented seismic airgun blasting in the Atlantic. Successful campaigns also led East and West Coast governors to oppose offshore drilling off their state's coasts, and even the U.S. president to change course and withdraw four East Coast states' waters from offshore oil and gas leasing in 2020, effective for 10 years. These victories stop oil spills at the source.
Oil's impact on marine life can be felt for decades, if not forever.
"Everything down to small zooplankton all the way up to dolphins and whales can be really hurt by oil spills," says Giltz, "and in some cases the environment will be damaged in ways that won't ever recover."
Not over yet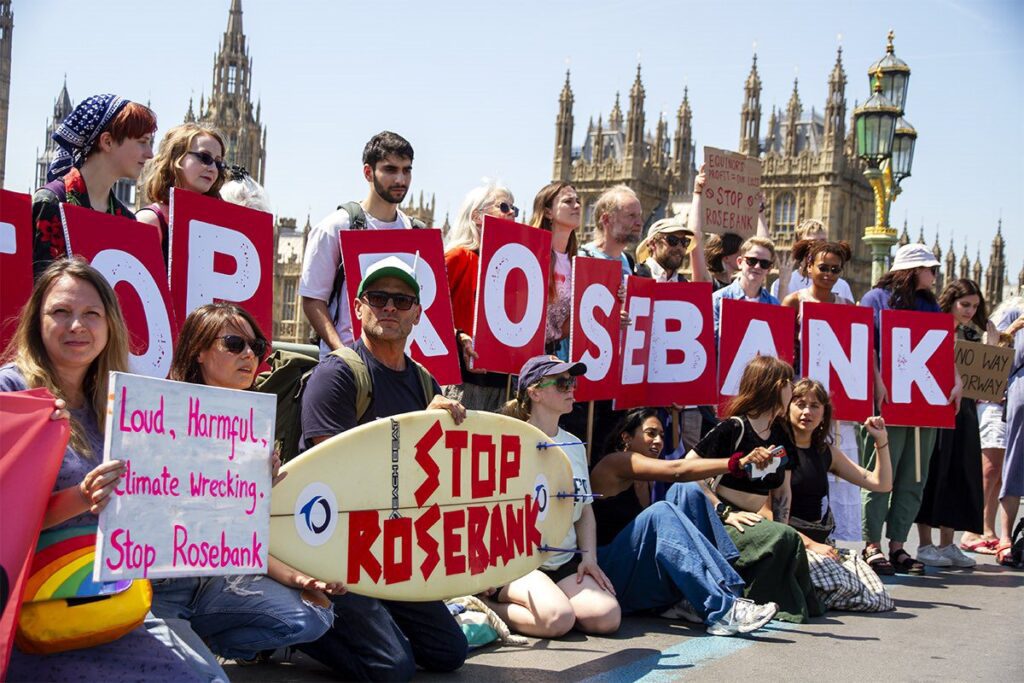 Marine life, including the resilient mangroves and abundant fish of the world, cannot withstand oil's poisonous effects, nor the climate crisis that oil and gas are fueling. And virtually any coastal community could find itself someday in a tragic headline.
"We must protect as much ocean habitat as we can, while working to stop the expansion of offshore drilling," says Giltz.
In the Philippines, that means campaigning for a protected "greenbelt" that will shield mangroves from the threat of offshore oil. In Peru, it means holding oil companies responsible for the damage they do while helping fishers achieve justice. In the U.K. and the U.S., it means working to prevent any new oil leases from going forward. In Belize, it means campaigning to ensure people have the power to protect their waters from oil and gas development.
Oil's impact cannot be undone, but the future of oil remains in humanity's hands.