September 23, 2016
In Photos: Around the World, Lowly Bait Fish Inspire Lofty Emotions
Howard Ignatius / Flickr Creative Commons
Numbering in the billions, bait fish are the middlemen between the ocean's smallest denizens and its largest. Some are familiar, like anchovies and sardines. Others, like silversides or menhaden, are less so. These species eat plankton, and in turn are eaten by almost everything else. Lauded in some countries, unappreciated in others, 'forage' fish can mean the difference between hunger and health, between poverty and profit. Though they're tiny, the emotions that they inspire in us — awe, appetite, greed — are not.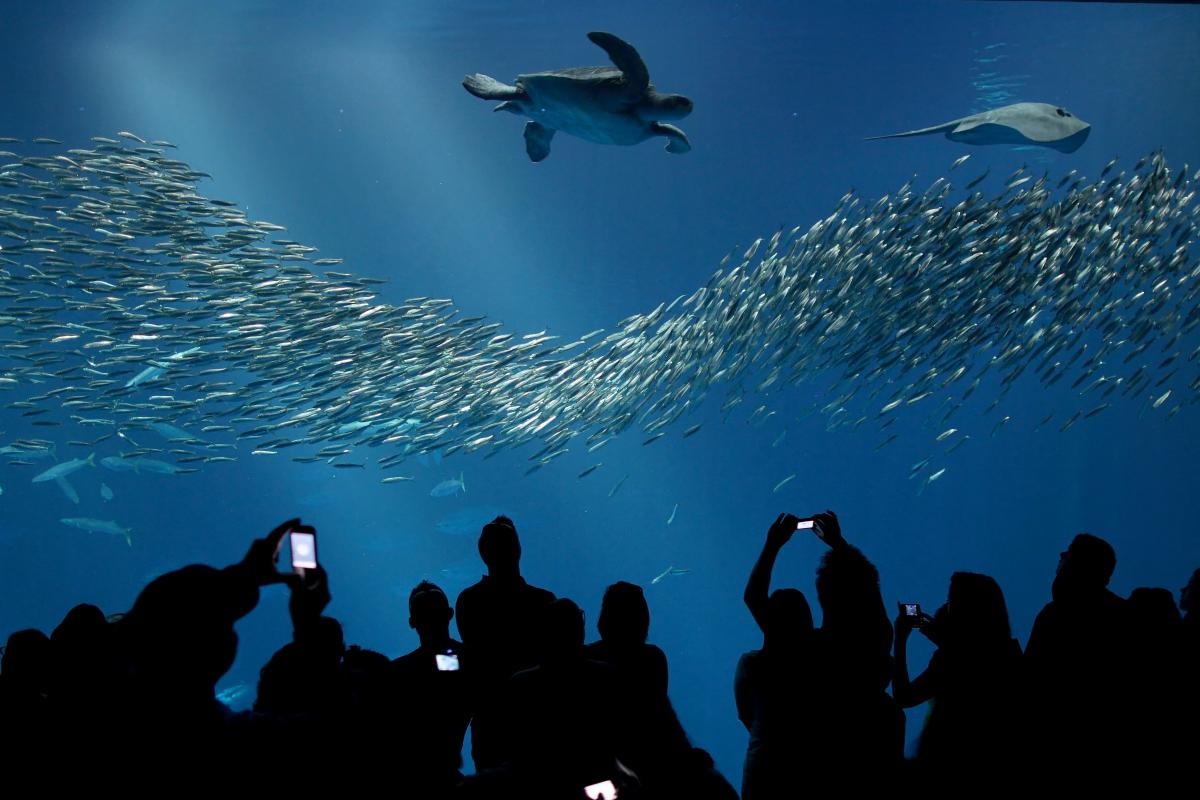 Visitors to the Monterey Bay Aquarium admire a shoal of sardines in the 1.3 million liter (333,000 gallon) Ocean's Edge tank. House in a former sardine cannery, the aquarium is a testament to the rise and fall of California's once-great fishery for these tiny fish.
Sardines crashed in the late 1940s, and are in trouble again. From 2007 to 2016, the state's sardine population plummeted by 90 percent. Thanks in part to work from Oceana, sardine fisheries in Washington, Oregon and California were suspended in 2015 and 2016. Scientists hope that the ban can give the region's embattled sardines room to recover.
Many of the West Coast's forage fish have yet to be targeted by commercial vessels. Last April, the federal government prohibited all development of new fisheries for these species across Washington, Oregon and California. This ruling safeguards fish like thread herring, lanternfish and certain smelts, and benefits animals from salmon to whales that need forage species to flourish.
Credit: John Loo / Creative Commons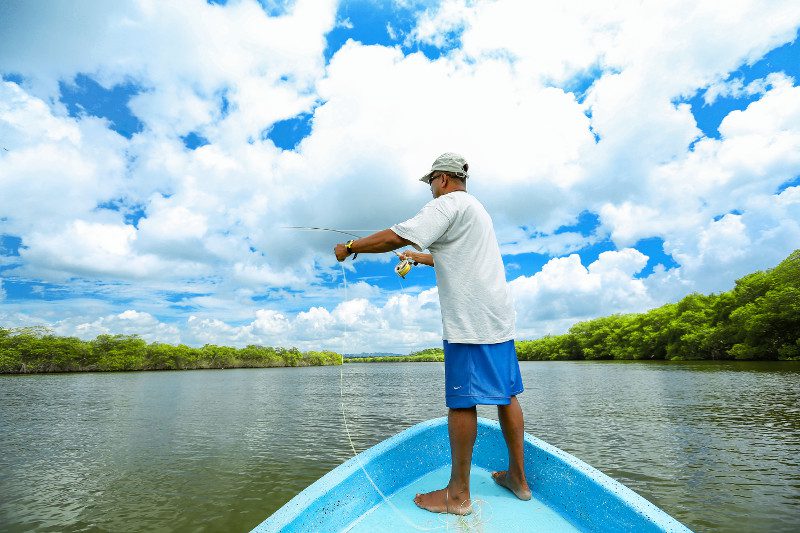 A fly fisher casts in Port Honduras, a marine reserve in the south of Belize. Anglers spend over $40 million annually in Belize to chase sports species like bonefish, tarpon and permit across sand flats and seagrass beds. Small forage fish are a hidden cornerstone of this industry — both as food for game species, most of which are predators, and as bait for commercial and recreational fishers.
But gillnets are taking a chunk out of the Belize's famed marine bounty. These nylon mesh nets, which are near-invisible to most marine species, are widely blamed for declines in fish large and small across the country.
Fishers, tour operators and activist groups including Oceana have called for a ban on these nets for years. Despite wide support for a gillnet ban — even from gillnetters themselves — the Fisheries Department has so far turned a deaf ear to these requests.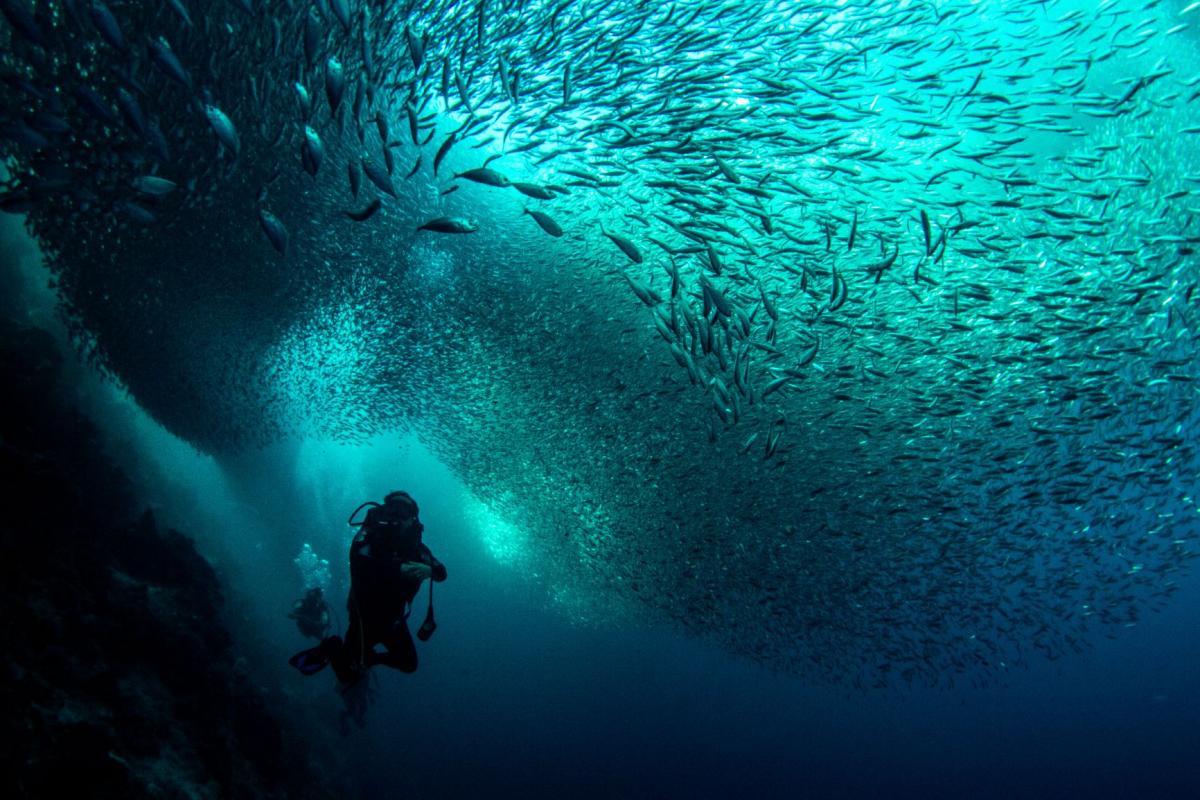 A diver swims beneath a canopy of sardines off Moalboal, a township along the Tañon Strait in the Philippines. Tañon Strait Protected Seascape is the country's largest marine park, but is plagued by illegal commercial fishing and weak law enforcement.
Across the country, uncontrolled fishing has slashed the populations of forage fish like sardines, triggering them to mature at smaller sizes and lay fewer eggs. Next year, Oceana Philippines plans to propose a national sardine strategy to better manage these tiny but vital fish.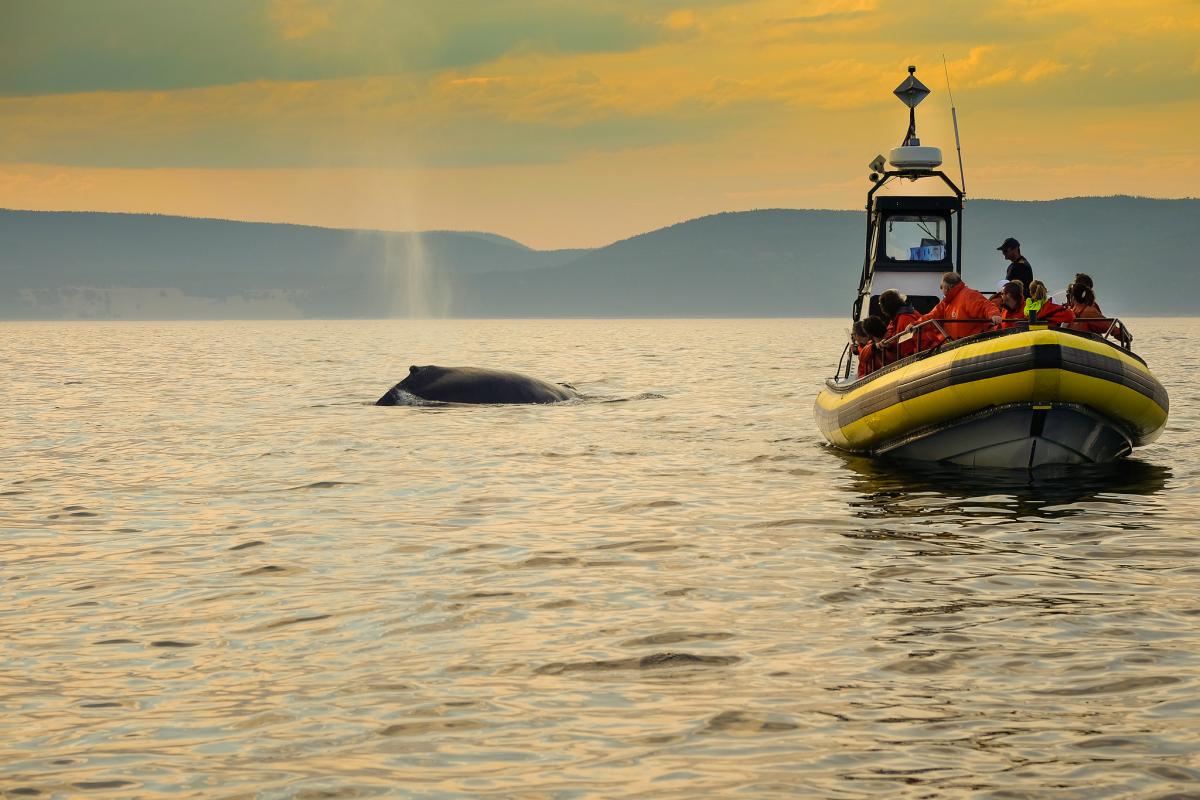 Tourists in Tadoussac, a village in Quebec, turn to watch a surfacing whale. Canada's whales depend on healthy populations of forage fish like mackerel — and its lobster fishers depend on these fish for bait.
According to a recent Oceana Canada report, the Canadian government has done a poor job of managing dozens of species, including the Atlantic mackerel. The fishery's regulations are complex, don't include bait or recreational catches, and are compounded by a lack of transparency.
They also fail to follow scientific advice. For the 2014 and 2015 season, scientists at Fisheries and Oceans Canada (DFO) called for a mackerel quota of 800 metric tons. DFO upped the final quota to 10 times that amount.
Failure to manage mackerel in a scientific manner, Oceana Canada warned in the report, imperils the country's fishing communities and threatens its iconic wildlife.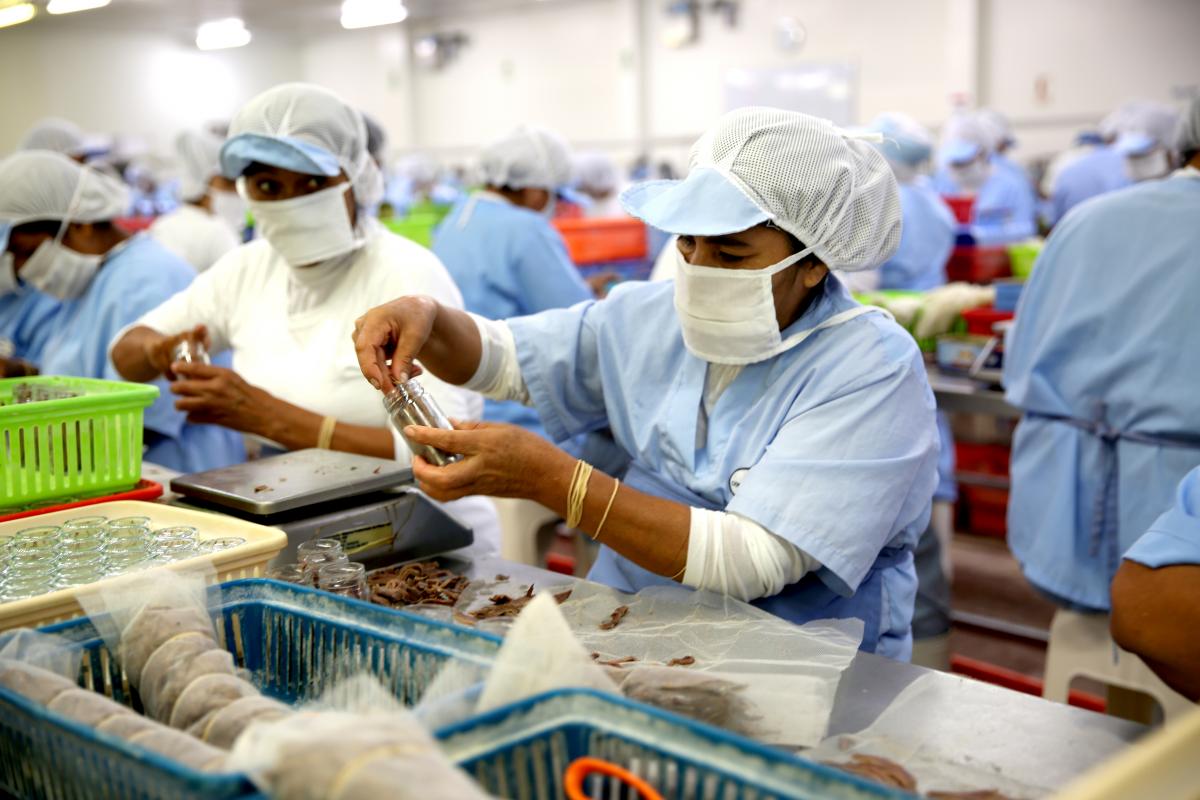 Workers bottle anchovy fillets in Compañia Americana de Conservas, a fish processor located in San Andrés, Peru. Only about 2 percent of the millions of tons of Peruvian anchovy caught each year wind up on diners' plates. The remainder is reduced into fishmeal and oil, which in turn is processed into feed for farmed fish and livestock.
Despite the anchovy fishery's prodigious size, climate change, El Niño and overfishing have left it in bad shape. This June, the government opened the year's first fishing season despite evidence that the nation's waters contained well below the 5 million tons of adult anchovies considered sustainable. The season was marred by low catches, high numbers of immature fish, and major bycatch of non-target species.
Without reforms to make catch quotas more accurate, Oceana Peru cautions, the world's largest single-species fishery may face a bleak future.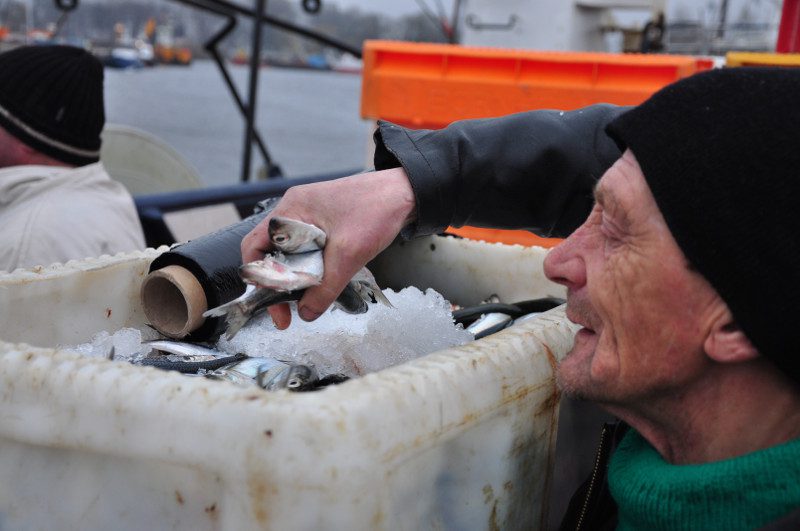 A fisherman picks herring out of ice in the port of Kolobrzeg, Poland. Whether fresh, smoked or pickled, herring and other forage fish like mackerel are a major part of the traditional diet for communities around the Baltic Sea.
Plenty of other creatures dine on herring too — like the region's famous cod. While herring stocks are well-managed, Baltic cod are crawling along at a fraction of their original numbers. The 12 Baltic Sea member states tend to ignore scientific recommendations when deciding on catch limits, essentially giving the green light to continued overfishing.
Oceana is calling for a complete closure of all targeted cod fisheries in the Western Baltic, and is encouraging the European Union to manage cod and herring as part of an 'ecosystem-based' approach. This holistic system uses scientific understanding of how different species interact in the wild to create more accurate, responsive management plans.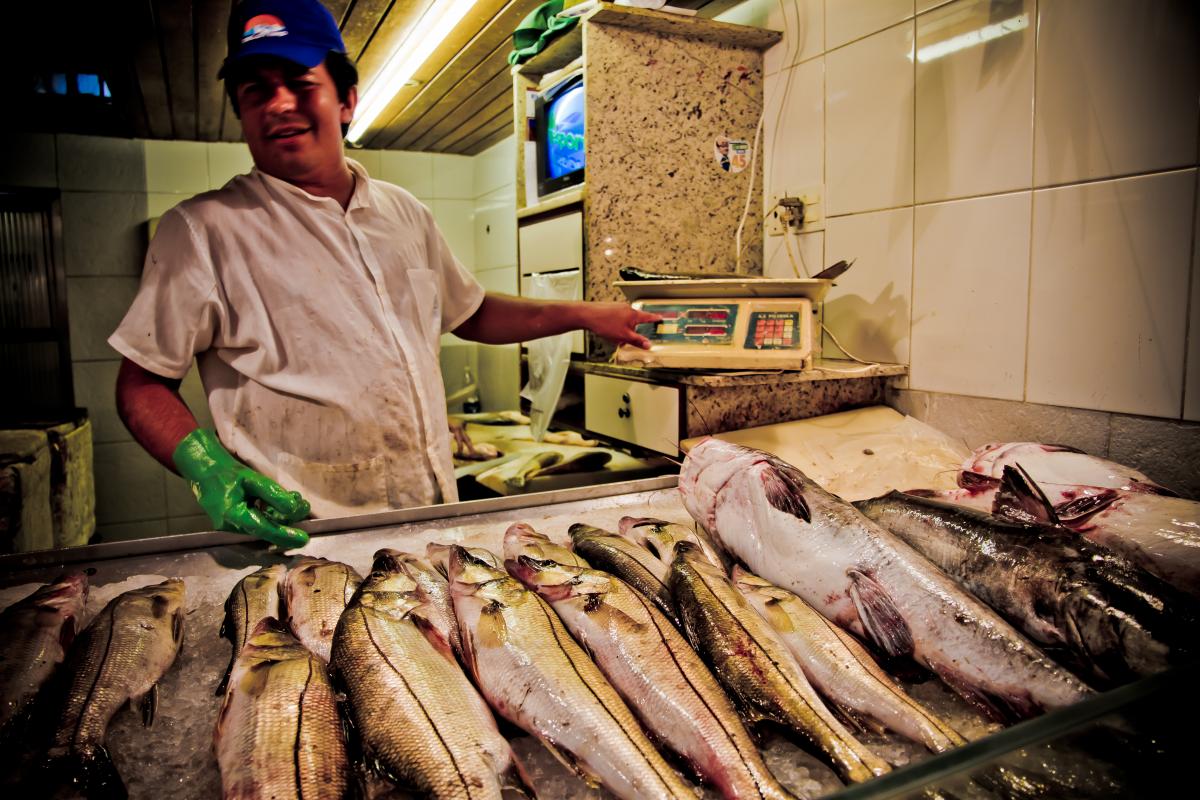 A vendor weighs a fish in a Rio de Janiero market. A 2015 analysis revealed that 40 percent of sardine samples taken from Rio de Janiero's markets, stores and sardine canning factories were actually other species with lower nutritional value.
Though the sardine fishery is the largest in Brazil, it has been marred by illegal, unregulated and unmeasured fishing. After a 120,000 ton catch in 1999, by 2003 the fishery had collapsed to between 20,000 and 40,000 tons. Monitoring initiatives helped set the stage for the subsequent recovery of sardine stocks.
Brazil is currently in the process of nominating representatives to new committees tasked with improving transparency and management of the country's fish — including small open-ocean species like sardines and anchovies.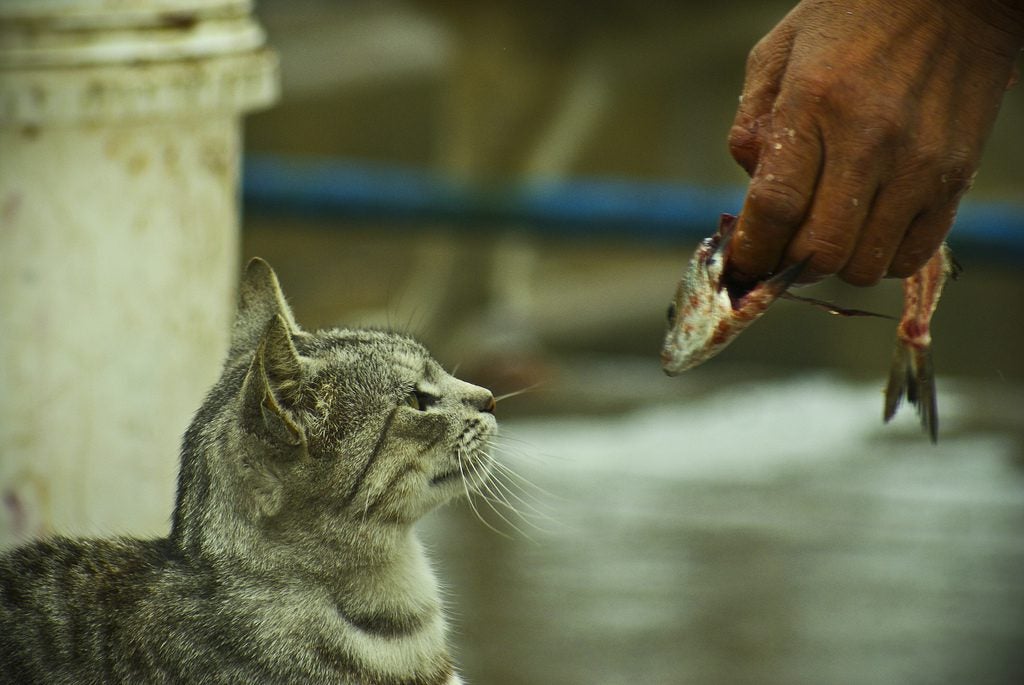 A processor tempts a cat with fish scraps in Coquimbo, a fishing port north of Santiago, Chile. The country's forage fish have suffered from decades of chronic overfishing. The anchovy catch peaked at 3.7 million metric tons in the 1980s — but had declined to 28,000 tons in 2008. Over two million tons of jack mackerel were landed in 1995, with a collapse to 630,000 tons coming just four years later.
The Fisheries Law, enacted in 2013, is the country's first large-scale plan to manage its lucrative fisheries. The first species-specific plan — for South Pacific hake — was put into motion last April.
Around the world, Oceana advocates for forage fish and the fishing communities and marine wildlife that depend on them. Donate today to support our work.