Earlier this week, Oceana launched an expedition to document three seamounts located between the islands of Mallorca, Ibiza, and Formentera, all of which belong to the Balearic Islands. Using an underwater robot known as a remotely operated vehicle (ROV), a team of Oceana marine scientists will capture footage at depths of up to 3,280 feet. The 10-day expedition will allow Oceana to learn about and map areas of ecological importance that are in need of conservation.
"Because of technological difficulties, knowledge of the deep sea is still scarce, which is why current legislation tends to focus more on shallow coastal areas. From this expedition, our aim is to demonstrate the ecological importance of the Mallorca Channel and the Fort d'en Moreu, and to contribute to information on how they can be managed properly," Oceana in Europe executive director and leader of the expedition Xavier Pastor said in press release.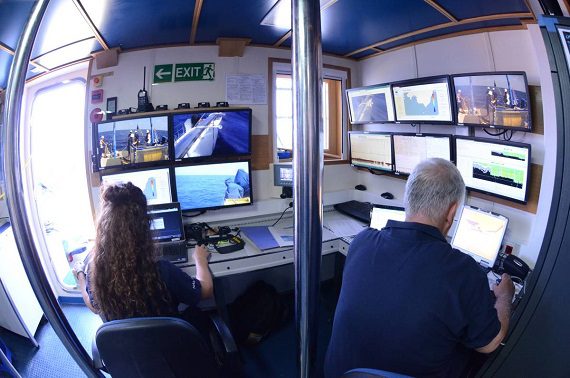 Marine scientist Silvia Garcia and expedition leader Xavier Pastor, working onboard the SOCIB R/V. (Photo: Flickr / Oceana in Europe)
Oceana will also venture to the Fort d'en Moreu, a carolligenous reef in east of the Cabrera archipelago, for shallower dives. Shallower dives will occur here, an area which Oceana hopes to include in the National Park of Cabrera.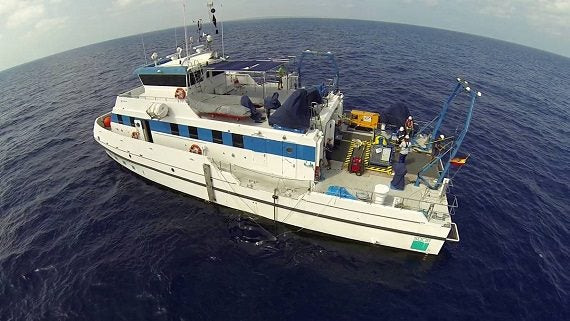 The SOCIB R/V during a ROV immersion. (Photo: Flickr / Oceana in Europe)
In addition to filming the ocean at depths that divers cannot descend to, Oceana will also collect sediment samples and observe cetaceans and sea turtles. The expedition aims to deepen the available knowledge on seamounts and the abundance of biodiversity they contain. Images and footage collected from the expedition will then be added to information obtained from previous expeditions, which will eventually be used to help endorse new proposals for protection.
You can follow Oceana on our expedition as we venture through seamounts and observe amazing marine life by checking out our Flickr album here.