Artisanal fishers achieve a victory that will support generations to come
Armando Paiva grew up fishing in Piura, Peru, like his father and grandfather. Full of vibrant marine life and commercially important fish like anchoveta, the first five nautical miles off Peru's coast cover a vast, biodiverse area important to artisanal fishers, who provide 80% of the fish that feeds Peru's population. But much can change in a generation.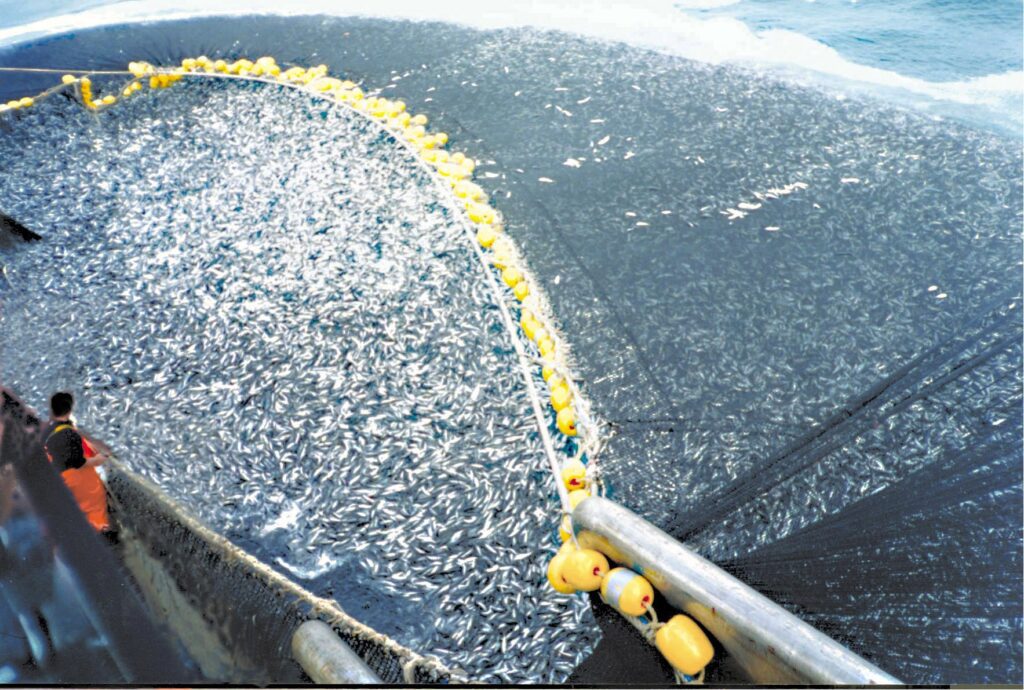 Fishing vessels now lower weighted nets close to the coast, unselectively scooping up fish and risking damage to the seafloor in the process. While sometimes the catch is destined for Peruvian plates, other times it is bound for processing plants, where the fish are ground into fishmeal and shipped to foreign countries as feed for livestock and farmed fish.
Now Paiva is a board member of the El Toril Artisanal Fishermen's Union in Piura, and his career involves not only fishing but advocating on behalf of artisanal fishers in his community and building alliances with others across the country. Their goal: strengthen Peru's General Fisheries Law to preserve their livelihoods, communities, and the health of the ocean. Their opposition: an industrial fishing industry with deep pockets and equally deep political ties. Yet, thanks to the resolve of Peru's artisanal fishers and Oceana's legal support, the tide has finally turned.
The sea at stake
Peru's coastline stretches over 3,000 kilometers (nearly 2,000 miles). And whether you're at the warm beaches of Piura in northern Peru, or the port of Matarani in the south, the waters closest to the coast are especially vital to the health of ocean ecosystems and local fisheries.
These "first five miles" — shorthand for the massive zone that extends five nautical miles (about 5.8 miles or 9.3 kilometers) from the coast — are as captivating as they are important. Covering about 24,755 square kilometers (9,558 square miles), this coastal zone is home to abundant marine life. Here green sea turtles sail through schools of fish while seahorses cling to seagrass with their tails. Sting rays circle coral reefs, home to octopuses, anemones, and nudibranchs — or sea slugs, as they're often called — whose soft bodies mirror their vibrant surroundings with designs fit for fine art. Oceana's science and audiovisual team saw all of this and more during a December 2022 expedition off Peru's northern coast.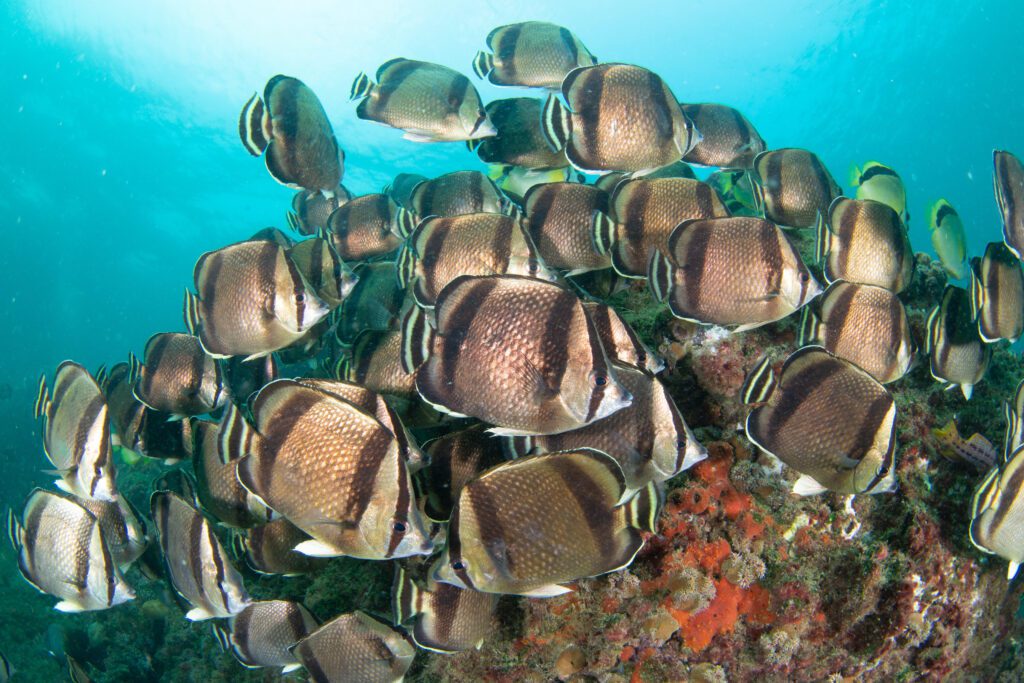 The first five miles "are likely more significant for biodiversity than any other coastal zone," argues Juan Carlos Riveros, Oceana's Science Director in Peru. Because the seafloor throughout the first five miles is generally within light's reach, plants like seaweed and kelp flourish. And these plants provide handy havens for fish to hide or disguise themselves, which is key for young fish to survive and fisheries to stay healthy.
This stretch of sea serves as the reproductive zone for Peruvian anchoveta, the largest single-species fishery in the world. Anchoveta is a nutrient-rich protein source, and despite much of it being used to make fishmeal — which is then used for aquafeed, or in products like fish oil supplements — it's increasingly being canned or consumed fresh, including in Peru's artisanal fishing communities.
Most artisanal fishers, Riveros says, sail small boats, no more than 30 feet long, to catch anchoveta and other fish close to the coast. They use gear like hand-held nets and lines. "It's very selective — you take what you want, and put the others back," Riveros explains.
Industrial fishers, on the other hand, operate with an unselective, take-all approach that uses mechanized fishing gear called "purse seines" — weighted nets that surround a school of fish, capturing the fish and sometimes other creatures that happen to be in the way. Many small to medium-sized boats claim the name "artisanal," but use purse seines instead of artisanal, hand-operated fishing gear, causing harm to both ocean ecosystems and artisanal fishers' livelihoods as a result.
During dozens of workshops Oceana hosted along Peru's coast, artisanal fishers discussed how to update Peru's General Fisheries Law to shore up protections. Two changes were needed: One, industrial fishers must be prohibited from entering the first five miles, no exceptions. And two: Only artisanal fishers should have access to the three miles closest to the coast. These changes would go an especially long way in Peru's southern regions, where Peru's government had repeatedly authorized exceptions for large industrial vessels.
Peru's Congress would need some persuading. And artisanal fishers would be the ones to do it.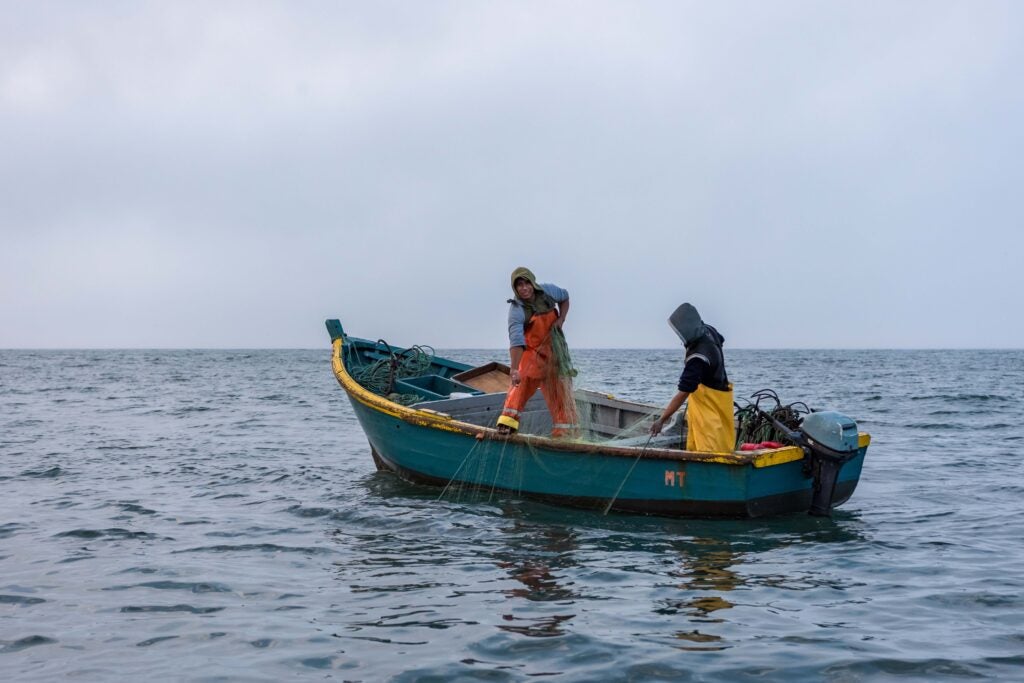 All paths lead to Lima
Legislative change rarely succeeds on the first try. Before artisanal fishers, Oceana, and other allies took their proposal to Peru's Congress, other attempts had already been made to rewrite or revamp the General Fisheries Law to better protect artisanal fishing communities and the country's oceans, but this one seemed best timed and positioned for success.
Put to an initial vote, Peru's Congress voted in favor of the updated protections — but without the supermajority required by Peruvian law. That meant a second, and final, vote.
Up against a powerful industry, Peru's artisanal fishers were historically overruled or unconsidered. Undeterred, they bussed approximately 18 hours from their coastal hometowns to the capital. Ten fishing leaders from across the country, including Paiva, arrived in Lima to give communities like theirs a fighting chance.
The industrial fishing industry was armed with a formidable public relations guild and a reliable, go-to argument: industrial fishing provides jobs. Technical cases about the damage wrought by fishing gear would not be convincing enough — so the fishers told their stories.
The day of the vote, the fishers "chased congresspeople around the building," remembers Carmen Heck Franco, Oceana's Policy Director in Peru, with a laugh. 
Fishers listened to congresspeoples' concerns and refuted industry arguments. They told Congress members how they wanted their grandchildren to be fishers someday, but worried that with few fish in the sea they'd end up hungry. Their arguments were convincing. Even one staunchly opposed congressman came around to their side. 
Meanwhile, industry members could tell the fishers were making waves. Their new strategy: postpone the vote.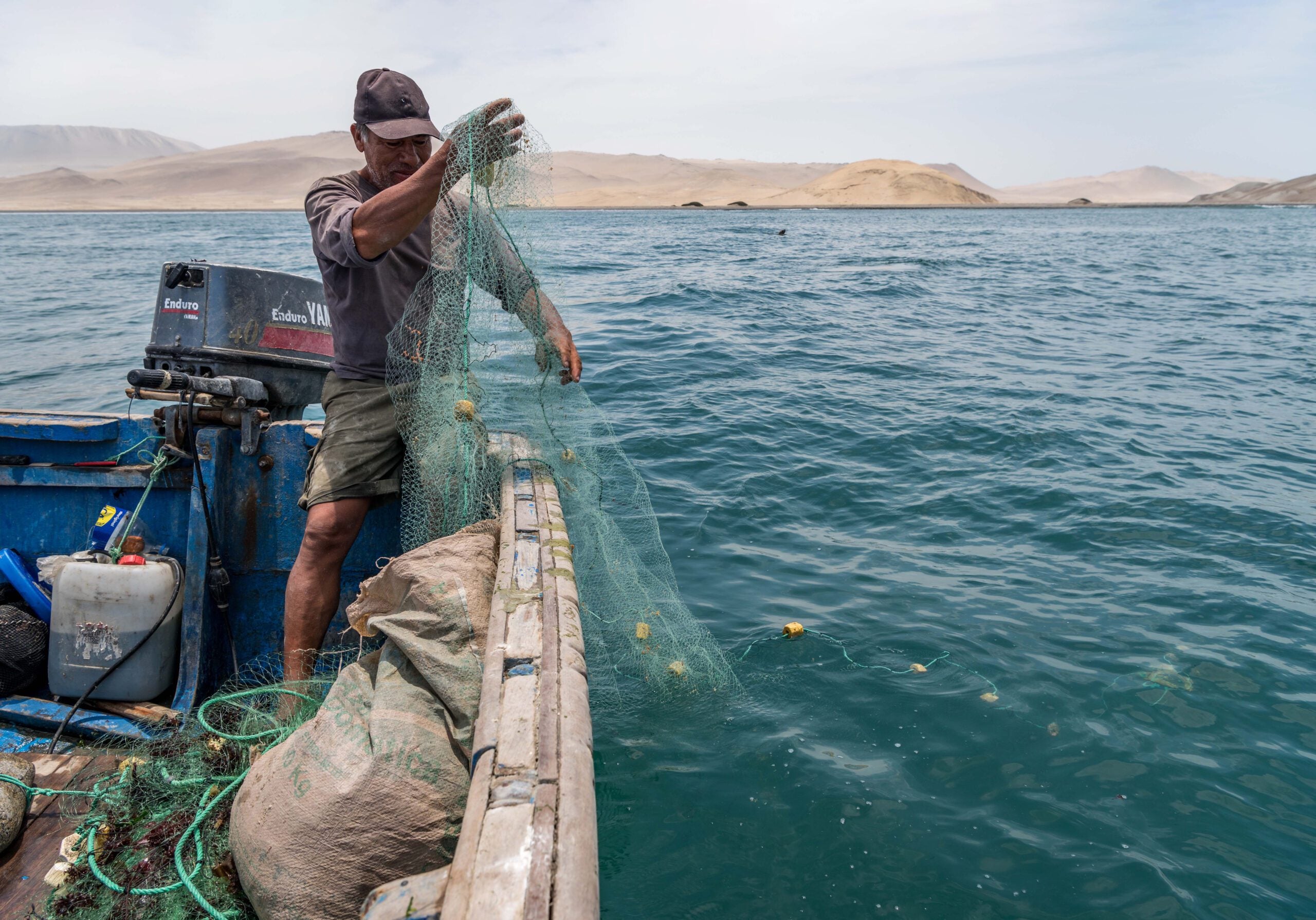 An artisanal fisher uses a hand-held "curtain net" as he fishes off the coast of Ica, a city in Southern Peru. © Oceana/Andre Baertschi
Put it to a vote
Not only was the industrial fishing industry's attempt to delay the vote unsuccessful — officials ushered the artisanal fishing leaders into Congress' auditorium to witness the final vote. While the fishers sat in the balcony, the president of Congress saluted them for coming. After Congress members debated, the time to vote had come.
The vote was unanimous: The protections passed, with those against abstaining altogether.
For many of the artisanal fishers, this victory seemed too good to be true. For years, their voices had been drowned out.
"For me, the law is important because it vindicates ancestral rights for artisanal fishers. We have regained control of the five miles of the biodiversity of that zone," says Juan Moina, regional coordinator and former president of an artisanal fishing federation in Peru's Arequipa region. "The unity of the leaders at a national level has obtained results…and we have managed to achieve better living conditions for artisanal fishers."
The law supports fishing that is "carried out with respect for nature," Paiva told reporters, "…and to carry [it] out as an artisan does: with selective nets, respecting the fishing zones, the natural banks, the reproduction seasons of the resources and the closed seasons."
With the new law in place, any vessel that has more than 32.6 metric tons of whole capacity — that is, an industrial vessel — must fish outside the five miles, no exceptions. Any mechanized purse seiner, no matter the size, is prohibited within three nautical miles.
As directed by the law, Peru's fishing authority will approve a list of the allowable fishing gear safe for ocean habitat throughout the coastal zone. Partnering with Oceana, artisanal fishing leaders are drafting bylaws so the protections can be practically implemented across the country.
This victory not only marks a milestone for Peru's fishing communities and seas, but for artisanal fishers around the world who are mobilizing to defend their livelihoods and their oceans from the threats they face every day. In Brazil, 150 artisanal fishing leaders drafted a bill proposal to modernize the country's fisheries policy. In the Philippines, fisherwomen are building a coalition to speak up to the challenges they face. In Mexico, Oceana is partnering with the fishing community of El Cuyo in Yucatan to create a no-take zone to conserve marine ecosystems and local lobster fishing livelihoods.
As Wilfredo Suárez Morales, the co-coordinator for a sustainable artisanal fishing network in Peru's provinces of Huacho and Huaral, puts it, "If we, the artisanal fishers, work together, thinking of future generations, I'm sure that we will all win, and we will have marine resources and a stable economy."