Loggerhead Marinelife Center
A locally owned business with 300,000 visitors walking through the door every year and a budget of $5 million is a success by any measure — especially in a town of just 3,363 inhabitants. What might surprise some is the focus of this economic dynamo: Sea turtle conservation. The Loggerhead Marinelife Center (LMC) in Juno Beach, Florida has an annual economic impact of approximately $60 million. And LMC is not alone. It's one of dozens of turtle rehabilitation centers and nesting beaches that draw 500,000 tourists to the southeastern United States each year.
The Loggerhead Marinelife Center's success is the direct outcome of its mission "to promote conservation of ocean ecosystems with a special focus on threatened and endangered sea turtles." The health of these turtle populations — and the tourist industry that depends on them — relies on effective laws such as the Endangered Species Act, as well as regulations that minimize the number of turtles killed in fishing gear. Costal economies, in addition to the wildlife and their habitats, tell the tale of the positive influence of conservation legislation.
"There are so many incredible NGOs and nonprofits doing incredible work (that) can have a meaningful impact on our future, whether it's on our environment, on education, on science," says Jack Lighton, president and CEO of LMC. "These organizations, although called a nonprofit, in many respects are significant forces in their local communities and in the world's economy."
Ecology and economy in sync
One of the few sea turtle veterinary hospitals open to the public, LMC leverages its efforts to save sick and injured animals to educate visitors. Each year the permanent staff of over 20 cares for more than 100 rescued sea turtles, manages hundreds of volunteers and runs the 12,000 square foot facility. Dozens of seasonal workers increase the staff count during the turtle nesting and hatching season to monitor nests, host nighttime nesting walks, and support ongoing research activities.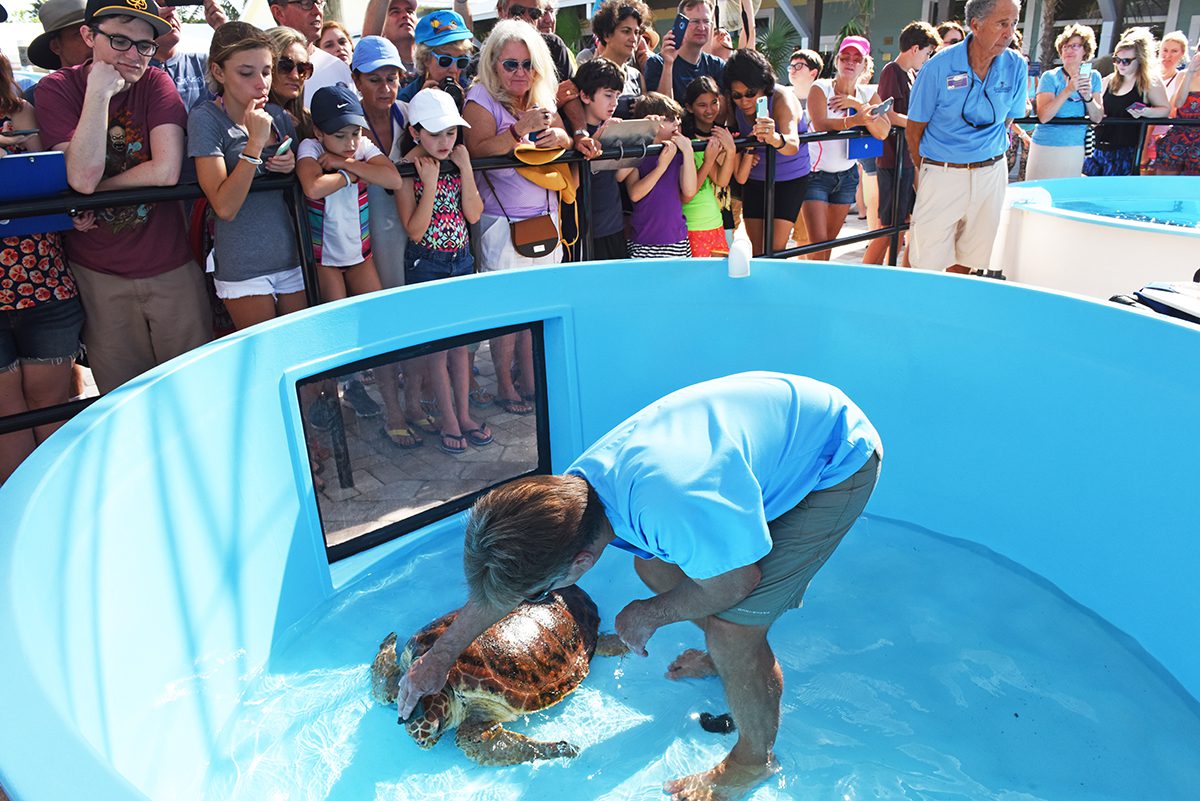 The retail store channels sales tax dollars into county and state coffers. The hospital purchases tons of food, medicines, medical equipment and other resources to care for sea turtles before they're returned to the wild. The necessary utilities — power, water, internet — are paid for with donations. LMC also plans to expand its facilities to host more researchers, guests and turtle patients.
The Center manages a 9.5-mile stretch of beach in Palm Beach County. "It's considered the epicenter of sea turtle nesting in North America," Lighton says. "It's the most densely nested stretch of loggerhead beach in North America. These beaches are revered by tourists and revered by sea turtles as well."
LMC also runs the Responsible Pier Initiative, which works with 50 fishing piers across the Southeast U.S. and in Puerto Rico. This program trains volunteers as first responders when injured or stranded turtles are spotted near fishing piers. So far, it's facilitated the rescue of 224 turtles. A partner effort, the Responsible Boater Initiative, educates marinas and boaters on ways to minimize dangerous ship strikes involving turtles and other marine animals.
Because of these efforts, and the fact the LMC runs a local fishing pier, Lighton says his organization is "able to find and broker a spirit of collaboration between us and the angling community, which is a very unique position."
All of these activities contribute to the local economy in a way that isn't fully reflected in the LCM budget.
Better off TED
The collaboration between LMC and the angling community resonates with a larger debate around turtle conservation in the Southeast, where environmental groups including Oceana have been pushing for safeguards to protect sea turtles from certain kinds of shrimp fishing gear. According to a 2016 Oceana report, shrimp trawl nets are responsible for tens of thousands of sea turtle deaths per year. Installing a metal "escape hatch" called a Turtle Excluder Device (TED) can prevent around 97 percent of these deaths.
These devices are already mandatory for vessels that use otter trawls, but there are around 5,000 skimmer trawlers that are exempt from this rule. Requiring TEDs on these nets would save as many as 2,500 turtles each year. TEDs also have benefits beyond conservation: They can save millions of pounds of wasted seafood each year, and help open up lucrative, certified-sustainable markets to U.S. shrimpers.
"You see a lot of perception issues in conservation or in areas where we want to use new technology to make a viable solution for two parties," Lighton says. "The TED device is a great example."
Lighton sees the health of the Florida economy as dependent upon tourism, recreation and commercial fishing. For him, LMC is built "by the community for the community." Juno Beach residents have embraced "the sea turtle as their representative of the local area." Protecting turtles, it turns out, means more than just healthy coastal economies — it's a source of civic pride.