October 23, 2015
Q&A with Chef John Shields: Why Sustainable Is Seafood's Best Ingredient
Photo courtesy of Gertrude's.
For Baltimore chef John Shields, what's good for the Bay and our bodies is good enough to eat. The Maryland-native, who grew up surrounded by the Chesapeake Bay, has always been dedicated to choosing local farmers markets over big suppliers and striking up relationships with fishermen rather than buying from anonymous operations. Shields' puts a face to his seafood, and is hoping more people do the same.
One of those faces is that of his Grandma Gertrude's, whom he named his award-winning restaurant after in Baltimore. At a young age, Shields started picking up the ins and outs of the kitchen from Gertie, and the dishes he serves up today are reminiscent of what he learned then— traditional, sustainable and seasonal make the best ingredients.
Aside from working to keep Gertrude's one of the "Best of Baltimore," Shields has also partnered with the National Aquarium's sustainable seafood initiative to educate, engage and empower local people to take responsibility for how and what ends up on their plate. Oceana similarly aims to address seafood fraud and promote sustainable fishing practices to save the oceans and feed the world.
Shields chatted with Oceana about his humble beginnings exploring the "new American cuisine," how seafood fraud has impacted him as a chef, and what he plans to teach others about getting the most out of your fish.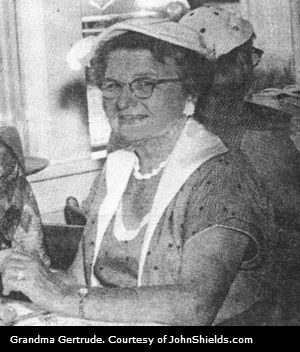 Q: How did your family, particularly your grandmother whom you named your restaurant after, teach you about using local, sustainable ingredients?
Today, we're always talking about the new 'local' movement, but up until very recently, that's just how we ate for the most part. Even living in Baltimore City, my grandmother would get local stuff from the relatives or grow stuff in a little duplex. During WWII, she probably grew about 60 percent of everything they ate.
Q: As a chef, how did you develop your culinary style using local ingredients and sustainable seafood?
I was fortunate where I grew up and my time living in Berkeley, California with three restaurants in the 80's. Back then, it was the spot where the new American cuisine was happening. People were taking pride in regional, American cuisine with this thought process. I opened Gertie's Chesapeake Bay Cafe in Berkeley and worked with local growers. When I opened that place, I would fly in all the seafood from the Chesapeake. I got into [cooking with local ingredients] because it was highlighting the food I grew up with and the food I loved.
Q: Why is it important to you as a chef to shop locally, and why do you think it's important to your customers?
For restaurateurs, owners and chefs, it has to be important to them. Right now, it's trendy, almost sexy [to eat locally and sustainable], and it really has a nice spotlight on it which I love. But it really has to be important to the owners and chefs. More of our customers want to know where the food comes from and the connections, so I think we're moving in the right direction. It's timely that we're talking about it.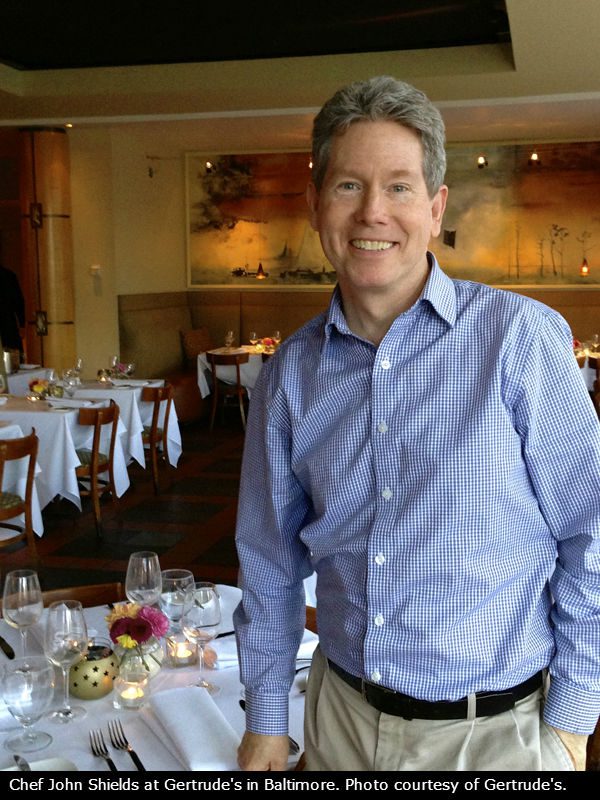 Q: How do you make sure your seafood comes from where it says it does?
It's about relationships. I work with smaller, local wholesalers and I work now and then with direct fishermen. I feel pretty secure and good about where my seafood comes from, but do I really know? No, I don't 100 percent know but my decisions are based on trust and relationships. It's about the ability to have more verification and traceability so you know you're making good decisions and you feel secure about making those decisions.
Q: You recently partnered with the National Aquarium's new sustainable seafood program, Seafood Smart. What kind of work do you do and what do you hope everyday people will learn from the initiative?
[The program] is multi-faceted because we have to work first with the fishermen so they're on board, then with the wholesalers so they're on board and then with retailers and finally with consumers. We want to get more seafood sellers and cooperative fishermen to set up more consistent stands at farmers markets so people know they can go to the market and get certified local seafood being handled properly.
We're trying to make those relationships and tying people to seafood so they understand it, and making seafood fun, exciting, almost patriotic. It's like people with the [Baltimore] Ravens, but I get mentally excited about local seafood. That's our mission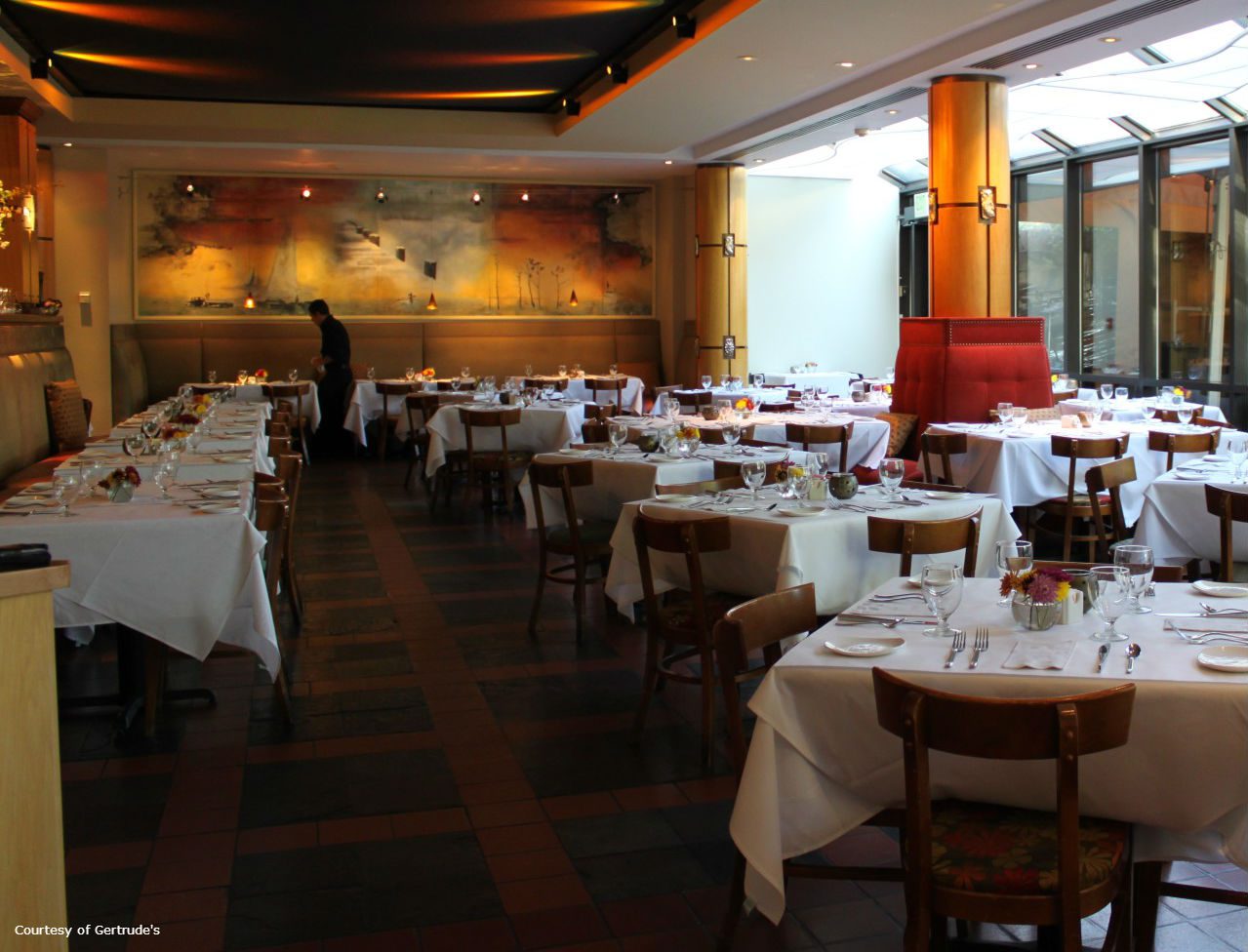 Q: Whether at home or in your restaurant, what's your favorite thing to cook and why?
I love to cook soups and stews because I can do so many different things with them and it's usually just one pot and I can get multiple meals out of it, and they're generally plant based. It has fish or meat but still plant based and I find that's better for me. I'm working on a new book with that subject matter. It's better for the bay, the local food economy and for our bodies.
Q: Is that your motto for how you live your life and run your restaurant?
I'm trying to go more in that direction and be more deliberate with it at the restaurant. The crab fishery here is in peril. The way I'm re-imagining how I cook is, let's take one pound of crab meat that would feed three people as crab cakes and instead take that crab and some vegetables and make a pot of Maryland crab soup or stew and make that same pound of crab meat feed eight to ten people. I take the stress off the crab populations, it puts more money in the pockets of local farmers using responsible farming methods and it puts less pesticides and nitrogen into the bay.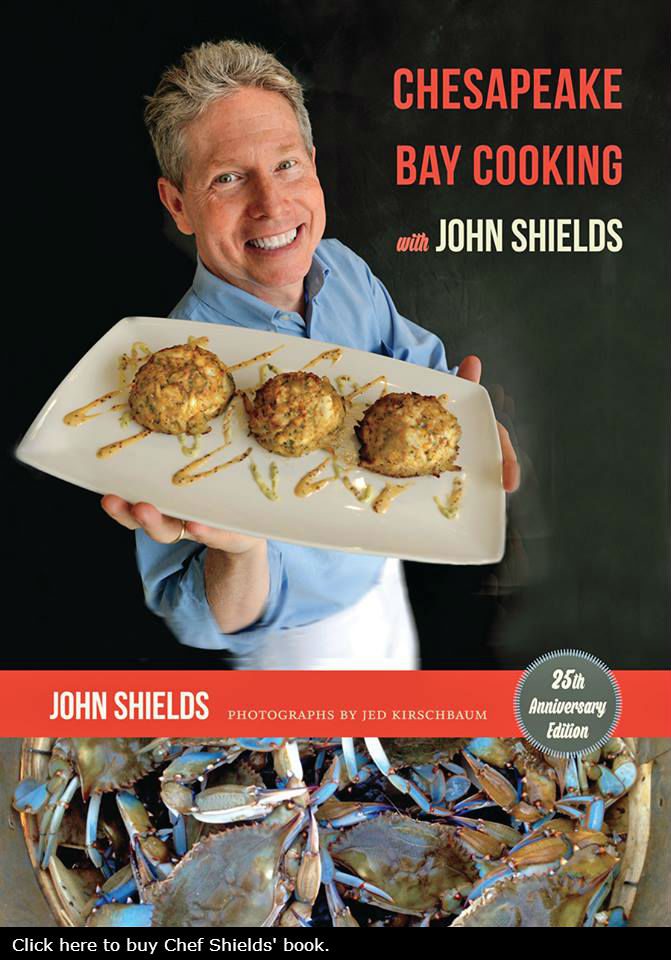 All these initiatives are really important and they become more important every year. As educators, our mission is to tell stories and get people enthusiastic, but not scare them too bad, and get people tied in with seafood. Once we're able to tie in the face of the fishermen as we've tied in the face of the farmer and develop those relationships, that's our future.
Learn more about Chef John Shields at his website, or plan your next visit to Gertrude's here. You can also learn more about seafood fraud, responsible fishing and sustainable guidelines through Oceana's campaigns.