June 21, 2017
Recipe: The Belizean fix for invasive lionfish? Plantains, rice and plenty of coconut
Jennie Staines is waging war on lionfish with an island flair. These Asian invaders have spread across the Caribbean, gobbling up native fish and jeopardizing the health of the region's reefs. But Staines, the head chef at Elvi's Kitchen on Ambergris Caye, Belize, knows that there's a chink in the lionfish armor: They taste really, really good.
Serving up lionfish dishes is just one way Staines is fighting for her country's oceans. She teaches the fishermen who supply her restaurant about what fish are abundant and which are best left in the sea. She helps families make a living from sustainable crab fishing. And frustrated by how hard it was to identify species from pre-prepared fillets, Staines pestered the Fisheries Department until they changed the laws. Now, fish have to be sold with a piece of skin attached so buyers can tell what species they're getting.
As for lionfish, their bristling collection of long, venomous spines makes them pretty unmistakable. But the spines are easily clipped off, and the flesh itself is white, sweet and tender. In this recipe, Staines showcases this tasty invader in sere, a coconut soup hailing from Belize's Afro-Caribbean communities.
Jennie Staines' Belizean Sere (Serves 2 to 4)
Ingredients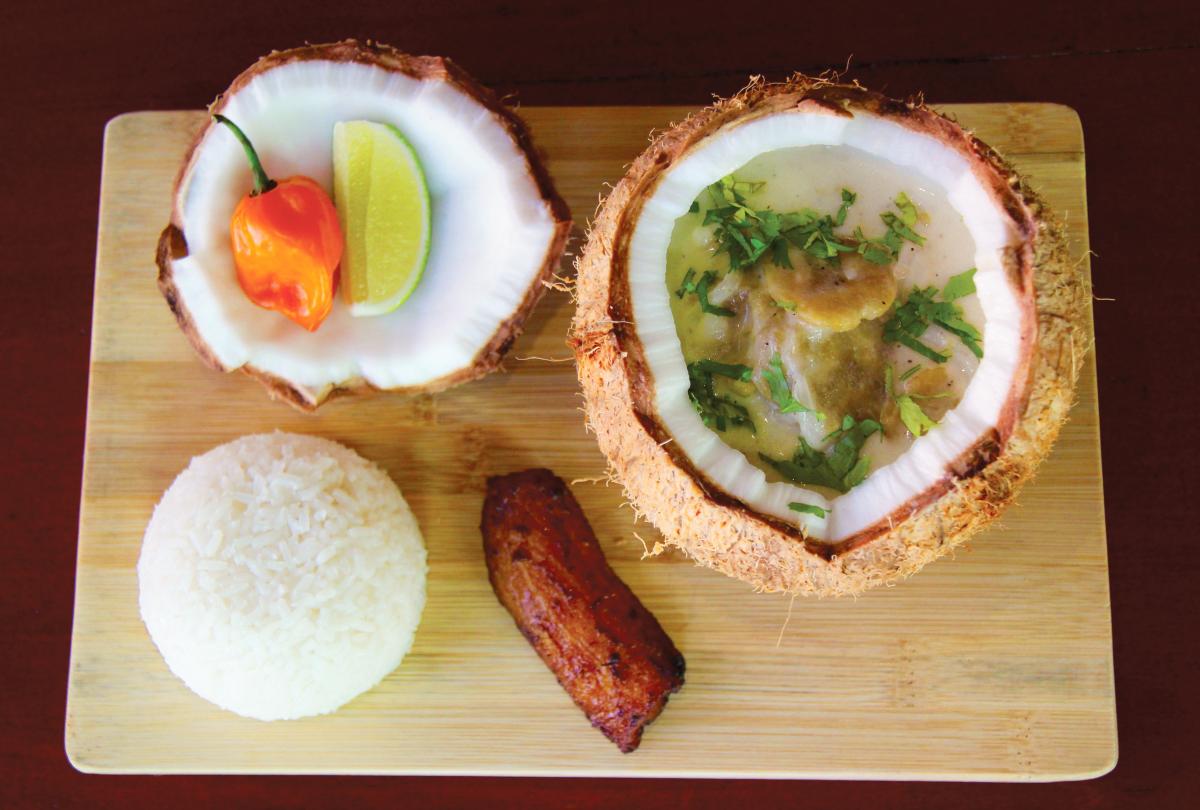 1 pound lionfish*
4 thinly sliced green plantains
2 whole coconuts (or 2 packets coconut powder)
1 diced small onion
1 minced garlic clove
4 cups fish stock
2 tablespoons chopped cilantro
1 1/2 tablespoon coconut oil
Salt and ground black pepper to taste
Directions
To prepare the coconut milk:
Cut both whole coconuts in half and extract the coconut meat.
In a blender, add the coconut meat and half of the fish stock. Blend well and pass through a sieve. If whole coconuts are unavailable, substitute coconut meat with coconut powder.
To prepare the sere:
Preheat a medium saucepan over medium heat.
Add coconut oil and thinly sliced plantains to the saucepan. Cook until plantains brighten in color.
Add diced onion and stir until translucent. Immediately add garlic and cook for half a minute.
Add the other half of fish stock and the lionfish. Cook for about 3 minutes and add the coconut milk.
Lower heat and cook for about 3 minutes. Adjust seasoning accordingly (salt and ground black pepper).
Sprinkle sere with chopped cilantro and serve with (coconut) white rice.
*If you can't get lionfish, then you can substitute with any white fish like sea bass or yellowtail snapper