February 10, 2014
Saved from Shell: Shell Cancels Plans for Arctic Ocean Drilling in 2014
An ice-ridden, remote, ecologically-rich, and picturesque region of Alaska's Arctic will remain that way, at least for 2014. On January 30, Royal Dutch Shell's new CEO, Ben van Beurden, made the announcement that sent a wave of praise ricocheting throughout the conservation community: Shell will not pursue offshore oil drilling in the U.S. Arctic Ocean this year.
This announcement piggybacks off the long-awaited decision by the U.S. Ninth Circuit Court of Appeals that invalidated 2008's Chukchi Sea Lease Sale 193, offered by the Department of the Interior, based on a lowball estimate of how much oil development could occur as a result of the sale. The decision now opens up the opportunity for a revised Environmental Impact Statement of oil and gas development in the U.S. Chukchi Sea, including the potential for a public comment period. Possible impacts such as a large oil spill or other manmade disaster would likely effect Alaska's marine life—including the numerous migratory species like gray whales, bowhead whales, walrus, and seabirds that travel long distances to spend their summers feeding and breeding in the region.
This worry is not merely a precaution, but a reality, made evident by Shell's error-ridden Arctic oil exploration effort in 2012. The company lost control of two drill rigs—stranding the Kulluk and nearly grounding the Noble Discoverer, ending up with both vessels on dry tow to Asia for repairs. Even one of the world's largest oil companies is at a loss on how to drill safely in Alaska's Arctic waters. As a result of their 2012 Alaska operations, Shell was fined with numerous safety and environmental violations from the Environmental Protection Agency and U.S. Coast Guard.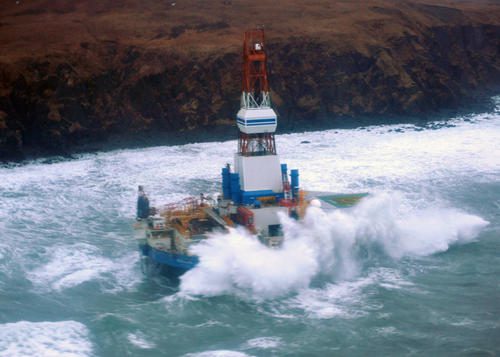 Waves crash over the side of the Kulluk after it broke away from support vessels and beached off the coast of Kodiak, Alaska. (Photo: U.S. Coast Guard)
The big question now remains, what lies ahead for Alaska's Arctic? The Obama Administration and Alaska's congressional delegation continue to push for oil and gas exploration. In addition to Shell, companies like Statoil and ConocoPhillips' plans still hang in the balance as to if and when they will pursue exploration drilling in the region. There is no rush. This nonrenewable and potentially toxic resource is not going anywhere. It is trapped under layers of ocean sediment and will remain there indefinitely until extracted. Is another oil spill in Alaskan waters due to unpreparedness, lack of infrastructure, lack of knowledge about the region, or simply bad luck really worth destroying an iconic Arctic ecosystem?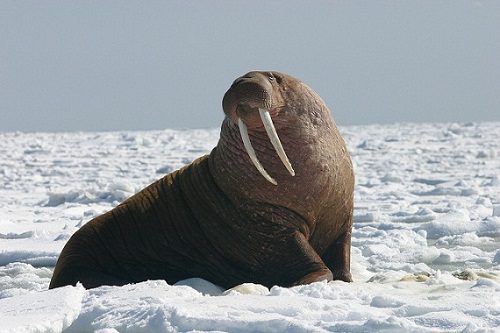 Walrus depend on a healthy Arctic environment to raise their pups, an oil spill in their home would devastate the delicate balance of life in the region. (Photo: USFWS/Joel Garlich-Miller)
Oceana is holding our ground and will continue to fight to keep oil companies out of Alaska's Arctic Ocean until and unless a science-based plan is in place that demonstrates drilling can be done without harming the health of the ecosystem. With sound science and successful legal litigation, Oceana and our conservation allies continue our effort to protect our planet's interconnected ocean backyard.