Matt Gallagher plunged his hands into the icy waters of the Gulf of Maine, and hauled up 60 pounds of glistening brown kelp. It was destined for a higher purpose: to become beer.
Gallagher is the head brewer at the Portsmouth Brewery, in southeast coastal New Hampshire. He spends most days working in the fragrant hum of the brewery's cellar. But on this day last spring, he was out on the waves, trimming ribbons of sugar kelp from a seaweed farm off the coast. The kelp would become the key ingredient in a new brew, called Selkie, which was very popular upon release.
Gallagher is one of a handful of craft beer-makers in the United States who are experimenting with kelp ales. The beers are easy on the palate and on the planet. Seaweed farms help clean seawater, by taking up nutrients that might otherwise cause environmental problems.
As for the beer's taste, "a salty brininess clings to your lips" after the glass is drained, Gallagher said. But there's more to the flavor than just a shot of saltwater. Brewers tend to balance kelp's salinity with a malty sweetness, so the beer tastes like beer. "And an hour later," he added, "you might burp something reminiscent of low tide." That's a good thing.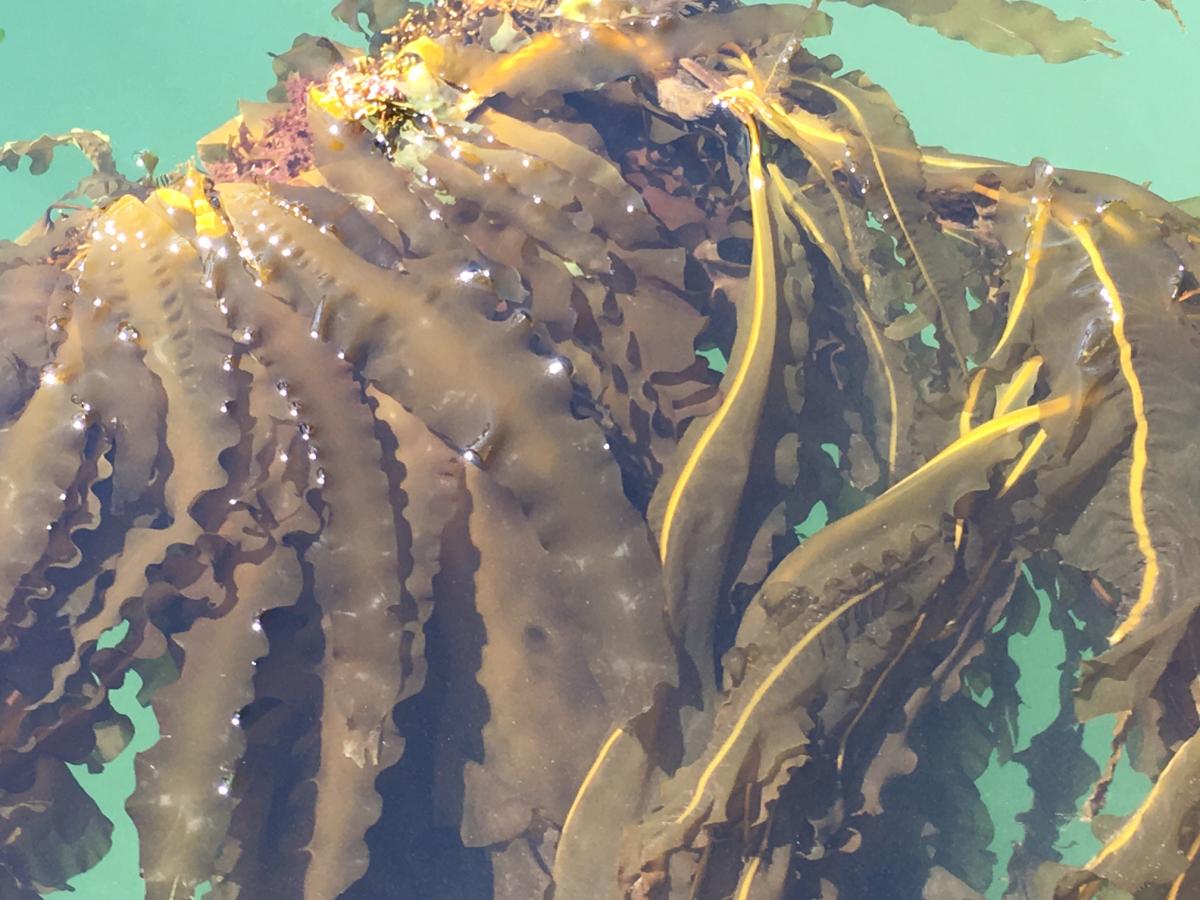 An ale tale
Fermenting sea vegetables into tasty drinks is nothing new, said Sarah Redmond, a seaweed farmer and scientist in Sorrento, Maine. "People have been brewing with the ingredients around them for a long time," she said. "To reintroduce it, I think adds a lot of character and heritage back."
Modern seaweed beers are a nod to the past, and to the misty coast of Scotland. Farmers there traditionally used seaweed to fertilize their barley crops, which took on the scent of sea air. Today, Williams Brothers Brewing Company in Alloa, Scotland, continues that tradition with Kelpie, an ale brewed with bladderwrack seaweed. That beer inspired similar brews in the United States, including Gallagher's Selkie and Sea Belt Scotch Ale, at the Marshall Wharf Brewing Company, in Belfast, Maine. Both beers are made with sugar kelp.
David Carlson first brewed Sea Belt in 2014. He worked with Redmond on that first incarnation, he said, "to reverse engineer a beer that would take advantage of the properties of sugar kelp." Ultimately its savory, umami taste would be balanced with peat smoke malt, which stands up to strong ocean flavors. "It's a really nice marriage," Carlson said.
To make his beer, Carlson buys dried sugar kelp from a local seaweed farm. He makes a sweet, malty tea of sugar kelp, water, grain and hops, which he then ferments with yeast. The kelp comes dried and naturally dusted with salt — perfect for snacking. "We tend to eat a little when we're brewing with it," Carlson said. "And once we add it to the boil, the aroma is almost like miso soup."

Kelping out
So why sugar kelp? The brewers chose it based on availability.
Seaweed farmers like this variety because there's a manual on how to grow it. "It's sort of the gateway kelp for everybody to get started with," Redmond said. Sugar kelp's flavor is also sweet and mild, rather than fishy, so growers are confident they can sell it.
The kelp gets started in a nursery, then put out to sea, explained Michael Chambers, an aquaculture specialist with the University of New Hampshire Cooperative Extension and New Hampshire Sea Grant. He worked with Gallagher on the first batch of Selkie, last year.
Chambers grows sugar kelp around floating trout pens, as part of an aquaculture program through the University of New Hampshire Cooperative Extension and New Hampshire Sea Grant. The kelp dangles from ropes strung at sea in fall or early winter, Chambers explained. It grows slowly in the frigid winter ocean, then explodes into action in spring as the water warms. Harvest season comes before the heat of summer.
Growing kelp near trout pens makes good environmental sense, Chambers explained. Fish farming means fish poop, which adds fertilizing nitrogen to the water. Too much nitrogen can be a problem for ocean habitats, leading to algae overgrowth and other environmental issues, so Chambers added kelp to absorb the excess nutrients. Seaweed farms can also remove nitrogen from other sources, he explained, like fertilizers swept off farmland when it rains.
The other great thing about seaweed is how little it needs, Redmond said. Unlike land-based farming, seaweed requires "very little fuel and no fresh water," she explained. And cultivating it reduces pressure on wild stocks.
Now that brewers have tried sugar kelp, they're interested in other seaweeds too. For the second batch of Selkie, this year, Gallagher used sugar kelp, as well as alaria kelp and dulse red algae, also grown at the aquaculture center.
"It was a richer blend," Chambers said. "And it was better this year."