April 18, 2023
Supporter Spotlight: Amanda Lechenet and New York Life Investments are investing in our oceans
When you think of the stock market, social and environmental impacts are likely not the first things that come to mind. Many people in the financial world, including Amanda Lechenet of New York Life, are trying to change that. "We've increasingly seen that consumers are using their dollars to influence change, with nearly 70% of U.S. consumers saying that a company's social reputation affects their decision to buy its product," Lechenet said. "This trend is carrying over into how people want to invest their money."
Lechenet first witnessed this trend early in her career while working as a commodity analyst in the retail grocery and food service industries. She learned quickly that buyers wanted access to responsibly managed seafood, among other sustainable products. Lechenet collaborated with companies working through seafood certification processes, that were trying to decrease or eliminate unsustainable practices like bycatch, i.e., the incidental catch of non-target species. "I know that it doesn't happen with all companies, but I found it encouraging to see how much the [companies'] workers cared for the ocean and its creatures."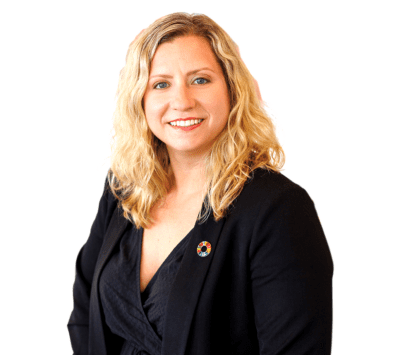 Now, as New York Life's Corporate Vice President of ESG (environment, social, and corporate governance) and Corporate Responsibility, Lechenet has once again found herself supporting sustainability initiatives, including an initiative by New York Life Investments (New York Life's global asset management business) to create a new suite of investment products aligned with leading nonprofit organizations like Oceana. These are called the IQ Dual Impact EFTs.
"ETF stands for exchange traded fund, which is similar to a mutual fund – it invests in a basket of securities, but an ETF can be purchased or sold on a stock exchange the same way a regular stock can, making them widely and easily available," Lechenet explained. "Think about the dual impact ETFs as having 'me-focused' returns and 'we-focused good.'"
One of the Dual Impact ETFs that New York life created is the IQ Clean Oceans ETF (OCEN). It invests in companies that help "protect and/or achieve cleaner oceans through reduced pollution and increased resource efficiency." Oceans not only perform essential roles like absorbing carbon dioxide and providing food to billions of people; they play an important role in the economy too, Lechenet pointed out. "Ninety percent of trade uses sea routes and it's a source of jobs for millions of people…The ocean will continue to play a bigger role in meeting people's needs through trade and food." The blue economy is growing at twice the rate of the mainstream economy and already contributes $2.5 trillion annually to the global economy.
In connection with OCEN, New York Life Investments contributes an amount based on the ETF's management fee to support Oceana's campaigns, including the campaign to reduce the flood of plastic pollution entering the oceans. "It's fantastic that we can see the impact of our support for Oceana through their successful campaigns," Lechenet added, pointing to major victories last year including bold new legislation in California to reduce single-use plastics and a commitment from Coca-Cola to sell 25% of its products in reusable packaging. "It's clear that we can achieve great things when we work together toward a shared goal."