Barton Seaver's Alaskan Sablefish with Warm Cherry Vinaigrette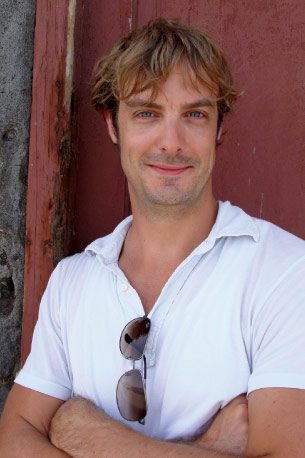 Ingredients:
4 fillets Alaskan sablefish, 5 oz each, skin off
½ cup white wine
Sea salt
1 T butter
1 shallot, finely minced
1 c cherries, halved and pitted
2 T white balsamic vinegar (can substitute white wine vinegar)
Kosher salt
1 T parsley, finely chopped
1 T tarragon, finely chopped
8 oz arugula leaves, preferably wild
1 T extra virgin olive oil
Directions:
Place fish in a pan with steep sides that is large enough to hold all four pieces of fish. Add wine, salt, and some herb stems and cover with cold water. Place the pan on medium heat and slowly bring the temperature up to approximately 160 degrees. Once the temperature reaches 160 it will be approximately 10 minutes of cooking for 1 ½ inch thick filets.
While fish is poaching, melt 1 Tbl butter in a small sauté pan on high heat. Once golden brown, add the shallots and 30 seconds later, add the cherries. Toss gently and sauté until the cherries begin to release their juices. Season with kosher salt and add the white balsamic vinegar.
Then, reduce over medium heat until it becomes a thick syrup. Add the remaining butter and the herbs and toss off the heat to incorporate. Lightly dress the arugula with salt and olive oil. There should be just enough oil to barely cover each leaf so that the salt adheres to the salad.
Remove the sablefish from the poaching liquid. Evenly divide the arugula onto four plates. Remove the fish from the poaching liquid and gently pat dry. The fish will be very fragile so take care with this step. Place the fish to the side of the salad so as not to wilt the leaves. Equally divide cherries on side of each plate, as well as the balsamic syrup.
LEARN MORE ABOUT BARTON's philosophy at www.bartonseaver.org