Germain Haro's Diver Scallop Dynamite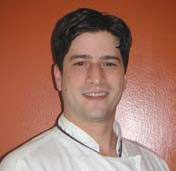 Ingredients:
3 each diver scallops (wild-caught)
2 tablespoons of olive oil
2 ½ tablespoon Dungeness crab (trap-caught)
½ teaspoon sturgeon roe (farmed)
1 tablespoon mayonnaise
¼ teaspoon paprika
¼ teaspoon nutmeg
Salt and pepper to taste
½ cup heavy cream
3.5 oz unsalted butter
¼ cup orange juice
Directions:
Diver Scallops and Crab Mixture
Place your pan on the stove on high heat and add 1 tablespoon olive oil. Bring the olive oil to just before smoking temperature. Add diver scallops to the pan and lightly brown on both sides for 3-4 minutes each until they show an even caramel color on both sides – the scallops should be halfway cooked. Set aside.
In a bowl, mix the crab, mayonnaise, paprika and nutmeg. Place the crab mixture on top of the diver scallops. Place in the salamander until brown or, if you do not have a salamander, turn your oven to broil at 450 degrees. Place the diver scallops in the oven (top rack) for 2-3 minutes or until the crab mixture lightly browns.
Beurre Blanc
Dice the butter and let sit until it has softened. In a deep or sauté pan combine the heavy cream and orange juice and reduce by half. Once it has reduced, remove the pan from heat and slowly whisk in the butter by quarters until the sauce has thickened. Add a pinch of salt and pepper. If you need to add more heat to the sauce to melt the rest of the butter, do so carefully because the sauce can separate.
Presentation:
Place the sauce on the bottom of a bowl, than add the scallops to the center of the bowl. Place the sturgeon roe on top of each scallop and crab mixture.