Greg Knize's Parmesan Herb Crusted Pacific Halibut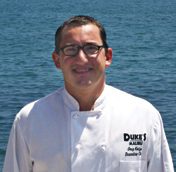 Ingredients:
Parmesan Herb Crust
6 Pacific halibut filets, 7 oz. each
1 cup panko (Japanese breadcrumbs found in Asian
section of most grocery stores)
½ cup shredded Parmesan cheese
2 tablespoons finely shredded fresh basil
1 tablespoon finely chopped parsley
2 teaspoons minced fresh thyme
2 teaspoons minced garlic
¾ teaspoon kosher salt
½ teaspoon ground white pepper
3 tablespoons medium-fine diced macadamia nuts
¼ cup olive oil
Beurre Blanc
2 tablespoons finely minced shallots
2 tablespoons white wine
2 tablespoons fresh lemon juice
1 tablespoon cream
½ cup unsalted butter, room temperature
Salt, pepper to taste
2 tablespoons capers, drained and rinsed under running water
Directions:
For the Parmesan herb breading, combine in a bowl the panko, shredded Parmesan, basil, parsley, thyme, salt, pepper, garlic and macadamia nuts. Mix thoroughly. This breading, if kept in a tightly closed container in the refrigerator, will keep up to five days. Press both sides of each piece of fish firmly in the crumb mixture using your hands to help the crumbs adhere. Heat ¼ cup olive oil in a large sauté pan over medium heat, add the breaded pieces of fish and sauté until golden brown and just cooked in the center.
Capers may be sprinkled over the fish and into the sauce.
Beurre Blanc
Put the minced shallots, white wine and lemon juice in an 8 inch sauté pan. Bring the mixture to a boil and reduce on high heat until the liquid is almost completely evaporated and becomes syrupy. Add the cream and reduce again. While the liquid is reducing, cut the butter into small pieces.
When the shallot mixture is fully reduced, take the pan off the heat and let cool slightly, then return the pan to very gentle heat. Add two pieces of butter to the pan and whisk until the butter melts. Look for wisps of gentle steam coming off the surface of the sauce indicating that the heat is high enough for the butterfat to properly emulsify. If the butter begins to separate, the heat is too high. Take the pan off the heat and whisk in a few pieces of butter until it is incorporated into the thick, creamy sauce. Season with salt and pepper.
Serve the halibut on top of the beurre blanc.