José Andrés's Squid Sandwich with Garlic Mayonnaise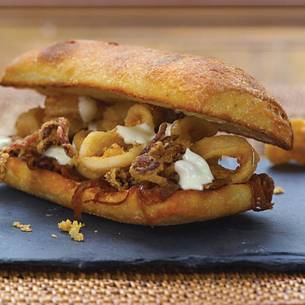 Serves 4
Ingredients:
1 pound fresh small squid, bodies and tentacles separated
2 cups all-purpose flour
Sea salt to taste
4 tablespoons allioli (recipe below)
4 6-inch long sandwich rolls
Directions:
Preheat oven to 350ºF.
Slice open the rolls, being careful not to cut all the way through. Lay them open on a baking sheet and lightly toast.
With a sharp knife, cut the squid bodies into 1-inch rings. Heat 4 cups of olive oil in a deep pot over medium heat until it reaches 325ºF on a candy thermometer. Put the flour in a large mixing bowl and season with salt. Add the squid rings and tentacles and coat with the flour. Drop the floured squid into a mesh strainer or colander and shake gently to knock off any excess flour. Working in batches, fry the squid in the hot oil until golden, about 45 seconds. Transfer to a paper towel-lined plate with a slotted spoon and drain. Allow the oil to return to 325ºF between each batch.
Spread ½ tablespoon of allioli on each side of the toasted rolls. Fill each roll with fried squid and serve immediately.
José's tips: By toasting the rolls to a nice brown color, you'll give these sandwiches even more crunch.

Allioli ingredients:
(Garlic and oil sauce)
Makes about 1 cup
4 garlic cloves, peeled
Pinch sea salt
½ teaspoon fresh lemon juice (from about 1/4 lemon)
1½ cups Spanish extra-virgin olive oil
Directions:
Using a mortar and pestle, mash the garlic and salt together until you have a smooth paste. Turn the mortar while you mash, scrapping down the garlic from the sides with the pestle. Add the lemon juice, then add the olive oil, drop by drop, as you continue to crush the paste with the pestle. Keep turning the pestle with a slow, continuous circular motion around the mortar as you drip the oil in slowly and steadily, making sure the paste absorbs the olive oil. Keep adding the oil until the sauce has the consistency of a very thick mayonnaise. If your allioli becomes too dense, add ½ teaspoon of water to thin it out. This process takes time-around 20 minutes of slow, circular motions around the mortar-to create a dense, rich sauce.
José's tips: If you're short of time, use a hand-held electric mixer, adding the oil little by little as you blend at high speed. Be sure to use the freshest garlic available.
Recipe from Made in Spain: Spanish Dishes for an American Kitchen by José Andrés. Published by Clarkson Potter.