Ted Walter's Kauai Shrimp with Cockles and Lemon Vinaigrette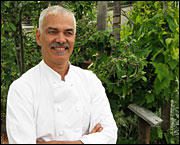 Serves 4
Ingredients:
2 C white beans, cooked
2 lbs. Kauai shrimp*, cleaned
2 lbs. cockles
2 C fish stock (recipe below)
½ C lemon oil (recipe below)
aioli to finish
salt and pepper
Fish stock:
1 lb. fish bones, Alaskan halibut preferable; farm-raised mussels and clams are a nice addition
sprig of thyme
1/2 carrot
2 ribs celery
½ bunch parsley
½ onion
2 C dry white wine
3 bay leaves
Simmer all fish stock ingredients for 30 minutes in a gallon of water.
Lemon oil:
2 lemons
1 cup olive oil (the best you have!)
Directions:
Juice both lemons, zest the peel and dice the zest. Whisk lemon juice and zest with olive oil. Warm white beans in the fish stock. Add cockles. Dip shrimp in lemon oil and grill. Add small amount of lemon oil to cockles. Season to taste and adjust with more salt or lemon oil. Place white beans and cockles in bowls. Place a teaspoon of aioli on top. Place finished shrimp on the aioli.
*Kauai shrimp are pond raised in an environmentally sustainable manner, unlike most shrimp farming, which causes significant environmental damage. These shrimp are available through kauaishrimpdirect.com.