Cornelius Gallagher's Pacific Halibut Baked with Espresso, Sweet Corn, Mustard Greens, Toasted Pine Nuts and Hot Basil Corn Milk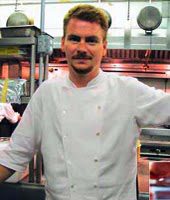 Serves 4
Ingredients:
4 ears of corn, shucked
1 qt. milk
1 bay leaf
1 piece star anise
1 t salt
½ C basil leaves, washed
¼ C olive oil
1 ½ C mustard greens, blanched until tender
¼ C toasted pine nuts
2 T butter
4 6-oz. Pacific halibut filets
2 t salt
4 t ground espresso
Directions:
In a medium saucepan, combine the corn, milk, bay leaf, star anise and salt. Bring to a simmer and cook until corn is tender. Strain the milk away from the corn, reduced by half and hold warm. Remove the corn from the cobs and hold warm.
In a high-speed blender, purée the basil leaves and olive oil until combined. Hold cold.
In a small pot, heat the butter. Add the corn, mustard greens and pine nuts. Season to taste and hold warm.
In a large pan, heat the olive oil. Season the halibut filets and roast until almost done. Combine the salt and espresso and sprinkle over the halibut. Finish cooking in the oven and keep warm.
In a small pot, heat the corn milk and stir in some basil purée.
Presentation:
Place the corn in the center of four bowls. Surround with the basil corn milk and top with the halibut. Serve at once.