Ted Walter's Pacific Halibut with Green Peppercorn Butter Sauce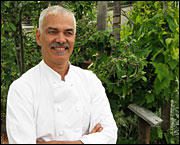 Ingredients:
1 t green peppercorn (puréed)
1 t capers (puréed)
1 C white wine
½ C white wine vinegar
2 T shallot puree
3 T heavy cream
4 oz. butter (cold)
salt and white pepper to taste
2 lbs. Pacific halibut filet*
1 C white wine
Directions:
Fish:
Place the halibut in a glass baking pan that just fits the fish. Season the fish, then place in the pan. Add a cup of white wine and place a bay leaf on each fillet. Cover with foil and bake at 350? for 15 minutes, until the halibut begins to flake and is no longer translucent.
Sauce:
Place first five ingredients in a sauce pan and reduce to a third over high heat. Add cream and reduce a little more. Turn heat very low and whisk in the cold butter slowly. Remove from heat when the butter is fully incorporated. Season with salt and pepper to taste. Hold in a vacuum pot.
*No FDA or EPA advisory has been issued for this fish, and the Pacific halibut fishery is generally considered to be sustainable and well-managed.