Michael Kramer's Pacific Halibut with Baby Bok Choy and Chinese Black Beans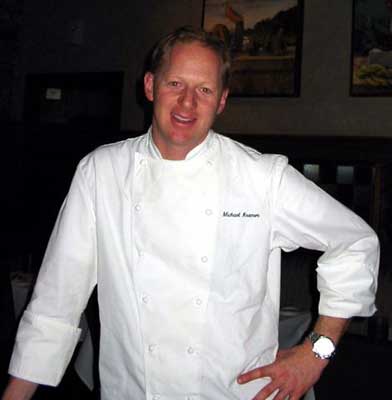 Serves 6
Ingredients:
For the halibut:
6 4 oz pieces of Pacific halibut*
6 C duck fat (or olive oil)
salt
white pepper
fleur de sel
For the vegetables:
3 T canola oil
12 baby bok choy leaves, ultra size
2 C hon shimeji (or shitake) mushrooms, cleaned
salt
white pepper
For the sauce:
1 onion, thinly sliced
1 shallot, thinly sliced
1 t garlic, finely chopped
1-inch cube ginger, grated
1 stalk lemongrass, cut into 3-inch pieces
2 cups mirin**
1/3 C fermented Chinese black beans, rehydrated in a little mirin
½ lb. butter, room temperature, cut into 1-inch pieces
lemon juice
salt
white pepper
For the garnish:
finely julienned green onions
Directions:
Sauce:
In a medium pot over medium heat, place the onion, garlic, ginger, lemongrass and mirin into the pot. Bring to a boil, and reduce to a simmer until almost dry. Take off the heat. Slowly whisk in the butter, a little at a time, until fully emulsified. Strain through a fine strainer. Add the black beans, season with salt, pepper and lemon juice. Set aside and keep warm.
Vegetables:
In a small saucepan over medium heat, heat the canola oil. Add the mushrooms and lightly sauté until soft. Toss in the baby bok choy. Season with salt and pepper. Cook the bok choy until slightly wilted. Remove from pan and set aside; keep warm.
Halibut:
In a small, two-inch deep half hotel pan, bring the duck fat or olive oil to 130°. Season the halibut filets with salt and white pepper. Place the halibut filets in the duck fat or oil. Cook for five to seven minutes to cook. Remove from the fat or oil; season the top of the filets with the fleur de sel. Set aside and keep warm.
Presentation:
Pour the black bean sauce in the middle of the plate. Put the mushrooms and bok choy on top. Place the fish on top of the vegetables, and garnish with the julienned green onions.
*Use Pacific Halibut. Although they grow slowly and can live over 50 years, Pacific Halibut remain abundant due to responsible management. Fishers may own shares of the total annual catch, eliminating the dangerous incentive to fish competitively
**Mirin is a sweet tasting rice wine often found in Japanese cuisine.