Peter Hoffman's Striped Bass and Taylor Bay Scallops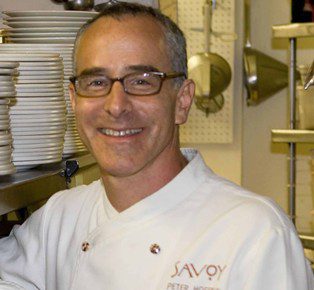 Ingredients:
3-4 oz striped bass per person
3 Taylor Bay scallops or little neck clams per person
¾ cup of savoy cabbage cut in 1" strips
¼ cup Jerusalem artichokes cut in ½" cubes or fingerling potatoes
2 oz vegetable or fish stock
1 tablespoon white wine
Gremolata butter
¼ cup butter softened
1 small clove garlic
2 tablespoons roughly chopped parsley
2 teaspoon lemon zest
1 teaspoon orange zest
Directions:
Combine all ingredients and add salt to taste. Hold until ready for final preparation. Briefly sauté the cabbage and the artichoke pieces in a pan with some olive oil. Add the stock and the wine and cover. Simmer for 8 minutes.
Meanwhile heat a sauté pan. Add some olive oil and sear the pieces of bass skin side down first. When they are golden brown, turn them over and place in the oven for 5 minutes to complete the cooking. Add the scallops to the vegetable pot and cover again. Cook 2 minutes or until the scallops open up. Remove the scallops and add a pat of the butter and swirl into the broth. Place the vegetables in a bowl. Set the fish on top. Sprinkle with a little more of the herb and zest mix and serve.