Jeffrey Mora's Potato-Crusted Tilapia with Honey Mustard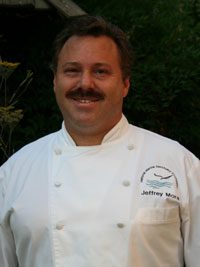 Serves Four
Ingredients:
2 lbs. tilapia filets*
8 oz. instant potato flakes
8 oz. bread crumbs
4 eggs
½ C milk
1 C flour
1 C mayonnaise
¼ C honey
2 T Dijon mustard
2 C frying oil
Directions:
In a bowl, combine the potato flakes and the bread crumbs. In a separate bowl, whisk the eggs and the milk.
Cut the tilapia filets into eight equal pieces and season with salt and pepper. Dip them first in the flour, then the egg mixture, then the potato flakes and bread crumb mix.
On medium high, heat oil in a deep-sided pan or pot and fry for two minutes on each side or until golden brown. Remove and place on a paper towel.
Mix the mayonnaise, Dijon mustard and honey together, season with salt and pepper and serve with tilapia.
*Not native to the U.S., tilapia are freshwater fish that require very little fishmeal. When they are raised in closed systems in the U.S. they have very low environmental impact.