Xanterra's Roasted Black Cod with Stewed Vine Ripened Tomatoes, White Truffle Oil and Cauliflower Sauce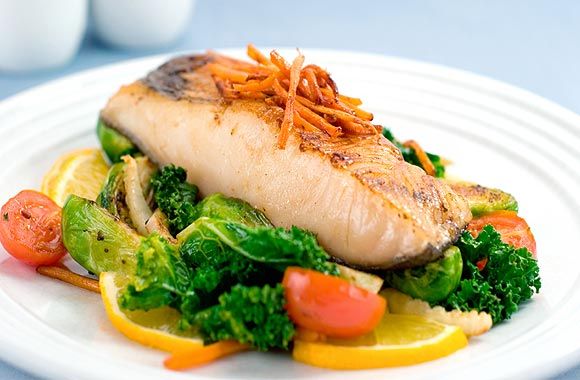 Serves Four
Ingredients:
1 ½ lbs. black cod filets*
2 oz. vegetable oil
4 vine ripened tomatoes peeled, seeded and chopped
1 oz. olive oil
1 t chopped garlic
1 t chopped fresh basil
4 t white truffle oil
½ head cauliflower cut into small florets
2 oz. butter
2 oz. flour
2 C light chicken stock
2 C heavy cream
white pepper to taste
salt to taste
Directions:
Sauté garlic in olive oil without browning, add tomatoes, reduced to low temperature and cover. Let stew until tomatoes are very soft. Add salt and pepper to taste and finish with fresh basil right before service. Should not be runny.
Melt butter, add flour and stir to make roux. Cook on medium heat for three minutes and let cool. In a saucepan, combine cream, stock and cauliflower. Bring to a boil and reduce to simmer. Cook until cauliflower is soft. Purée in blender, return to pan and whisk in cold roux. Return to boil, add salt and pepper to taste. Adjust for consistency and seasoning. Pass through a fine strainer.
Portion cod into four six-ounce pieces, coat with vegetable oil and season with salt and pepper. Place on a rack in roasting pan and bake at 400° (conventional oven) or 350° (convection oven) until it reaches internal temperature of 140° – approximately 10 minutes.
Pool cauliflower sauce on plate, place cod on top of sauce, spoon dollop of stewed tomatoes on top of cod and drizzle with one teaspoon of white truffle oil (purchase at specialty food store or online).
*Use black cod (sablefish) from Alaska, the Pacific Coast or British Columbia, where the populations are abundant and the longline fisheries are well-managed. In these areas, the fish are taken by longlines set on the ocean bottom or by traps. There is no evidence of substantial bycatch or habitat damage in the fisheries.