Sam Talbot's Fish Tacos with Tomato Salsa and Citrus Crema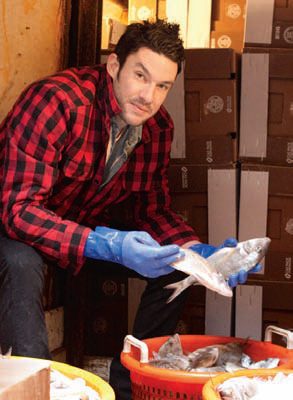 Chef Talbot says: If you haven't tried fish tacos yet, you're missing out on one of the finer things in life. I spent two years concocting, tweaking, throwing out, and eating thousands of these damn things until I got it right. Actually, forget "right"—until I had it bulletproof. By "bulletproof" I mean if they weren't perfect, I would have been hazed, stoned, and exiled from where I reside. At the end of the day I realized you just need three ingredients: the fish itself, the tortilla, and, just as important, the freshly shaved green cabbage; this last provides just the right amount of texture and crunch in each bite. The salsa and citrus crema bring everything together. If you don't have time to make your own fresh salsa, a good quality jarred one will do. On the West Coast, mahi-mahi is most often used to fill fish tacos, but any mild white fish, such as cod or tilapia, will work brilliantly.
Ingredients:
2 tablespoons unsalted butter, cut into small pieces
1/4 cup olive oil, plus more for brushing the tortillas
2 pounds skinless cod, snapper, or mahi-mahi fillets *
1/2 cup loosely packed chopped flat-leaf parsley
1/2 cup chopped fresh cilantro
4 garlic cloves, chopped
1/4 cup dry white wine
Salt and freshly ground black pepper
16 flour tortillas (6 inch)
1 cup Tomato Salsa
1/2 large head green cabbage, thinly sliced
1/2 cup Citrus Crema
1 Hass avocado, pitted, peeled, and thinly sliced
2 limes, cut into 4 wedges each
Directions:
Preheat the oven to 350ºF. Place the butter and ¼ cup oil on a rimmed baking sheet and place it in the oven to melt the butter. When the butter is melted, arrange the fish fillets on the baking sheet and sprinkle with the parsley, cilantro, and garlic. Pour the wine around the fillets and season generously with salt and pepper.
Bake the fish until it flakes easily with a fork, 10 to 12 minutes. Break the fish into 1-inch chunks and set aside. Heat a grill pan over high heat. Place the tortillas in the pan, one at a time, and cook until they are hot and marked with grill lines, 15 to 30 seconds. Brush the hot tortillas with a little oil and sprinkle with a little salt and pepper.
To assemble the tacos, spoon 2 tablespoons of salsa, a few fish chunks, and some of the cabbage onto each tortilla. Drizzle 1 tablespoon of the crema over each serving and top with 2 or 3 avocado slices. Season to taste with salt and pepper and serve with a lime wedge.
*Fish can be any mild white fish such as farm-raised tilapia or sustainable cod.