Drew Trautmann's Seared Diver Scallops and Sunchoke Purée and Citrus Brown Butter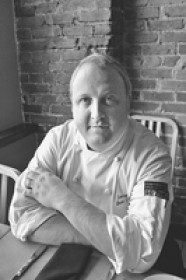 Serves Four
Ingredients:
8 1½ -2 oz. diver scallops*
1 T butter
1½ pounds sunchokes** peeled
2 T butter
3 navel oranges or other citrus fruit peeled and segmented
1 shallot peeled and chopped
4 T unsalted butter
Directions:
1. Preheat oven to 450º F.
2. Place sunchokes in an oven-proof pan. Add butter and cover with foil. Roast for 40 minutes or until tender. Remove from oven and purée with all juices in a food processor. Keep warm. Place oranges and shallot and non-reactive pot on stovetop over medium heat, boil until broken down and juicy (about ten minutes). Place butter in a sauté pan over high heat. Cook until dark brown, but not burnt. Add to oranges carefully (it will splatter), simmer one minute. Place in blender and purée one minute. Strain through fine mesh sieve and keep warm.
3. Heat another large sauté pan. Season scallops with salt and pepper. Add butter to pan. When it foams, add scallops and brown on one side about three minutes. Flip and cook to about medium rare (another two minutes).
*Diver scallops are sustainably harvested because they are hand caught.
**A variety of sunflower, a sunchoke is a nutty and sweet vegetable.