Sergi Arola's Marinated Sardines with Herring Roe, Vegetables and Tomato Bread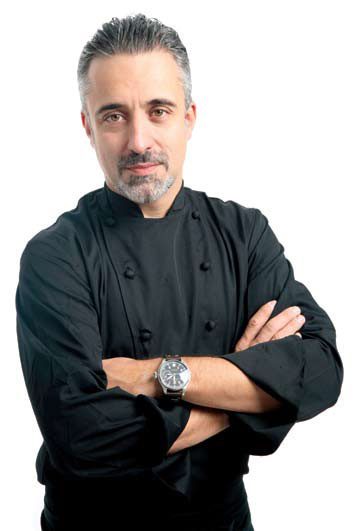 4 servings
Ingredients:
35 very fresh sardine filets
For the filling
1 ¾ ounces of herring roe
2 tsp carrot, julienned
2 tsp leek, julienned
2 tsp garlic shallot, minced
1 tsp celery, julienned
3 tsp finely chopped scallions
For the tomato bread
1 loaf of frozen bread
2 ripe tomatoes
sea salt
olive oil
For the marinade
2 liters of water
sea salt
white wine vinegar
Preparing the dish
The day before preparing the dish, filet the sardines with a very sharp knife to avoid disturbing the flesh of the fish. Extremely delicately, using small tweezers, remove the spines.
Add sea salt to the water until it tastes like sea water. Then add a trickle of vinegar (it shouldn't taste like vinaigrette, so just a touch is needed).
Add the sardines to the marinade until the bloody part, where the backbone was, turns white. Then remove the sardines from the salt water and vinegar and dry with a paper towel. Cover the sardines in olive oil and stick them in the fridge, well covered.
Make the filling by mixing together the above chopped ingredients.
The finish and presentation
Grate the ripe tomato using a medium grater and drain the pulp with a colander. Add salt, pepper and oil. Using a knife, slicer or mandoline, make very thin slices of the frozen bread and toast them in a medium oven.
Finish the plate with several cylinders of sardine filets in a soup dish. Fill the cylinders with the herring roe, and over the roe put a bit of tomato and cover with the "bread roof"…finish by adding a good deal of olive oil.
To learn more visit http://sergiarola.es