Ted and Cindy Walter's Striped Bass with Moroccan Chickpea Salad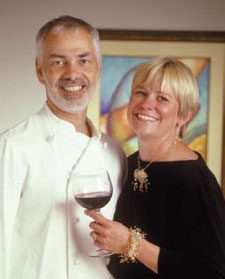 Serves Six
Ingredients
For the Charmoula
1 tbsp. fennel seeds
2 tsp. coarsely chopped fresh rosemary
1 tsp. cumin seeds
1 tsp. dried crushed red pepper
1 tsp. whole white pepper corns
1 cup coarsely chopped fresh Italian
parsley leaves
1 cup chopped fresh cilantro leaves
cup chopped fresh mint
¼ cup fresh lemon juice
3 garlic cloves
1 cup olive oil
6 6-7 ounce bass fillets
For the Moroccan Salad
2 large red bell peppers
2 flat breads (such as pita bread)
1 15½ oz. can chickpeas, drained
1 cup walnuts, toasted and coarsely
chopped
¼ cup raisins
2 tbsp. drained capers
2 tbsp. olive oil
Charmoula
Combine first five ingredients in spice grinder until finely ground. Transfer to blender. Add parsley and next four ingredients. With blender running, gradually add oil and blend until course puree forms. Season to taste with salt.
Place fish on large plate. Pour ¾ cup charmoula over fish, turning to coat evenly. Cover and refrigerate for at least one hour and up to one day. Cover and refrigerate the remaining charmoula to use as dressing for salad.
Moroccan Salad
Char bell peppers directly over gas flame or in broiler until blackened on all sides.
Transfer to paper bag and seal tightly. Let stand for 15 minutes. Peel, seed, and chop peppers. Toast flat bread directly over gas flame or in broiler until crisp and charred on both sides. Tear into bite size pieces.
Preheat oven to 400°F. Place peppers, bread, chickpeas, and next four ingredients into a large bowl. Add ¾ cup charmoula and toss to coat. Season with salt and pepper.
Heat oil in large ovenproof non-stick skillet over medium-high heat. Add fish with marinade still clinging to it, and cook until brown, or about 3 minutes on each side. Transfer skillet to oven and roast fish until thoroughly cooked, about 8 minutes.
Place salad on each serving plate. Top with bass fillet and serve.