Ron Burns' Wild Salmon with Spinach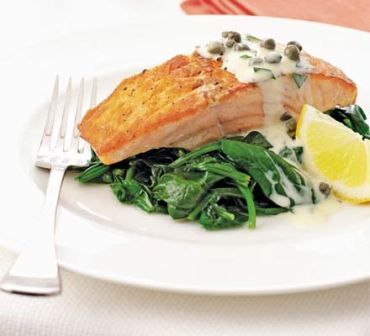 Served with citrus beurre blanc and sautéed spinach
Ingredients:
1 ½ lbs. salmon filet*
¼ C olive oil
¼ C shallots
1 t dill
1 t ground black pepper
4 oz. spinach
5 oz. unsalted butter, room temperature
2/3 C white wine
1 T black peppercorns
1 lemon
1 orange
2 limes
1/8 C red wine vinegar
Directions:
Fish Baste:
In container combine olive oil, shallots, dill and black pepper, saving one-half of the shallots for beurre blanc sauce.
Beurre Blanc:
Squeeze juice of citrus (no seeds) into sauce pan and add black peppercorns, red wine vinegar and one-half of white wine and reduce by half, let stand for seven minutes. Take four ounces of butter and whisk into reduction liquid (add butter one ounce at a time) and strain afterwards.
Salmon:
Cut salmon into three pieces and oven cook or barbecue until salmon is cooked to your preference. Brush with fish baste a few times while cooking.
In sauté pan add one ounce of butter, the spinach and remainder of white wine and sauté until cooked.
Presentation:
On a plate, place spinach in center, salmon on top of spinach and ladle sauce over salmon.
*With good management and fairly healthy habitat, wild Alaskan salmon remain abundant, unlike their Atlantic counterparts.