Ocean Fishes
Deep Sea Anglerfish
Melanocetus Johnsonii
DISTRIBUTION
Worldwide in tropical to temperate latitudes
ECOSYSTEM/HABITAT
Deep sea/open ocean (bathypelagic)
FEEDING HABITS
Ambush predator
TAXONOMY
Order Lophiiformes (anglerfishes and relatives), Family Melanocetidae (black seadevils)
Share
The deep sea anglerfish, also known as the humpback anglerfish, is a medium sized (7 inches/18 cm) anglerfish that lives in the bathypelagic zone of the open ocean. Living at depths of at least 6600 feet (2000 m), this species lives its life in the complete absence of sunlight. Anglerfishes, in general, are named for the modified dorsal fin spine that they use to lure prey.
Life in the deep sea is difficult, so many fishes there have special adaptations to improve their ability to feed and to mate. Deep sea anglerfish may not regularly encounter suitable prey, so they have very large mouths and stomachs and long, pointy teeth in order to facilitate capturing and swallowing anything that they find. They also have a lure, like all anglerfishes, that they use to attract prey. The deep sea anglerfish's lure is filled with bacteria that make their own light. Using a muscular skin flap, a deep sea anglerfish can either hide or reveal its lighted lure. By pulsing the light and moving the lure back and forth, they successfully attract pelagic crustaceans, fishes, and other prey.
The lure is also used to attract a mate. The only individuals that fit the above description are females. Females are the large, ambush predators; females have the lighted lures. Males are very small (one inch/three centimeters) and are not predatory. Once they hatch, they spend all of their energy searching for mates, biting onto larger females, and fertilizing their eggs. In many anglerfishes, the male becomes parasitic and never releases from his mate again, feeding from her blood, and becoming little more than a sperm factory. That is not, however, the case in the deep sea anglerfish. After only a short union, the male releases and seeks out another mate. Even though they form these tight bonds during mating, reproduction occurs via external fertilization. The female releases her eggs into the deep water column, and the male immediately releases his sperm, which locate and fertilize the eggs.
Deep sea anglerfish are not eaten by people, and there is no evidence to suggest that people have any negative affects on their populations. They are likely naturally rare, however, and any changes to the deep-sea environment could threaten this interesting species.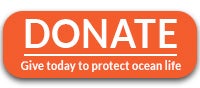 Engage Youth with Sailors for the Sea
Oceana joined forces with Sailors for the Sea, an ocean conservation organization dedicated to educating and engaging the world's boating community. Sailors for the Sea developed the KELP (Kids Environmental Lesson Plans) program to create the next generation of ocean stewards. Click here or below to download hands-on marine science activities for kids.