Dustin Cranor
Senior Communications Director, North America
Oceana Staff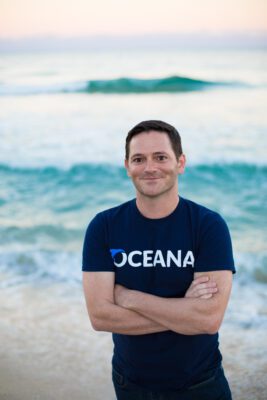 Dustin Cranor brings an array of public relations and communications experience to Oceana. His expertise in media relations and strategic communications has assisted a wide variety of corporations, associations and non-profit organizations.
Cranor joined Oceana as communications manager in July 2007. Since then, he has helped to advance Oceana's campaign goals by increasing visibility and public awareness of ocean issues in the United States and around the globe. Most recently, Cranor spearheaded the public rollout of Global Fishing Watch, undoubtedly one of Oceana's largest undertakings. He was also instrumental in the successful launch of Oceana's campaign to stop seafood fraud in 2011, which has garnered more media attention than any of the organization's past campaigns. He also led communications activities for Oceana's award-winning campaign to stop overfishing subsidies.
Today, Cranor oversees all communications for Oceana's U.S. campaigns as communications director, including efforts to stop seafood fraud, keep dirty and dangerous offshore drilling out of the Atlantic, and promote responsible fishing, helping protect sharks, sea turtles and corals. In his 10 years at the organization, he has drastically increased media coverage of Oceana's campaigns with strategic placements in key international, national, regional and local outlets.
In addition to securing media attention for these campaigns, Cranor orchestrates events around the globe and provides media training and support for Oceana spokespeople, including senior staff, scientists and celebrity advocates such as Ted Danson.
Cranor was recognized for his conservation efforts in 2008, when he was profiled as one of the nation's top environmental "movers and shakers" in The Advocate's inaugural "Green" issue. Prior to joining Oceana, he was a senior account executive at TheWadeGroup, Inc., a boutique public affairs firm. While there, he played an instrumental role in the growth and success of the firm, while also developing effective communications campaigns with numerous clients, including Oceana, the American Gaming Association, The National Center for Responsible Gaming and Reed Exhibitions.
Before moving to Washington, D.C., Cranor was a financial sales representative at Arvest Bank in Fayetteville, Ark. while attending college. He graduated from the University of Arkansas in 2005, where he received dual degrees in political science and communications. Cranor grew up on a small pig farm in southeast Kansas, and was an active member of 4-H since age 7. He was also the Kansas state president of SkillsUSA VICA.
Location: United States