Esteban García-Peña
Fisheries Campaign Director
Oceana Staff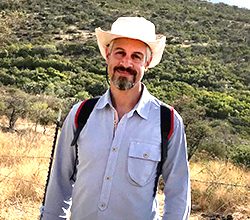 Esteban's love of marine life begun from the moment he had awareness of the world that surrounded him.
At 2, his grandparents gave him a pet red-ear slider turtle, and since then, he has been committed to the knowledge of nature and its elements. Years later, after reading the full 21 tomes of Jacques Cousteau's "Underwater World", he made the best decision of his life: to study biology.
After graduating as a biologist, he studied an MSc in Ecology and Environmental Science, another one in Compared Public Policy and a postgraduate Specialization in Policy and Management of Environment and Energy. He has ample experience in the private sector, the Federal Government and civil society, and has done studies and publications on ecosystem restoration; management and conservation of forest resources; sustainable coastal management; adaptation to climate change, socio-environmental governance and public policy for coastal sustainability.
Esteban enjoys to spent time with family and friends, reading, travelling, SCUBA diving and dogs.