Geoff Shester
California Campaign Director & Senior Scientist
Oceana Staff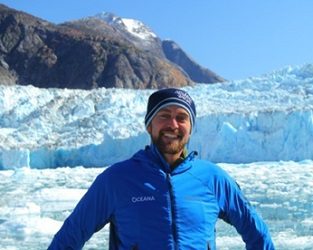 Geoff Shester is Oceana's California Campaign Director based in Oceana's Monterey office and working with Oceana's Pacific Team.
After completing a double major in Biology and Environmental Studies at the University of California, Santa Cruz, Geoff Shester interned for the Exxon Valdez Restoration Office in Anchorage, Alaska and then landed his first big job at Oceana's first field office located in Juneau, Alaska in 2002.
He earned his doctorate in the Stanford University Interdisciplinary Program in Environment and Resources out of Hopkins Marine Station in Monterey, studying the interplay between marine ecology and the economics of small-scale fisheries in Baja California. He was the Senior Science Manager at the Monterey Bay Aquarium Seafood Watch Program from 2008-2010, where he led a team of scientists responsible for evaluating the sustainability of hundreds of types of wild and farmed seafood.
Since coming onboard at Oceana in 2002, he co-authored and advocated for proposals that ultimately led to the largest suite of seafloor habitats protected from trawling in North America, totaling over 1,000,000 square miles of marine protected areas from the Mexican border to the Arctic. He also served as the Expedition leader and co-leader for Oceana's U.S. West Coast undersea expeditions in 2010, 2011, 2013, and 2016, which gathered footage of never-before-seen seafloor habitats with remotely operated vehicles. He currently works on Oceana's US West Coast campaigns to implement ecosystem-based management of forage fish, protect seafloor habitats from bottom trawling, and reduce fisheries bycatch.
Location: United States