Hunter Miller
Field Campaigns Manager, Southeast United States
Oceana Staff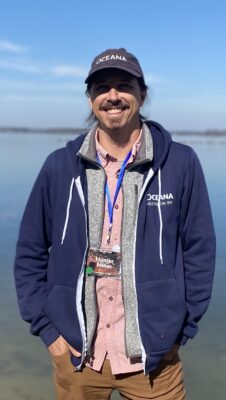 Hunter Miller is Oceana's Field Campaigns Manager, based in Florida.
For the last decade, Hunter has helped lead efforts to educate, organize, and advocate for our oceans, climate, and Florida's coastal communities. As a Field Campaigns Manager, he helps lead a team of field representatives and works across Oceana's U.S. campaigns, building support for local, state, and national policy change. Hunter regularly works with coastal community stakeholders, fishers, businesses, ENGO partners, and elected officials to build power to protect and restore our oceans.
During his time at Oceana, Hunter has helped to successfully defend against former President Trump's proposal to dramatically expand offshore drilling in Federal waters, built support and helped pass a federal ban on the sale of shark fins, and passed local and state policies aimed at combatting the plastic pollution crisis. He also works to defend our nation's blue ribbon, science-based fisheries management law, the Magnuson-Stevens Fishery Conservation and Management Act and supports efforts to save the critically endangered North Atlantic right whale from extinction.
Hunter is a sixth-generation Floridian and has a B.S. in Public Administration from Flagler College.