Mariana Reyna
Expedition Leader, Oceans and Fisheries Scientist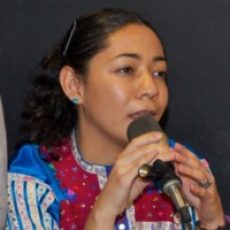 Biologist with more than ten years of experience in the development, implementation and evaluation of sustainable development, conservation and climate change projects in marine and terrestrial Socio-Ecological Systems, in the academic sector and in civil society organizations.
Mariana's conservation work began after earning her Bachelor of Science in Biology, where she worked with NGOs on different environmental education projects. These projects largely dealt with communities living in terrestrial Protected Areas so Mariana moved to Baja California to keep pursuing her passion for the sea and earn her Master's degree in Coastal Oceanography. In Baja, she began formal research on conservation and sustainability of Mexican Caribbean coral reefs, which eventually led to a doctorate and thesis project that focused on social-ecological vulnerability of Mexico's coral reefs and stress factors associated with climate change.
Mariana's research allowed her to work with multidisciplinary groups and provided valuable knowledge that informs her duties at Oceana, where she focuses on marine resources conservation and management. In this role, she leads Oceana Mexico's first ever at-sea expedition, which will spend two weeks on the water collecting data and information to support a policy campaign to expand the Arrecife Alacranes National Park. The expedition will capture high quality underwater photos and video, and conduct cutting edge science like eDNA analysis and 3D photomosaic modeling.
Mariana is excited about the impact the expedition will have on ensuring proper management and conservation of Arrecife Alacrane's unique ecosystem.