Vanya Vulperhorst
Campaign Director, Europe
Oceana Staff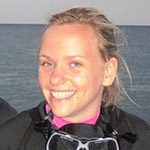 From an early age I have enjoyed exploring the marine environment of the Dutch coast; growing up by the North Sea allowed me to be in close contact with sea creatures, like plaice, common shrimp and jelly fish.
Marine life continues to fascinate me, as beautifully described by Jacques Cousteau: "The sea, once it casts its spell, holds one in its nets of wonder forever."
However, this daily contact with the sea also confronted me with the gradual degradation of the marine ecosystem in the North Sea, making me increasingly aware of the vulnerability of the sea and the coastline to overharvesting, habitat destruction and pollution. On the other hand, diving in protected areas in the Indian Ocean, the Atlantic Ocean and the Caribbean Sea showed me the value and role of Marine Protected Areas in halting the degradation of the marine ecosystems.
These experiences have made the preservation of ocean environments a personal priority and motivated me to focus on environmental policy in the European Union during my Master studies. I am therefore greatly excited to be working for Oceana in Brussels and to join its efforts to turn the tide and make the preservation our oceans a number one priority in the European Union.